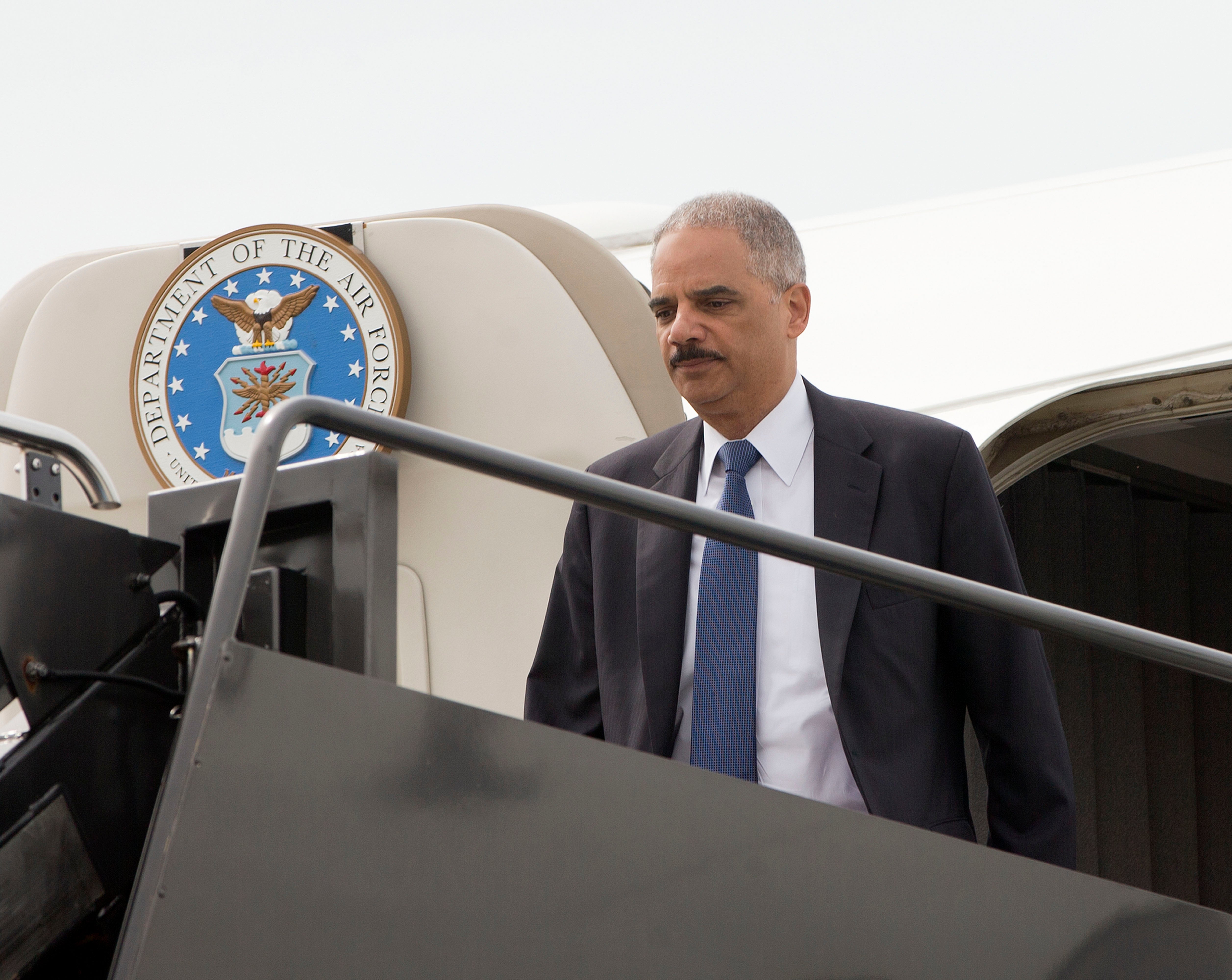 Holder arrives in Ferguson as grand jury begins hearing evidence
CLAYTON, Mo. - U.S. Attorney General Eric Holder met Wednesday with federal investigators, local law enforcement and members of the community as part of a federal probe in to the fatal shooting of an unarmed black 18-year-old.
He also met privately with the parents of the teen, Michael Brown, who died in the police shooting on Aug. 9, spurring days of volatile protests in the St. Louis suburb of Ferguson.
But Holder made his first stop Wednesday at the Florissant campus of St. Louis Community College, a few miles. He shared his own personal experiences with racial profiling, including being stopped twice on a New Jersey highway and accused of speeding. Police searched his car, going through the trunk and looking under the seats.
"I remember how humiliating that was and how angry I was and the impact it had on me," Holder said during a private meeting with about 50 members of the community at the college. Holder made similar comments at an NAACP convention in July 2013 after a Florida jury acquitted neighborhood watch volunteer George Zimmerman in the shooting death of black teen Trayvon Martin.
Student Kiyanda Welch said Holder talked to the group about the unrest and their own interaction with police. Holder told them "change is coming," Welch said.
While walking through Drake's Place Restaurant in Ferguson, Holder told diners concerned about the recent clashes in the street, "we can make it better."
He also met briefly with Missouri State Highway Patrol Capt. Ron Johnson, who has been in charge of security after the Aug. 9 shooting of Michael Brown sent protesters into the street with nightly, occasionally violent clashes with law enforcement officers. The National Guard has been called in to help keep the peace.
"We're rallying against the criminals," Johnson said. Asked whether he had confidence in the local investigation of the police officer, Johnson said: "General Holder, by being here, is a guarantee on that."
Holder also met with FBI agents and others involved in the independent federal investigation into Brown's death. Already about 40 FBI agents and prosecutors from the Justice Department's Civil Rights Division have been in town conducting the investigation and interviewing hundreds of people. An independent federal autopsy was also conducted by Holder's order.
Meanwhile, a group of about two dozen protesters gathered outside a building where a grand jury in Clayton, Mo., began hearing evidence to determine whether to charge Ferguson police officer Darren Wilson. County prosecutor spokesman Ed Magee said Wednesday that there is no timeline for how long the process could take.
CBS News correspondent Vladimir Duthiers reported a decision on whether to charge Wilson may not be made until October.
Protesters gathered in a circle outside the St. Louis County Justice Center in Clayton for a prayer, chanted, and held signs urging prosecutor Bob McCulloch to step aside. Nearly two dozen officers guarded the building's main entrance, which also was blocked off with yellow police tape.
McCulloch's deep family connections to police have been cited by some black leaders who question his ability to be impartial in the case. McCulloch's father, mother, brother, uncle and cousin all worked for the St. Louis Police Department, and his father was killed while responding to a call involving a black suspect.
McCulloch, who is white, has insisted his background will have no bearing on the handling of the Brown case. On Tuesday, Missouri Gov. Jay Nixon said he would not seek McCulloch's removal from the case, citing the "well-established process" by which prosecutors can recuse themselves from pending investigations to make way for a special prosecutor.
Ahead of his trip to Ferguson, Holder wrote a letter to the people there, which appeared in the St. Louis Post-Dispatch, that pledged a thorough probe in to the Michael Brown case, but also condemned the violence that has taken place over the past 10 days.
"We understand the need for an independent investigation, and we hope that the independence and thoroughness of our investigation will bring some measure of calm to the tensions in Ferguson," Holder wrote. "In order to begin the healing process, however, we must first see an end to the acts of violence in the streets of Ferguson.
"Although these acts have been committed by a very small minority -- and, in many cases, by individuals from outside Ferguson -- they seriously undermine, rather than advance, the cause of justice."
Meanwhile, a police officer from nearby St. Ann was suspended Wednesday over an incident in which he allegedly pointed an assault rifle at a peaceful protester after a verbal exchange, officials said. A St. Louis County police sergeant forced the officer to lower his weapon, and escorted him away from the area.
He was relieved of duty and placed on indefinite suspension, according to St. Louis County Police spokesman Brian Schellman.
Overall, however, protests were more subdued Tuesday night, with smaller crowds, fewer confrontations and no tear gas. Police said they still made 47 arrests, but mainly of people who defied orders to disperse. Three handguns were confiscated from demonstrators.
Tensions rose briefly when someone hurled a bottle at officers, but there were no reports of gunfire or the clashes that had marked previous nights.
Brown's funeral arrangements were set. The Austin A. Layne Mortuary, which is handling arrangements, said the funeral will be at 10 a.m. Monday at Friendly Temple Missionary Baptist Church. Brown's uncle, the Rev. Charles Ewing, will deliver the eulogy, and the Rev. Al Sharpton will also speak.
Brown's remains will be buried at St. Peter's Cemetery in St. Louis County.
Thanks for reading CBS NEWS.
Create your free account or log in
for more features.