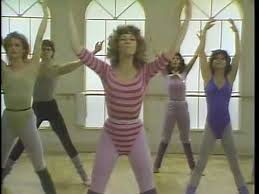 Jane Fonda's "feel the burn" workout video turns 32
While actress Jane Fonda is known for her work in films like "Julia," "On Golden Pond," and "Coming Home," she will forever be credited for bringing fitness to the mainstream.
It's been 32 years since Fonda's iconic video, "Jane Fonda's Workout," was released on April 24, 1982. The video was based off of the best-selling book, "Jane Fonda's workout book."

It featured Fonda decked out in leg warmers and big 80s hair, performing an exercise routine that coined the phases, "Feel the burn" and "No pain, no gain."
"We rehearsed a few days, made some mistakes, did our own hair and makeup, had one camera and figured it was no big deal," Fonda wrote in a blog post. "Was I wrong! I don't remember exactly when I realized that, in spite of myself, this little workout video had given birth to a new industry."
Soon, the video caught the attention of women who were looking to get in shape and 17 million copies of the video were sold.
It was the first of more than 20 exercise videos Fonda would produce through the years. And Fonda is still "feeling the burn" for a new generation of fitness buffs. In 2012, Fonda released her latest workout video on DVD, "Jane Fonda Am/Pm Yoga for Beginners."
"The fitness industry has changed mightily. Fast bouncing and a lot of what we did back in the early 80s has gone out of favor. Core training is where it's at and exercise physiology has made important strides in understanding what different bodies need for different purposes," Fonda wrote. "As leg warmers come in and out of fashion, Women know it's okay to have muscles, and Fitness Industry is a thriving international business."
Watch a sample of the iconic video below.

Thanks for reading CBS NEWS.
Create your free account or log in
for more features.