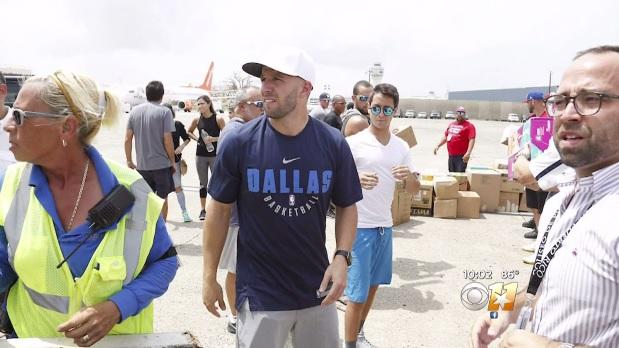 NBA star borrows team plane, delivers aid to Puerto Rico
DALLAS -- Dallas Mavericks point guard J.J. Barea extended a hand to his home country of Puerto Rico to assist those impacted by Hurricane Maria.
CBS Dallas / Fort Worth reports Barea woke up early on Tuesday and brought much needed supplies and relief to residents on the island.
The NBA star could not sit still after watching Maria tear through Puerto Rico and flood out his beloved island.
"It's not like we can drive things and everybody can meet," he said. "You got to go over water -- so it's really hard. It's like a bomb exploded."
Barea helped fly in 32 generators, 14,000 pounds of water, 10,000 pounds of food, 3,000 pounds of medical supplies and many other much needed necessities.
"It's frustrating to see Puerto Rico like that and I know there's a lot of people hurting right now," said Barea. "But hopefully we can keep getting better."
Barea said supplies from rescue organizations were slow to arrive. Mavericks owner Mark Cuban let him use the team plane to bring relief to the storm-battered country.
"As soon as I told them I was doing this, they were like, 'Go, go, go, go, go,'" Barea said.
Barea also helped bring back family, like his mother and strangers, who needed medical attention.
"Puerto Rico, for me, is everything," he said. "It's a must."
But Barea is only one person. He's calling on everyone to do their part to help our neighbor in the Caribbean.
"Just go. Just, trust me," said Barea, whose family is planning another trip to bring even more supplies to the island.
Thanks for reading CBS NEWS.
Create your free account or log in
for more features.