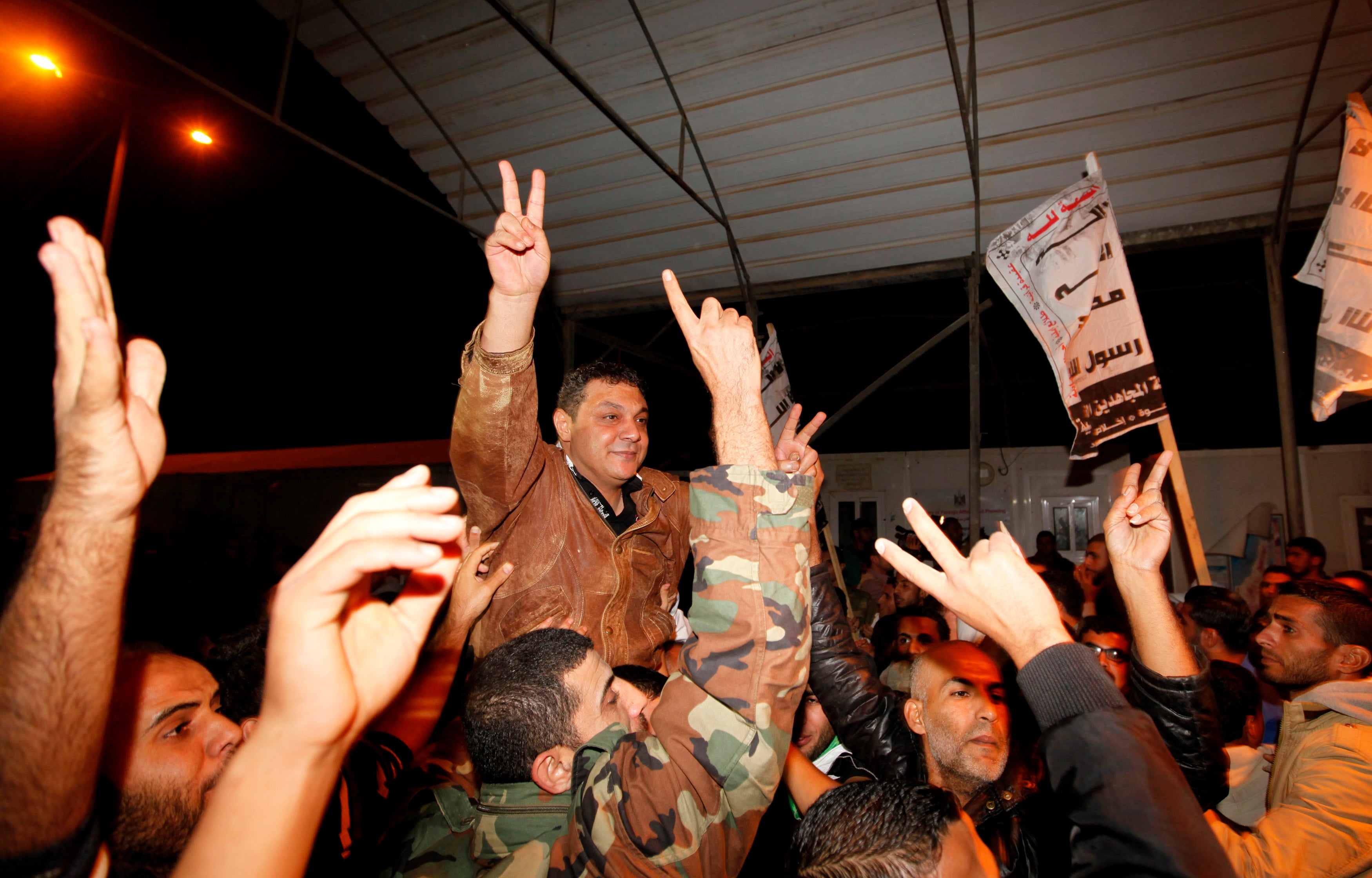 Israel releases 26 Palestinian prisoners
RAMALLAH, West Bank Israel freed 26 Palestinian prisoners early Wednesday, the second of four batches to be released as part of a deal that set in motion the current Israeli-Palestinian peace talks.
The decision to release the 26 has triggered anguish and anger in Israel, where many view the men as terrorists who have committed grisly crimes against Israelis. But jubilant celebrations erupted in the West Bank and the Gaza Strip, where the prisoners are seen as heroes who fought for independence, and were received by their families and Palestinian leaders.
Wednesday's release was part of an agreement brokered by U.S. Secretary of State John Kerry that brought Israel and the Palestinians back to the table for peace talks that had been paralyzed since 2008. In all, 104 convicts are to be released in four rounds over the coming months.
In the West Bank and Gaza, the mood was boisterous as hundreds of relatives and well-wishers welcomed the prisoners home, after many had spent more than 20 years behind bars.
Throngs of people rushed toward the five prisoners released to Gaza, hoisting them on their shoulders, waving Palestinian flags and bopping to blaring music. Relatives held signs that read "we will never forget our heroes." More than 2,000 people welcomed the 21 prisoners released to the West Bank, who were greeted at a ceremony by Palestinian President Mahmoud Abbas in Ramallah.
Hazem Shubair, who was jailed in 1994 for the death of an Israeli, according to the Israeli Prison Service, was overwhelmed upon his release to Gaza. "I am speechless," he said. "Thanks to God. God is greater than the aggressors," meaning Israel. Earlier, his brother Tayser called Hazem a "freedom fighter."
Thousands of Palestinians have been held in Israeli prisons since Israel's capture of the West Bank, Gaza and east Jerusalem in the 1967 Mideast war, many jailed on charges ranging from throwing rocks to killing civilians in bombings, shootings and other attacks. The Palestinians want those territories for their future state.
Standing alongside the newly freed prisoners, Abbas said a final peace deal with Israel was contingent on the release of prisoners held in its jails. "There will be no final agreement without the release of all the prisoners," he told the raucous crowd.
The fate of the prisoners is a deeply emotional issue in Palestinian society. After decades of fighting Israel, many families have had a member imprisoned and the release of prisoners has been a longstanding demand.
Among those freed Wednesday are people jailed in connection to the killings of Israelis including a reservist and a Nazi death camp survivor, according to a list provided by Israel's prison service. Many of the killings occurred before the beginning of Israeli-Palestinian peace talks in 1993.
Israel's Supreme Court earlier rejected an appeal that sought to cancel the prisoner release. An organization of bereaved families behind the appeal has said it fears the prisoners, all convicted in connection to the deaths of Israelis, will return to violence once freed.
Highlighting the opposition to the move, some 50 Israelis protested outside the West Bank prison where the inmates were held ahead of the release. They raised signs reading "death to murderers" and burned keffiyehs, traditional Palestinian headscarves. Over a thousand people demonstrated against the release on Monday.
Israeli Defense Minister Moshe Yaalon told Israeli TV he felt for the bereaved families but that the decision to free the prisoners came from a "responsibility to guide the state of Israel according to a long-term strategy."
Israel has a long history of lopsided prisoner exchanges with its Arab adversaries. But Wednesday's release appeared especially charged because Israel is receiving little in return except for the opportunity to conduct negotiations that few people believe will be successful.
Israeli Prime Minister Benjamin Netanyahu has already said he will announce new settlement plans, apparently to make up for the release.
Thanks for reading CBS NEWS.
Create your free account or log in
for more features.