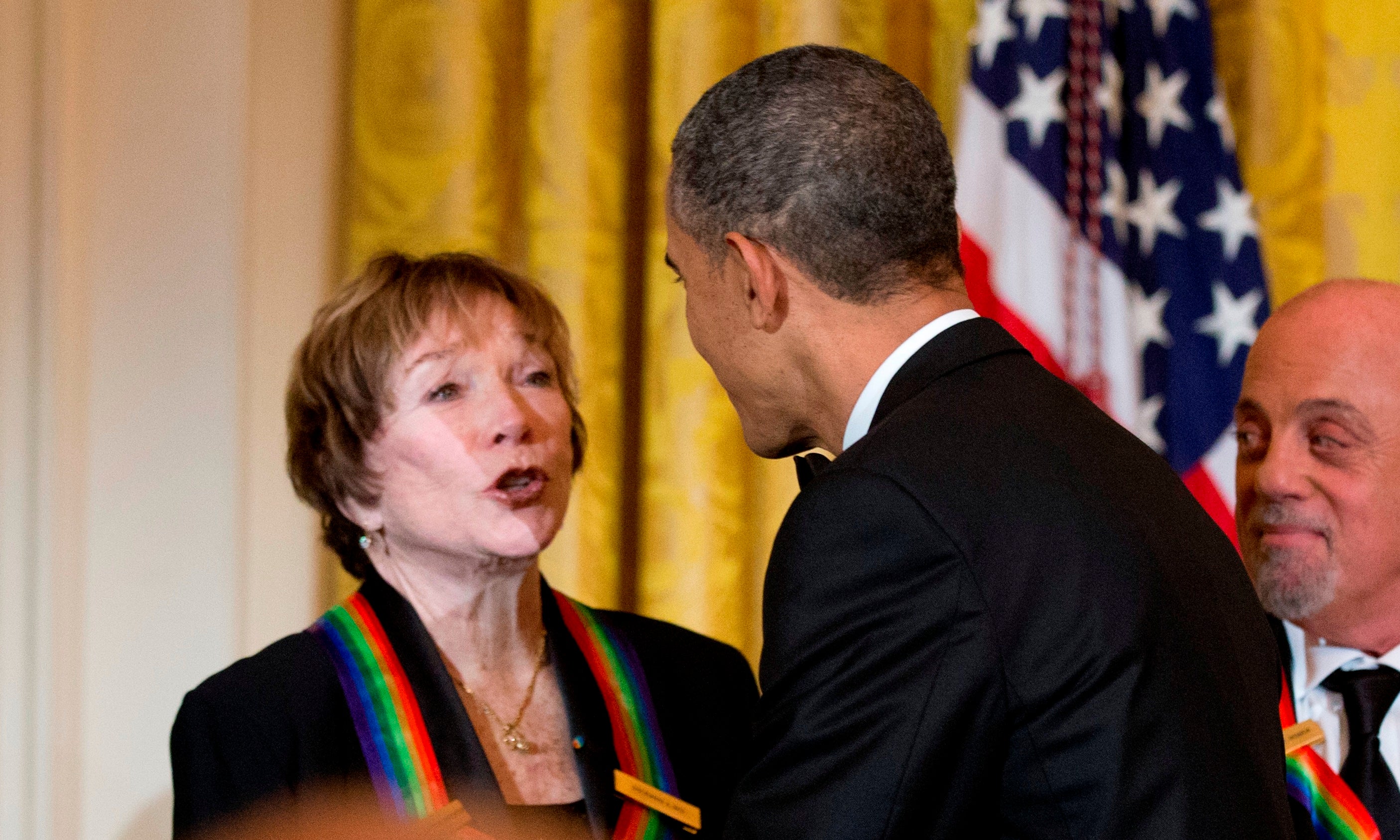 Is Obama really the first president to publicly mention Area 51?
WASHINGTON -- President Obama was right Sunday when he said he was likely the first U.S. president ever to make public mention of Area 51 - the off-limits military base near Groom Lake, Nev., at which top secret and sometimes mysterious and suspicious activities are carried out.
The president made the unusual reference in his remarks Sunday at a reception saluting the five performers bestowed
this year's Kennedy Center Honors
. The mention of Area 51 came in Mr. Obama's tribute to actress Shirley MacLaine, known for her interest in reincarnation and other occult matters. He joked that when he became president, "one of the questions that people ask you is, what's really going on in Area 51?"
"When I wanted to know, I'd call Shirley MacLaine, " he kidded. "I think I just became the first President to ever publicly mention Area 51. How's that, Shirley?" asked the president facetiously.
First ever president? Could that be?
I searched my records along with those of the American Presidency Project database of presidential speeches and turned up no prior spoken references to Area 51. However, on 10 occasions between 1996 and 2004, then-Presidents Bill Clinton and George W. Bush issued written statements making reference to "the United States Air Force's operating location near Groom Lake, Nevada," which has always been taken to be a veiled reference to Area 51.
In 1996, 1998, 1999 and 2000, Mr. Clinton notified Congress in writing of a presidential determination that exempted the Groom Lake installation from "any Federal, State, interstate, or local hazardous or solid waste laws that might require the disclosure of classified information concerning that operating location to unauthorized persons."
In 2001, 2002, 2003 and 2004, Mr. Bush sent Congress nearly identical notifications. Like Mr. Clinton before him, Mr. Bush included the admonition that "information concerning activities at the operating location near Groom Lake has been properly determined to be classified, and its disclosure would be harmful to national security. Continued protection of this information, he stated, is therefore in the paramount interest of the United States." In addition, in 2002 and 2003, Mr. Bush also issued official notices of Presidential Determinations that stated it was "in the paramount interest of the United States" that the Groom Lake operating location be exempted from civilian lawsuits filed against it alleging violations of hazardous waste regulations that would require "the disclosure to unauthorized persons of classified information concerning that operating location."
On one occasion in 1997, a reporter - I think it was me - asked then-White House press secretary Mike McCurry about the presidential exemptions for the Air Force base at Groom Lake. He confirmed what was made public in the presidential messages to Congress and memoranda, but said "beyond that, I can't comment further." And since then, neither "Area 51" nor "Groom Lake" was mentioned by the president or his spokesman in public. At least not until yesterday at the Kennedy Center Honors reception in presidential remarks about Shirley MacLaine.
Mr. Obama did mention Area 51 - but said not a word about the kind of work that goes on there. It's still highly classified. Maybe Shirley knows.
Thanks for reading CBS NEWS.
Create your free account or log in
for more features.