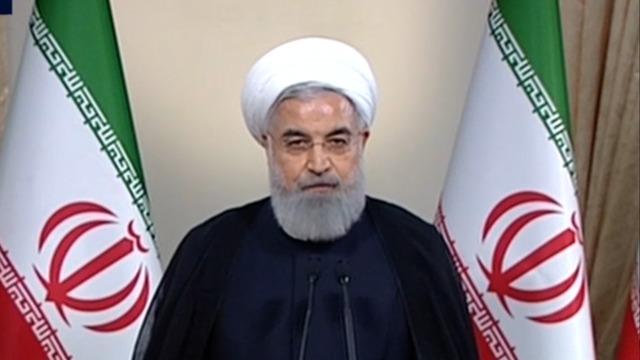 Iranian president slams Trump for pulling U.S. out of nuclear deal; world leaders react
Despite lobbying from European allies, President Trump moved forward Tuesday with his campaign promise to pull out of the 2015 nuclear agreement with Iran. He made the announcement from the White House, where he denounced the deal as "defective at its core."
Mr. Trump said the 2015 agreement that included Germany, France and Britain was a "horrible one-sided deal that should never ever have been made." He added that the U.S. "will be instituting the highest level of economic sanction."
Moments later, Iranian President Hassan Rouhani said he has ordered the foreign minister to negotiate with the other countries that remain in the nuclear deal. In a national address from Tehran, Rouhani warned there was only a short time to negotiate with them and that his country could soon "start enriching uranium more than before."
"Iran is a country that adheres to its commitments and the U.S. is a country that has never adhered to its commitments," he said.
The nuclear agreement -- officially known as the Joint Comprehensive Plan of Action, or JCPOA -- was reached in 2015 between the U.S., Russia, China, Iran and three close U.S. allies, Britain, France and Germany. It lifted most U.S. and international sanctions against Iran in return for Iran agreeing to restrictions on its nuclear program, making it impossible to produce a bomb, along with rigorous inspections.
The French president's office said Tuesday that France, Britain and Germany "regret" the decision to leave the accord, calling it a threat to global efforts to contain nuclear weapons. French President Emmanuel Macron tweeted that the "nuclear non-proliferation regime is at stake" because of Mr. Trump's announcement.
In New York, Russia's deputy ambassador to the United Nations, Dmitry Polyansky, said "we are disappointed" at the U.S. announcement. Asked whether the move might heighten tensions in the Middle East, he responded with one word to reporters at U.N. headquarters: "Sure."
U.N. Secretary-General Antonio Guterres said he was "deeply disappointed" by the decision and he called on the other signatories "to abide fully" by their commitments.
European Union foreign policy chief Federica Mogherini, who helps supervise the way Iran and the six world powers implement the deal and settle any disputes, expressed concern about Mr. Trump's suggestion that new sanctions might be slapped on Iran.
"I am particularly worried by the announcement tonight of new sanctions," Mogherini told reporters in Rome, adding that she would consult with Europe's partners about any new measures "to assess their implications."
"In any case, the European Union is determined to act in accordance with its security interests and to protect its economic investments," she added.
In a message directed to Iran itself, Mogherini said: "Do not let anyone dismantle this agreement. It is one of the biggest achievements diplomacy has ever delivered, and we have built this together."
Former President Obama called the decision a "serious mistake," and warned it will erode America's global credibility.
"The JCPOA is working - that is a view shared by our European allies, independent experts, and the current U.S. Secretary of Defense," Obama said in a statement posted on Facebook. "The JCPOA is in America's interest - it has significantly rolled back Iran's nuclear program. And the JCPOA is a model for what diplomacy can accomplish - its inspections and verification regime is precisely what the United States should be working to put in place with North Korea."
Meanwhile, Israeli Prime Minister Benjamin Netanyahu praised the decision, calling it "historic." Netanyahu, a leading critic of the deal, said leaving it unchanged would be "a recipe for disaster, a disaster for our region, a disaster for the peace of the world." He said Iran's aggression has grown since the deal, especially in Syria, where he says it is "trying to establish military bases to attack Israel."
Earlier, Israel's military said forces were on high alert and ordered bomb shelters open in the Golan Heights after spotting "irregular activity of Iranian forces in Syria."
"Despite the deal, the terrorist regime in Tehran is developing a ballistic missiles capability, ballistic missiles to carry nuclear warheads far and wide, to many parts of the world," Netanyahu said.
The precise impact of Mr. Trump's decision will probably take some time to decipher. In the short term, U.S. Congress now has about 60 days to decide its next move. Iran can also trigger a dispute mechanism in the agreement, opening a maximum 45-day window for the airing of grievances and to seek a compromise. This could buy three months of valuable time.
Overall, Mr. Trump's threats have baffled the Europeans. They say the deal is working and note that the International Atomic Energy Agency has now certified 10 times that Iran is in compliance with its obligations.
They wonder how breaking this deal would improve things and fear it might only create a dangerous vacuum for Iran to resume its nuclear activities.
E.U. officials also warn that any changes Mr. Trump might want to make to this agreement would have to be done on the basis of "more for more." They believe Iran is unlikely to accept new constraints without concessions in return.
That said, it is still possible to ramp up pressure on Iran over its ballistic missile program or its destabilizing role in regional affairs through other sanctions, which would fall outside the scope of the agreement.
Just in case U.S. sanctions linked to this agreement do kick in, the EU is weighing how to protect the interests of European businesses working with Iran.
The new U.S. ambassador in Berlin late Tuesday began advising German companies to stop doing business in Iran. In a tweet hours after he officially took up his duties, Ambassador Richard Grenell noted that Mr. Trump said American "sanctions will target critical sectors of Iran's economy."
"German companies doing business in Iran should wind down operations immediately," he added.
Back at home, House Speaker Paul Ryan also hailed the Tuesday announcement and said that "from the beginning, the Obama-era Iran deal was deeply flawed." Ryan said Iran's hostile actions since the deal was signed have only reaffirmed that it remains dedicated to sowing instability in the Middle East. Ryan said he would have preferred to fix the agreement rather than abandon it and that it was "unfortunate that we could not reach an understanding with our European partners" to do that.
He also said Mr. Trump is "right to insist that we hold Iran accountable both today and for the long-term," adding that he hopes the U.S. will continue to work with allies to address actions by Iran to destabilize the Middle East.
Reaction from Democrats in the U.S. has also started pouring in. Sen. Dick Durbin of Illinois, the No. 2 Democrat in the Senate, called the U.S. withdrawal "a mistake of historic proportions." Breaking the Iran deal increases the danger that Iran will restart its nuclear weapons program, which threatens Israel and "destabilizes the entire Middle East," he said.
Mr. Trump's action "isolates the United States from the world at a time when we need our allies to come together to address nuclear threats elsewhere, particularly in Korea," he added.
Thanks for reading CBS NEWS.
Create your free account or log in
for more features.