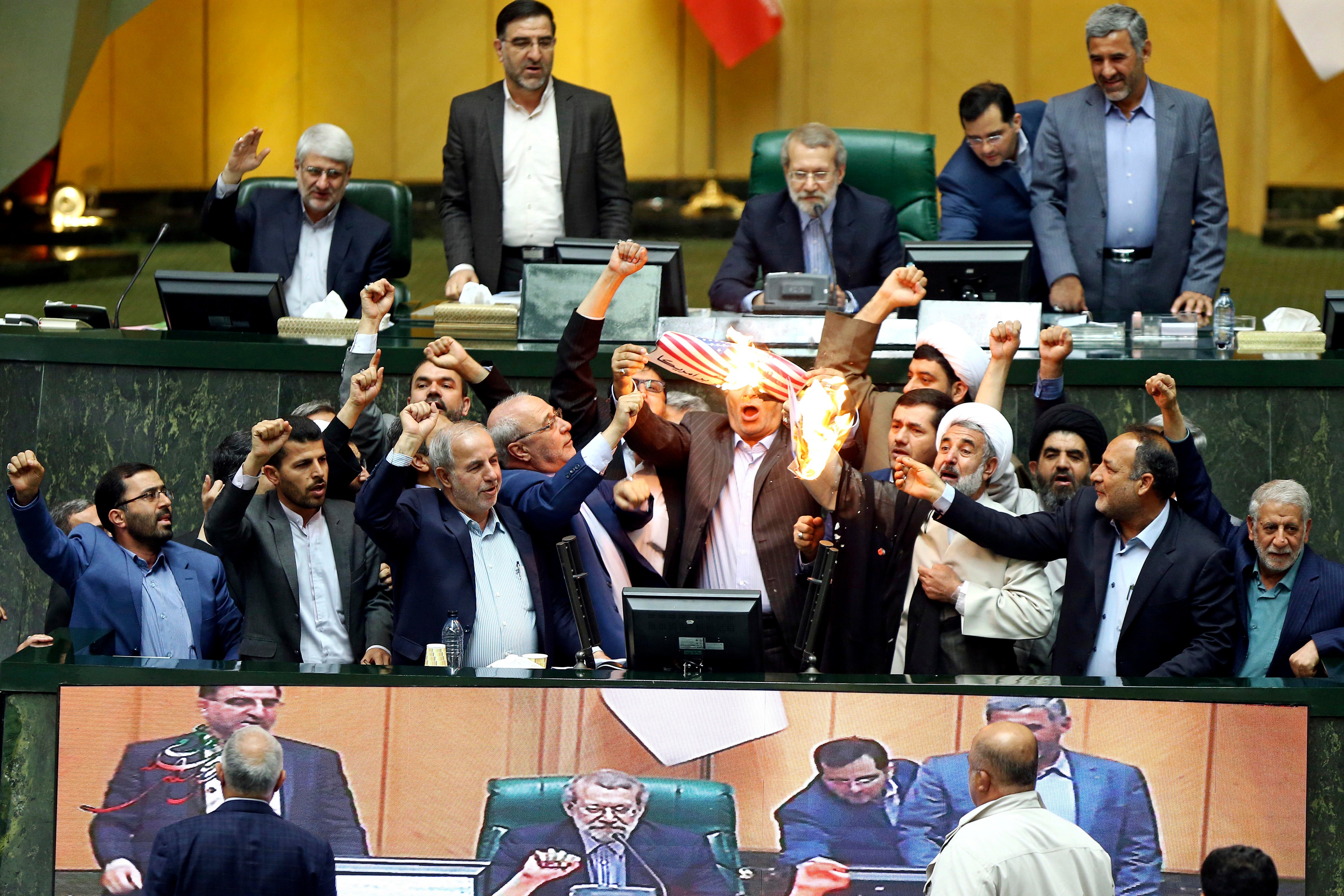 Iran blasts Donald Trump's "mistake," European allies try to salvage nuke deal
TEHRAN -- For most Iranians, and certainly the government of President Hassan Rouhani, President Donald Trump's decision to pull the U.S. out of the 2015 nuclear deal was a devastating blow. Hardliners in Tehran were maneuvering on Wednesday to take advantage.
CBS News correspondent Elizabeth Palmer says conservative lawmakers burned a paper U.S. flag in Iran's Parliament and chanted the familiar refrain, "death to America!" Later Wednesday, angry students protested in front of the U.S. Embassy in Tehran, burning more American flags and offering similar chants against the U.S.
Iran's Supreme Leader Ali Khamenei blasted Mr. Trump's speech as "silly and superficial," claiming it contained at least "10 lies," but offering no specifics. "You have made a mistake, Trump," Khamenei said, arguing that Mr. Trump couldn't "do a damn thing" to harm the Islamic Republic.
Hardliners in Iran hope Mr. Trump's decision will mark the beginning of the end of the country's moderate government, led by Rouhani. The president, who staked his reputation on the benefits of the deal, told the world last night that as far as Iran is concerned, the deal is not dead, and he vowed to continue to work with the other five countries still committed to saving it.
Britain, France, Germany, Russia and China had all urged President Trump not to abandon the accord, and most of those nations signaled early on Wednesday a determination to try and keep the deal alive.
Khamenei said Wednesday that Tehran would walk away from the nuclear deal if European signatories cannot offer solid guarantees that trade agreements reached under it would continue after the U.S. withdraws.
The International Atomic Energy Agency (IAEA), which is responsible for verifying Iran's compliance with the terms of the nuclear deal, said in a tweet that, as of Wednesday, Tehran remained compliant.
"As of today, the IAEA can confirm that the nuclear-related commitments are being implemented by Iran," IAEA chief Yukia Amano said in a statement.
As Palmer reports, the international accord is undeniably under huge strain with the U.S. decision to withdraw -- and so are ordinary Iranians, who were already squeezed by their country's weak economy. The value of Iran's currency tumbled on the news, and everyone in Tehran is worried about the return of tough U.S. sanctions.
Addressing Iran's government in a televised speech, Khamenei said: "If you don't succeed in obtaining a definitive guarantee -- and I really doubt that you can -- at that moment, we cannot continue like this."
Trying to keep it alive:
France
President Trump's announcement came as no surprise to France, given all the close contact recently with President Emmanuel Macron. CBS News correspondent Elaine Cobbe says senior French officials have stressed that France continues to support the 2015 deal, which they believe is still useful -- and, they say, still applicable to all remaining parties.
The officials said Wednesday that they believe Iran is still committed to the deal, too, and that President Rouhani has been "open and positive" about its future in conversations with President Macron. They stressed that dialog would continue with Tehran. However, one senior official admitted the situation would now be more "delicate," especially when demanding continued Iranian cooperation with nuclear inspections with far less scope to offer the reward of eased sanctions.
President Trump did not explicitly inform Macron of his decision in their phone call Tuesday ahead of his announcement, according to the French officials, but they added there was little doubt over what Mr. Trump would say. They said the two leaders discussed the situation in Syria – amid concerns in France that a breakdown in dialog between the U.S. and Iran could have an adverse effect on ongoing efforts to stabilise that country, and the Middle East in general.
France will also continue to work on other issues of concern to Washington, including Iran's nuclear capabilities after 2025, when the nuclear deal runs out; Tehran's conventional weapons; and the country's influence in the Middle East, especially in relation to regional terrorism.
Although the U.S. decision to reimpose sanctions is a unilateral one, French and European companies will be hit, as many use U.S.-manufactured parts in their products, or do business in dollars. The French admit it will take time to sort out.
European aircraft manufacturer Airbus will be one of those directly hit. It has production facilities in the U.S. and buys airplane parts from U.S. companies. Recent contracts worth $10 billion are now at risk.
France's economy minister, Bruno Le Maire, said Wednesday that it was "not acceptable" that the U.S. should take a unilateral move that affects the global economy and international security. "Over the past two years, France has multiplied by three its trade surplus with Iran," he said, adding that there are real fears of reprisals from the U.S. for companies that opt to continue trading with Iran, while also developing markets in the U.S.
Great Britain
British Foreign Secretary Boris Johnson stood on the floor of the British Parliament's House of Commons on Wednesday and said the government regretted Mr. Trump's decision. He said the government, led by Prime Minister Theresa May, "did our best" to try and convince the U.S. leader not to walk away from the deal.
Johnson said the U.S. decision "makes no difference to the government's assessment" that the nuclear deal remains in effect, and that it "remains vital" to the security of Great Britain. He cited the verified (by the IAEA) moves Iran had taken under what he called the "most intrusive inspection regime ever devised."
He said whereas Iran could previously have built a enriched uranium-fueled nuclear warhead within months, under the nuclear deal that "breakout time" had been extended to "at least a year." He said the deal had also made it impossible for Iran to work on developing a more powerful plutonium-based warhead.
As long as the IAEA continues to verify Iran's compliance, Johnson said, "Britain will remain a party to the JCPOA (nuclear deal)... Britain has no intention of walking away."
Johnson stressed that with Mr. Trump's decision to withdraw, it now falls on his administration "to spell out the way ahead," and he urged the White House not to take any steps that would damage efforts by the other parties to keep the deal viable.
Johnson was, "adamant that a nuclear-armed Iran would never be acceptable to the United Kingdom," a principle which he noted is "enshrined" on the first page of the nuclear deal itself.
The foreign secretary's political opposite in the U.K., the Labour Party's Shadow Foreign Secretary Emily Thornberry, was far less generous, calling on all British lawmakers to "stand united in condemning Donald Trump" for his decision.
Germany
Chancellor Angela Merkel said Germany, France and Britain would "do everything" to ensure that Iran remains in the landmark 2015 nuclear deal.
"We will remain committed to this agreement and will do everything to ensure that Iran complies with the deal," Merkel said.
Germany's foreign minister also vowed to work to preserve the nuclear deal and prevent an "uncontrolled escalation" of tensions in the Middle East.
Heiko Maas said "the agreement is working." He added that "it is not at all clear what, in the United States' view, could take the place of the nuclear agreement to prevent Iran verifiably from producing nuclear weapons."
Maas said it isn't in Iran's interests to jeopardize the opportunities created by the nuclear deal. He said "a cool head" will be needed in the coming days as the next steps are discussed.
He added: "We will also have to analyze what consequences the United States' withdrawal will have for European companies and how we in Europe can react to them together."
A group representing German trade interests, meanwhile, said the U.S. decision to withdraw would hit Germany's economy hard. The head of the Association of German Chambers of Commerce and Industry said the decision to lift sanctions on Iran in 2016 resulted in many new business relationships between the two countries.
Eric Schweitzer said Wednesday that the "unilateral actions by the U.S. government now subject this business to big reservations" because of the punitive sanctions German companies might face from the U.S.
China
Beijing expressed regret over President Trump's decision to withdraw the U.S. from the Iran nuclear deal and said it remained committed to the landmark pact.
Foreign Ministry spokesman Geng Shuang told reporters Wednesday that "ensuring the integrity and sanctity" of the agreement was important for upholding the international nonproliferation regime and promoting peace and stability in the Middle East.
"We express regret over this decision made by the United States," Geng said.
China is strongly invested in the agreement, and it was unclear what effect Mr. Trump's widely-criticized decision to re-impose sanctions would have on its relationship with Tehran.
China was involved in negotiating the agreement as one of the five permanent members of the United Nations Security Council and has long been a close Iranian economic partner, buying about 1/3 of Iran's oil shipments
Geng said China would "carry on the normal and transparent pragmatic cooperation with Iran on the basis of not violating our international obligation."
Russia
Foreign Minister Sergey Lavrov has said Russia remains committed to the deal reached in 2015, and that he will meet with European foreign ministers to try and figure out how to keep it afloat following Mr. Trump's announcement.
European Union

Belgian Prime Minister Charles Michel said Wednesday that instead of scuttling the nuclear deal with Iran, as the United States has done, others should consider expanding economic relations instead, to promote peace and good relations.
Michel told VRT network that at a European Union summit next week, the 28 leaders need to throw their full weight behind the agreement, "but perhaps also to expand the deal."
Michel said that "together with our partners in the world we must see perhaps whether to develop an economic element." He added that "we can promote stability in the region by reinforcing our economic exchanges."
The 28 EU leaders will have a summit in Sofia on May 17 and the Iranian nuclear deal has been put on the agenda.
Thanks for reading CBS NEWS.
Create your free account or log in
for more features.