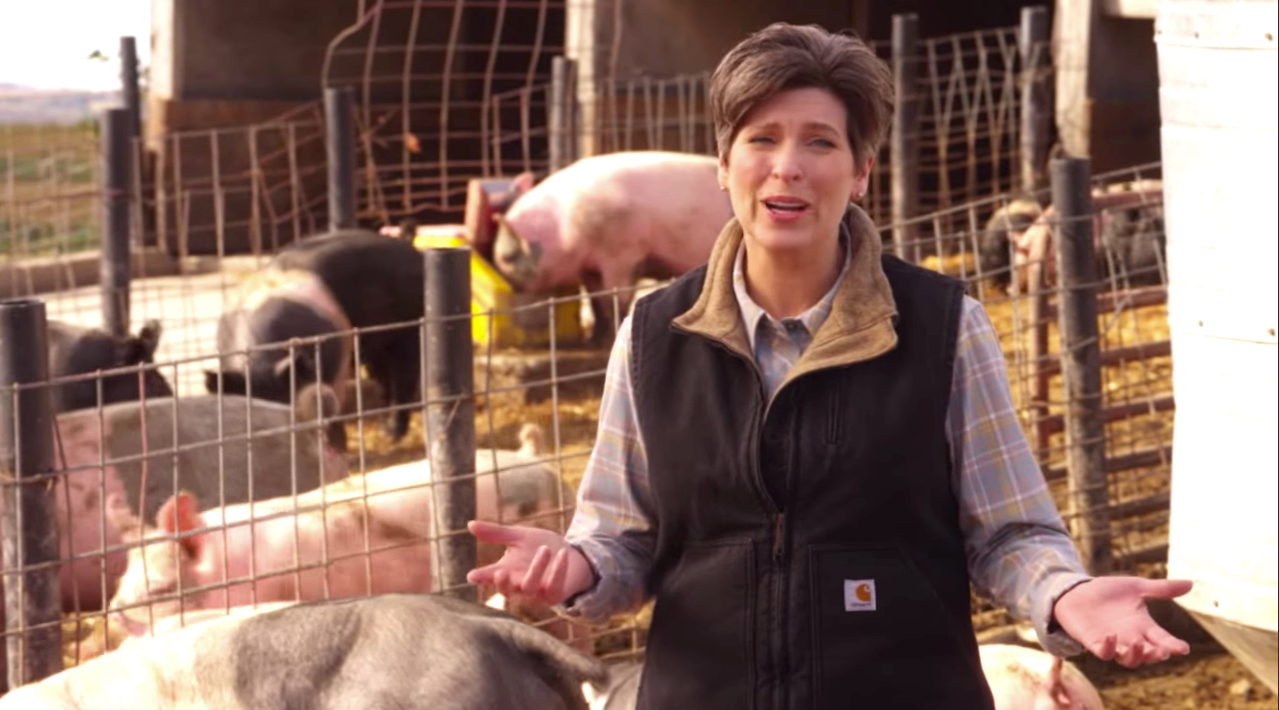 Des Moines Register says Iowa candidate Joni Ernst snubbed them
With less than two weeks before voters head to the polls, Iowa Republican Senate Candidate Joni Ernst is nursing a small lead in the polls over her Democratic rival, Rep. Bruce Braley, and she's up with a hard-hitting new ad decrying Washington's "bad ideas." But she's also drawing flak after scrapping a planned interview with Iowa's largest newspaper.
"It's a mess - dirty, noisy and it stinks," Ernst says in the new ad as she's surrounded by pigs. "Not this lot. I'm talking about Washington. Too many typical politicians hogging, wasting, and full of...let's just say, bad ideas."
"It's time to stop spending money we don't have and balance the budget," she added. "Cleaning up the mess in Washington is gonna take a whole lot of Iowa common sense."
The ad calls to mind one of Ernst's more memorable spots from her primary campaign, in which she talked about a childhood spent "castrating hogs" and vowed to "make 'em squeal" in Washington if she's elected to the Senate. The ad transformed her candidacy, vaulting her from virtual unknown to primary victor.
According to recent polls, her hard-charging, plainspoken pitch seems to be paying off: A Quinnipiac survey released Thursday showed Ernst ahead of Braley, 48 to 46 percent, a result that roughly aligns with other recent polls of the race. Republicans need a net gain of six seats to seize the Senate majority in the next Congress.
But even amid signs that she holds the momentum in the final stretch, Ernst came under criticism on Wednesday after backing out of an interview with the editorial board of the Des Moines Register, Iowa's largest and most influential newspaper.
Ernst was scheduled to appear before the paper's editors on Thursday, but late Wednesday, her campaign decided to pull the plug on the interview. Braley appeared before the paper's editorial board last month.
Ernst's campaign blamed the cancellation on recent columns in the Register that criticized the Republican's stance on social and economic issues, saying it was clear Ernst would not receive a fair hearing from the board.
"Recent editorials in The Des Moines Register make their position in this race perfectly clear, and it's one that many voters across our state seem to disagree with," Ernst spokesman Gretchen Hamel told the Register. "With less than 12 days to go, time is precious and Joni wants to spend every minute talking to undecided voters, hearing their concerns, and demonstrating why we need a change in Washington."
The paper's publisher, though, took Ernst to task, saying he was "disappointed" by the Republican's decision.
"Undecided voters I talk to want Sen. Ernst to break through the rhetoric and cacophony of campaign ads about hogs, Obamacare and balanced budgets. It's a time for sharing specifics," said Register publisher Rick Green.
"Snubbing us or appearing before us won't be the final call in our endorsement," Green added. "This is too important of a race to let petty things like that affect our endorsement process. But we are disappointed she didn't come in today."
Thanks for reading CBS NEWS.
Create your free account or log in
for more features.