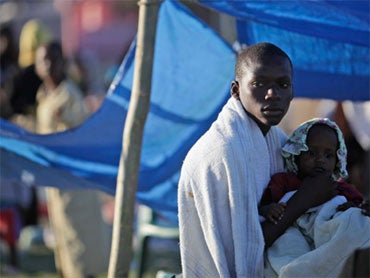 International Aid to Haiti: Who's Giving
Here's a look at some of the international aid pledges for victims of the earthquake in Haiti:
•The U.S. government is making an initial $100 million relief effort and is sending ships, helicopters, transport planes and 2,000 Marines.
• Canada is sending $5 million Canadian (US$4.8 million) and matching contributions by individual Canadians to eligible charitable organizations up to a total of $50 million Canadian (US$47 million). Ottawa also is sending two navy ships, helicopters, transport planes and a disaster response team.
How to Help Victims
Blog: The Latest Developments
Complete Coverage: Devastation in Haiti
• The World Bank is providing a $100 million grant, and the U.N. is sending $10 million.
• Britain is sending $10 million. A four-person government assessment team and 71 rescue specialists along with search dogs and heavy equipment arrived Thursday.
• Australia has pledged $9.3 million; Norway, about 30 million kroner ($5.3 million); Japan, up to $5 million; Italy, euro1 million ($1.46 million); and the European Commission, euro3 million ($4.37 million).
• The Netherlands and the Italian bishops' conference have each donated euro2 million. Denmark has donated 10 million kroner ($1.9 million) and Finland is giving euro1.25 million ($1.8 million). South Korea has pledged aid worth $1 million.
• Irish telecommunications company Digicel said it would donate $5 million and help repair the phone network.
• Spain has pledged euro3 million ($4.37 million), and sent rescue teams and 100 tons of equipment. Germany gave euro1.5 million ($2.17 million) and sent an immediate response team.
• India and China will each donate $1 million and China is sending a 60-member relief team with sniffer dogs.
• Sweden has offered 6 million kronor ($850,000), along with tents, water purification equipment and medical aid. It is also sending a team to build a new base to replace the U.N.'s destroyed headquarters.
• Venezuela has sent doctors, firefighters and rescue workers. Mexico will send doctors, search-and-rescue dogs and infrastructure experts. French President Nicolas Sarkozy said 400 staff from the public security authority are being sent, as well a ship with two surgical operating units, 50 beds for injured and earth-moving equipment.
• Iceland and Portugal are each sending more than 30 rescue workers. Taiwan has sent 23 rescue workers and two tons of aid and equipment.
• Israel plans to open a field hospital and is sending 220 rescue workers.
• A Swiss rescue team is arriving overland from the Dominican Republic. A flight carrying 40-50 tons of aid goods is planned for Friday.
Thanks for reading CBS NEWS.
Create your free account or log in
for more features.