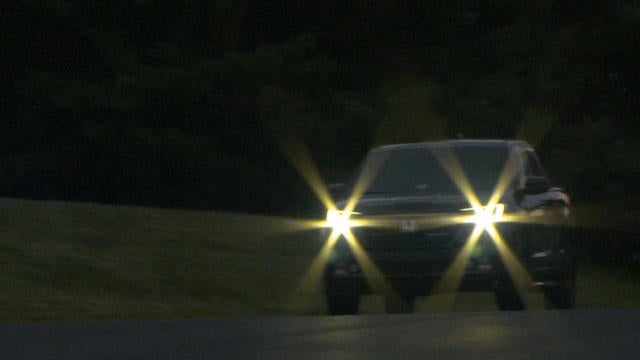 Study gives dim assessment of headlights on pickup trucks
A new report criticizes the performance of headlights on most pickup trucks. The Insurance Institute for Highway Safety looked at 11 pickups equipped with 23 different headlight options and found just one earned top marks. Another was ranked acceptable.
Of the trucks that received a poor rating is the new Ford F-150. Despite being one of the institute's highest rated pickup, its headlight performance – even the LED lights – was deemed "inadequate" in all test scenarios.
And there's concern that many of the cars tested have headlights that simply do not provide enough light to give a driver time to avoid an obstacle at freeway speeds, reports CBS News correspondent Kris Van Cleave.

According to the Insurance Institute for Highway Safety, the 2017 Honda Ridgeline has a well-performing headlight and the 2016 Chevrolet Colorado has a poor one -- the worst of those tested.

"You probably shouldn't be driving faster than about 35 miles per hour with the low beams on this pickup," said Matthew Brumbelow, a senior research engineer at the Insurance Institute for Highway Safety. "You just won't have time to see what you need to see and still be able to avoid a crash."
This is the first year the institute has tested headlight performance and has consistently found they underperform. Out of 63 vehicles -- midsize sedans, small SUVs and now pickups -- with 152 different headlight options, only two – the Honda Ridgeline and the Toyota Prius V with the upgraded LED headlights -- scored the top or good rating.
"Manufacturers could do what they thought was a pretty good job of designing the headlight, but then maybe not pay as much attention to how it was installed so it might not have been aimed properly," Brumbelow explained.
But automakers are listening now, said Motor Trend editor-in-chief Ed Loh.
"They're going to have to change course and probably upgrade a lot of their products because as this standard gets rolled into IIHS's safety protocol, it could affect sales," Loh said.
Tom Evans owns a Dodge Ram pickup. Two of its three headlight options scored poor and the other, marginal. Evans uses his fog lights to compensate.
"They're not as effective as they could be or should be for being HIDs (high-intensity discharge) that they are," Evans said.
Ford told "CBS This Morning" that safety is one of its highest priorities. Fiat Chrysler makes the Ram and said this test does not "align with regulatory requirements," adding its "vehicles meet or exceed" those requirements.
The IIHS said a number of car makers are already making changes. Starting next year, headlights must perform well for a car to earn the institute's highest safety rating.
Thanks for reading CBS NEWS.
Create your free account or log in
for more features.