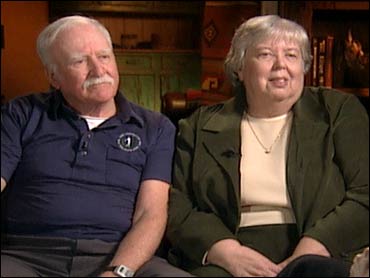 It's a common fantasy to go back in time and revisit high school.
Do you ever wonder what happened to your closest friend from high school, or the girl you were too shy to ask to the senior prom? There's a Web site that can help.
It's called Classmates.com, and it was set up to put old friends back in touch. People are using it to plan reunions. It's helping rekindle past romances, and it even lets old rivals check out how they measure up now.
But it turns out there's a lot more to it than that. Some people are finding out there are wild twists and turns you can take on a ride through your past. Correspondent Vicki Mabrey reports.

---

The girls from Chicago's Alvernia High School held their reunion last Sunday.

Part of the credit for bringing them all together went to Classmates.com. The Web site helps find folks, plan events and reunions, and even post the keepsake photos afterwards.

But for two people at this reunion, the Web site has done so much more -- it helped one save the other's life.

Sonja Gordon and Mary Morrison, Alvernia Class of '78, hadn't seen each other in almost 25 years -- until last fall, when Sonja was undergoing dialysis.

"Literally, this machine that I was hooking up to was what was sustaining my life," says Sonja. "It wasn't good. I mean, I wasn't going to get any better. I definitely needed a kidney transplant."

By last October, her health was so bad that her husband sent out a group email that ended up going to everyone on the Classmates.com reunion list.

"He said, 'Sonja's been on dialysis for over two years. And she needs a kidney transplant. And we're looking for the gift of life. If you're blood type O, we'd like to hear from you,'" remembers Sonja.

The next day, she received many emails from former classmates. One person she heard from was Mary Morrison. She and Sonja had been classmates, but not really friends. First thing Mary did after receiving the email was check her yearbook.

"I wanted to make sure that the person I thought was Sonja was her," says Mary.

Even though she could barely remember her, she did something remarkable. She decided to donate her kidney.

"I wanted to make sure my family was comfortable with it, too," says Mary, who hasn't seen Sonja since high school. "It was the right thing to do. And I – somebody – had to do it. Why not me?"

Sonja remembers telling Mary, "'I can't believe you're doing this.' She said, 'Sonja, I have children just like you do. And I would hope to God that someone would come and help me.' To her, it was that simple."

Three months later, this past January, the girl voted funniest in their class donated her kidney to the girl with the best laugh.

On Sunday, Sonja Gordon and Mary Morrison were together again at their high school reunion.

"One thing Mary did say is, 'I am not going to listen to you for the rest of your life thanking me over and over again. Get it out of your system now,'" says Sonja. "She just wants us to have our friendship together. And just not let it be based on our kidneys, you know?"

---

"We never dreamed that that's the way people would use classmates when we started out," says Classmates founder Randy Conrads.

Conrads says when he started the company back 1995, he just thought the Web site would help people get back in touch with their youth.

And there's something about signing onto Classmates.com that makes you feel 16 again. You can read about your old friends' lives once you've answered questions about yourself.

Classmates.com has more than 35 million members, from over 200,000 schools --kindergarten to college.

But Conrads says high school is the "sweet spot" that classmates tapped into.

"High school happens to be a place where people have some pretty intense relationships," says Conrads. "After that, some go on to college, some go get a job, some go in the military. Some take a trip around the world and we lose track of each other after that."

---

Russell Kees did almost every one of those things. And for 50 years, his sister, Sylvia Matson, didn't know where he was.

As children, they were inseparable. But Russell left home in the mid '40s. He fought in Korea and settled in the Marshall Islands. Along the way, he lost touch with his family, especially his sister, who had married and changed her name.

But the family finally found him again through Classmates.com, by emailing his school friends.

"I was quite surprised to get it of course. When I responded, 'Yeah, that's me, what's happening,'" remembers Russell. "And wow! Let's get together."

Last September, after half a century, they finally were reunited.

How did they bridge 50 years?

"Just that fast," says Sylvia. "That's all it took. Just that fast."

Perhaps the more typical tale they hear at Classmates is the simple love story, but even some of the love stories have a twist.

Mark Nunez investigates insurance fraud and has used Classmates to nab a couple of bad guys.

But while he was at it, one day he used it to look up the cute girl with braces he was always afraid to ask out.

Mark plugged in the name his secret crush had back when she was 15. Classmates lists women by their maiden names so they're easier to find. He was taken aback for a minute when he saw that her name was listed. He decided to send her an email.

"Right at that moment, all of a sudden, I'm 14, 15 years old again," remembers Mark, laughing. "You have to understand."

And suddenly, Robin Perry, now Robin Matthews, married and since divorced, got an email from a virtual stranger.

"I'm thinking, I don't know who this is. I had no idea," says Robin, after receiving his email. "So, I had to run home that night and look in the yearbook. I instantly recognized his smile."

A few days later, they had lunch. This was the first time they'd seen each other in 22 years.

Was Robin everything that Mark remembered?

"Actually better than I remembered," says Mark, laughing. "Time was good to her."

And to him. They're now engaged.

"It's like going back and slaying old dragons. It's like, hey, I have all this experience. I'm a confident person. I'm an accomplished person. And it's like, getting that second shot," says Mark, laughing.

---

This is what many classmates hope for when their high school days are long past -- another chance, as adults, to go back and get it right this time.

John Roberts never knew he needed a second chance, until one day, two years ago, he checked his email from Classmates.com.

"There was a message that asked if I was the John Roberts from Las Vegas, New Mexico," remembers John. "Had I been in Pueblo, Colorado in 1969?"

Back in 1969, John was a high school football star spending the summer working on the Colorado Railroad, and romancing the local young ladies. But this message was from a mystery woman.

The email asked John if he remembered dating a lady named Didi in Pueblo, Colorado. "I did and started to get an idea of what this letter was about," says John. "And I started to feel tingles all over."

John now keeps this email framed above his desk: "In 1995, I petitioned the courts to have my adoption records opened so I could locate my birth mother. I asked if she knew who my father was and she gave me your name back in 1995."

"My chin hit the desk," says John. "I was in shock. I had no idea."

"How do you tell somebody that doesn't know you exist that you're their daughter," asks Kirsten Miller.

When Kirsten set out to track down her father, all she knew was a name, hometown, and the fact that he had never known about the pregnancy. After six fruitless years, Kirsten had just about given up.

"Through the years, I would get online and, you know, go to a search engine and look for a John Roberts. And there are thousand and thousands and I just thought, 'I'm not going to start emailing these poor men,'" says Kirsten.

Oddly enough, she happened to be on Classmates.com that day just to look up former classmates. But the little she knew about her father was tailor made for a Classmates search. When she typed in "John Roberts" and his hometown, suddenly she was the one in shock.

"Growing up, I've never looked like anyone in my family because obviously I was adopted," says Kirsten. "And so it was very strange to look at someone and see maybe some resemblance. But I wasn't sure."

"You see the stories all the time where the parents say, 'I don't want you in my life. Just leave. I've got a new life now.' And so I tried to prepare myself for that."

But instead, she received a wonderful email from John. His response, she says, was "I feel like I've won the Publisher's Clearinghouse Sweepstakes."

"So what do we do from here," reads John from his email. "A phone call? A visit? Guest spot on the Montel Williams show? I hope I can say this properly. I love you."

"I love my family," adds John. "And to find out I had a family member that I had never met yet was just exciting to me."

Suddenly, Kirsten became the eldest of seven girls. And Roberts, 30 years after the fact, sent out birth announcements.

"I'd say for at least three months I had a big, silly grin on my face. I'd wake up happy, I'd go to sleep happy. It was a wonderful feeling," says John.

"I was just very happy with the results. Besides finding a lot of friends, I found a daughter."
Thanks for reading CBS NEWS.
Create your free account or log in
for more features.