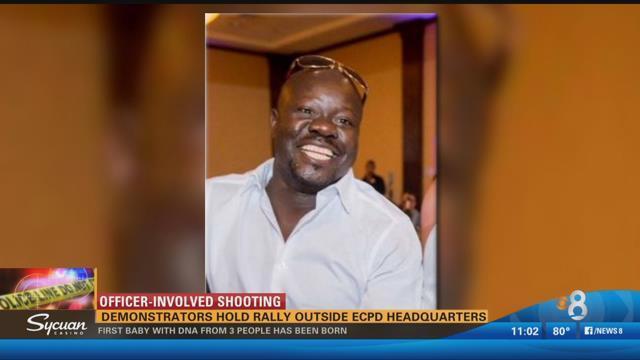 In El Cajon shooting, police mental health clinician was "on a different call"
EL CAJON, Calif. – Soon after Alfred Olango was shot and killed by police on Wednesday, a woman uploaded a 25-minute video to YouTube depicting the aftermath of the incident.
On the video, Olango's sister, who called police when her unarmed brother began behaving erratically, can be heard wailing over and over "I told you he's sick!" and "I called you guys for help and now you killed my brother!"
In the decades since the country closed many large institutions that housed the mentally ill - and never created an adequate community-based system for treating those with psychiatric illness - police have become the first call many family members make when a relative is in crisis. But interacting with someone suffering from a mental disorder or breakdown is tricky, and requires skills that are often diametrically opposed to those officers use when interacting with criminal suspects.
And this disconnect can be deadly: according to a 2015 report by the nonprofit Treatment Advocacy Center, mental disorders may be a factor in as many as half of all police shootings.
In an attempt to better respond to psychiatric calls, many cities, El Cajon included, have partnered with organizations that provide services to the mentally ill. In San Diego County, some police officers ride with psychiatric clinicians who are specially trained to assist on calls to mentally disturbed individuals. These clinicians are referred to as the Psychiatric Emergency Response Teams (PERT). In addition to these clinicians, some area officers undergo training to understand mental illness and learn techniques – including de-escalation – to better respond to citizens in psychiatric crisis.
But according to a statement posted online by the El Cajon police department, the PERT clinician on duty at the time of the Olango shooting was "on a different radio call."
On the video of the minutes after the shooting, Olango's sister says, "I called three times for them to come help me, they say it's not a priority." Olango's mother has said that her son was not mentally ill but was having a breakdown after learning of the death of a close friend.
It reportedly took El Cajon police an hour to respond to Olango's sister's call, but just one minute to shoot him once they arrived on the scene.
According to San Diego County PERT Director Dr. Mark Marvin, the county PERT has 32 licensed clinicians who are either on-call or ride with police officers and sheriff's deputies, and they are currently interviewing for several more slots. Most days, Marvin says, there are approximately five PERT officers on-duty county-wide. It is unclear if any other PERT clinicians were on duty at the time of Olango's shooting.
Marvin told Crimesider that since 2009, psychiatric calls to police have risen 59 percent, while the county's population has only gone up just five percent. Keeping up can be tough. Marvin says that PERT's parent organization, the nonprofit mental health advocacy group Community Research Solutions, offers training for police– both a 3-day and an 8-hour course – and that, as far as he was aware, El Cajon required all officers to take the 8-hour training. The training is modeled on Crisis Intervention Training​, which, according to the National Alliance on Mental Illness, is used by more than 2,700 of the nation's approximately 18,000 law enforcement agencies.
Other than the PERT clinician responding to a different call, it's not clear whether there were more PERT clinicians on duty the day of Olango's shooting, or whether the officers involved in the shooting had undergone PERT training. The El Cajon Police Department did not return Crimesider's calls for comment about the case or the department's mental health training.
Olango was unarmed when he was shot. According to a statement from the El Cajon Police Department, "At one point, the subject rapidly drew an object from his front pants pocket, placed both hands together and extended them rapidly toward the officer taking up what appeared to be a shooting stance."
The object, it turned out, was a vape pen.
The shooting is currently under investigation and although police say they have cell phone video of the incident, the department has thus far only released a still from the video.
Thanks for reading CBS NEWS.
Create your free account or log in
for more features.