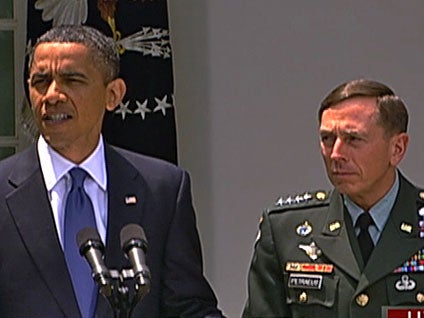 In Afghanistan, a New General -- But An Old Strategy
In announcing that he was replacing General Stanley McChrystal with General David Petraeus as the top commander in Afghanistan, President Obama made clear that while there would be a different man at the top, the war strategy would remain exactly the same.

"This is a change in personnel but it is not a change in policy," the president said in the Rose Garden, stressing that Petraeus, as the commander of U.S. Central Command, "supported and helped design the strategy we have in place."

Mr. Obama pointedly stated that he was removing McChrystal because derogatory comments by the general and his staff - conduct that he said "does not meet the standard that should be set by a commanding general" - and not because of "any difference in policy with General McChrystal, as we are in full agreement about our strategy."

But it's important to realize that the most important part of the Rolling Stone article that brought down McChrystal may not have been the incendiary quotes but rather the complaints from the military rank and file that the strategy isn't working.

Policies about limiting civilian casualties have soldiers complaining they can't effectively fight; one showed author Michael Hastings a card with regulations including "Patrol only in areas that you are reasonably certain that you will not have to defend yourselves with lethal force."

Said the soldier: "You sit and ask yourself: What are we doing here?"

Indeed, that's a question being asked by both some soldiers and some lawmakers, some of whom have struggled to define the mission in what is by some measures now the longest war in U.S. history. The president tried to address those concerns in his remarks, stating, "make no mistake, we have a clear goal."

"We are going to break the Taliban's momentum," he said. "We are going to build Afghan capacity. We are going to relentlessly apply pressure on Al Qaida and its leadership, strengthening the ability of both Afghanistan and Pakistan to do the same."

"We will not tolerate a safe haven for terrorists who want to destroy Afghan society from within and launch attacks against innocent men, women and children in our country and around the world," he added.

Yet critics will see McChrystal's stunning fall as a missed opportunity to walk away from a strategy they say isn't working. Casualties continue to pile up in the country -- June has already become the deadliest month yet for NATO forces (76 casualties, including 46 Americans) -- and February's offensive in Marjah has been far from an unqualified success. Though the military took the area, the Taliban remains a presence, and just yesterday Ambassador Richard Holbrooke, the White House special representative for Afghanistan and Pakistan, was shot at during a visit there. (In the Rolling Stone story, McChrystal called Marjah a "bleeding ulcer.")

Liberals and fiscal hawks in the House, meanwhile, were already wary of continuing to fund a fight in which clear victory was difficult to envision, and Mr. Obama's decision to stay the course will not likely change their thinking.


Petraeus, a counterinsurgency expert who orchestrated the successful Iraq surge, will now be charged with turning the tide without dramatically changing course. He ostensibly won't have much time to do so -- Mr. Obama agreed to send 30,000 more troops to Afghanistan on the condition that they begin leaving by July of next year, though that deadline looks less and less firm.


Afghanistan is the war Mr. Obama took as his own from the start, and he made clear today he is intent on seeing through the strategy that he settled on during a protracted review period last year. It will be left to history whether that his decision to stick with the plan orchestrated by his now-deposed general marked an important display of his leadership or instead an opportunity lost.

More Coverage:


McChrystal Relieved of Duty; Petraeus Tapped
Watch Obama's Statement
David Petraeus Brings Experience to the Job
What Happened in the Oval Office
Bob Schieffer and Bill Plante React to the Announcement
McChrystal Statement: I Resigned to See the Mission Succeed
McChrystal Situation Imperils War Funding Bill
Washington Unplugged: McChrystal Fallout Shakes Up Administration
Is McChrystal "Damaged Goods"?
Pictures: General McChrystal and President Obama
CBSNews.com Special Report: Afghanistan

Watch: McChrystal on "60 Minutes"
Thanks for reading CBS NEWS.
Create your free account or log in
for more features.