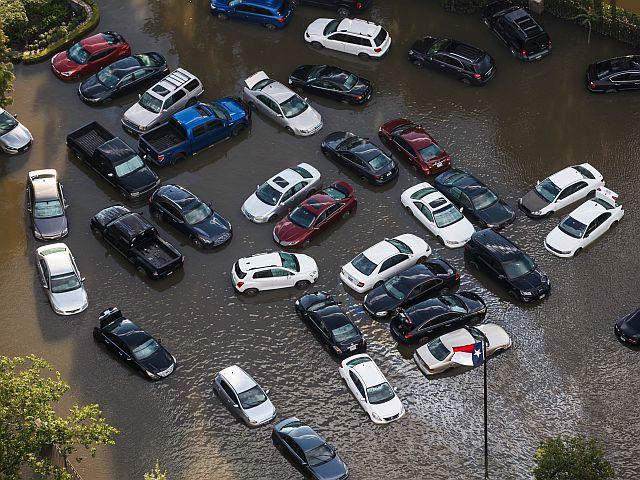 Hurricane Florence impact to push up used car prices
Surging demand to replace vehicles damaged by Hurricane Florence will likely push up used car prices.
Analysts at Black Book, which tracks used car prices and sales, say that people in areas flooded by the storm will need replacement cars quickly to be able to get back to work. In addition, dealerships must replace their damaged inventory.
"There will be immediate demand for replacement," said Anil Goyal, executive vice president for operations at Black Book. He expects that spike in demand to push up prices in the eastern U.S. by up to one percent. That would amount to $200 for a $20,000 used car.
Jonathan Smoke, chief economist with Kelley Blue Book, estimates that 20,000 to 40,000 vehicles will be total losses due to Florence. State Farm, one of the largest U.S. auto insurers, said that as of Wednesday it had received more than 1,600 auto-related claims from motorists in North and South Carolina. That number is expected to rise as flood waters recede and people return home.
Car dealers in affected areas not only need to replace their damaged inventory --they're also are missing the normal flow of used cars they would get at wholesale auctions, Goyal noted. As with most other businesses in coastal communities that faced Florence's wrath, the auctions have been closed for the past week or so.
Black Book does not expect flood replacement transactions to come anywhere near the 700,000 vehicles bought last year due to the combined effects of hurricanes Harvey and Irma. Those storms hit the Houston area, which has a population of about 6 million. The coastal areas in North and South Carolina and Virginia devastated by Florence are much more sparsely populated, and so have fewer cars.
For consumers who have been shopping for a used car but do not need it urgently, the best advice is to wait about a month, when Florence's impact on prices should be over. Still, beware of flooded cars that may have been cleaned up and recycled onto the used car market.
If an insurance claim is paid for flooding, the car's title should include that notation. Using the car's vehicle identification number, consumers can check with Carfax to see if a vehicle has a flooding history. A single report costs $39.99, or you can get three for $79.99.
--The Associated Press contributed to this report.
Thanks for reading CBS NEWS.
Create your free account or log in
for more features.