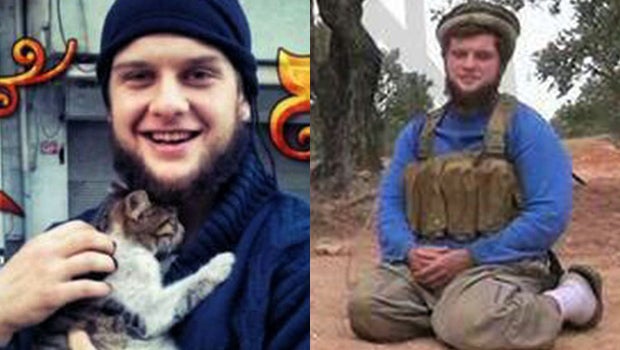 How many Americans have joined ISIS?
The U.S. government has positively identified a relatively small number of Americans - fewer than 12 - who have joined ISIS, but precise numbers are unavailable and intelligence assessments, while educated, are still estimates due to limited U.S. intelligence in Syria, CBS News correspondent Bob Orr reports.
There is also a group of Americans who have linked up with al Qaeda's affiliate al Nusra, Orr reports, and there is even a larger number of unknown Americans who have joined the Syria Free Army. Some have gone to aid groups and some have joined the jihadists.
While the U.S. can only confirm a relatively small number of Americans have linked up with terror groups in Syria, officials suspect the actual number may be higher. Orr says the estimate could easily be a few dozen if you combine Americans who have joined both al Qaeda and ISIS, also known as the Islamic State of Iraq and Syria.
The FBI and Homeland Security Department said Friday there are no specific or credible terror threats to the U.S. homeland from ISIS. An intelligence bulletin, issued to state and local law enforcement, says while there's no credible threat to the U.S. as a result of recent American airstrikes in Iraq, officials remain concerned that ISIS supporters could attack overseas targets with little warning.
U.S. law enforcement has been trying to identify ISIS sympathizers who could help export the group's brand of violent jihad to the United States.
More than 100 Americans and more than 1,000 Western Europeans have gone to Syria, Orr reports. Because they have passports that do not require visas to travel back to Europe and the U.S., they represent the potential operatives who pose threats.
The Islamic militant in a video showing the death of American journalist James Foley is likely British, officials say, and linguists say his accent suggests he is from the London area.
Intelligence officials believe there are roughly 7,000 foreign fighters in Syria, Attorney General Eric Holder said last month.
U.S. officials fear those individuals could easily return home radicalized and apply terrorist training received while in Syria.
In May, a 22-year-old man from Florida carried out a suicide bombing mission in Syria. And last month, a Colorado woman was charged with conspiring to help a foreign terrorist organization after she told FBI agents that she planned to travel to Syria to meet a man who claimed to be fighting for ISIS.
"This is a global crisis in need of a global solution. The Syrian conflict has turned that region into a cradle of violent extremism," Holder said in his July speech in Oslo. "But the world cannot simply sit back and let it become a training ground from which our nationals can return and launch attacks. And we will not."
Thanks for reading CBS NEWS.
Create your free account or log in
for more features.