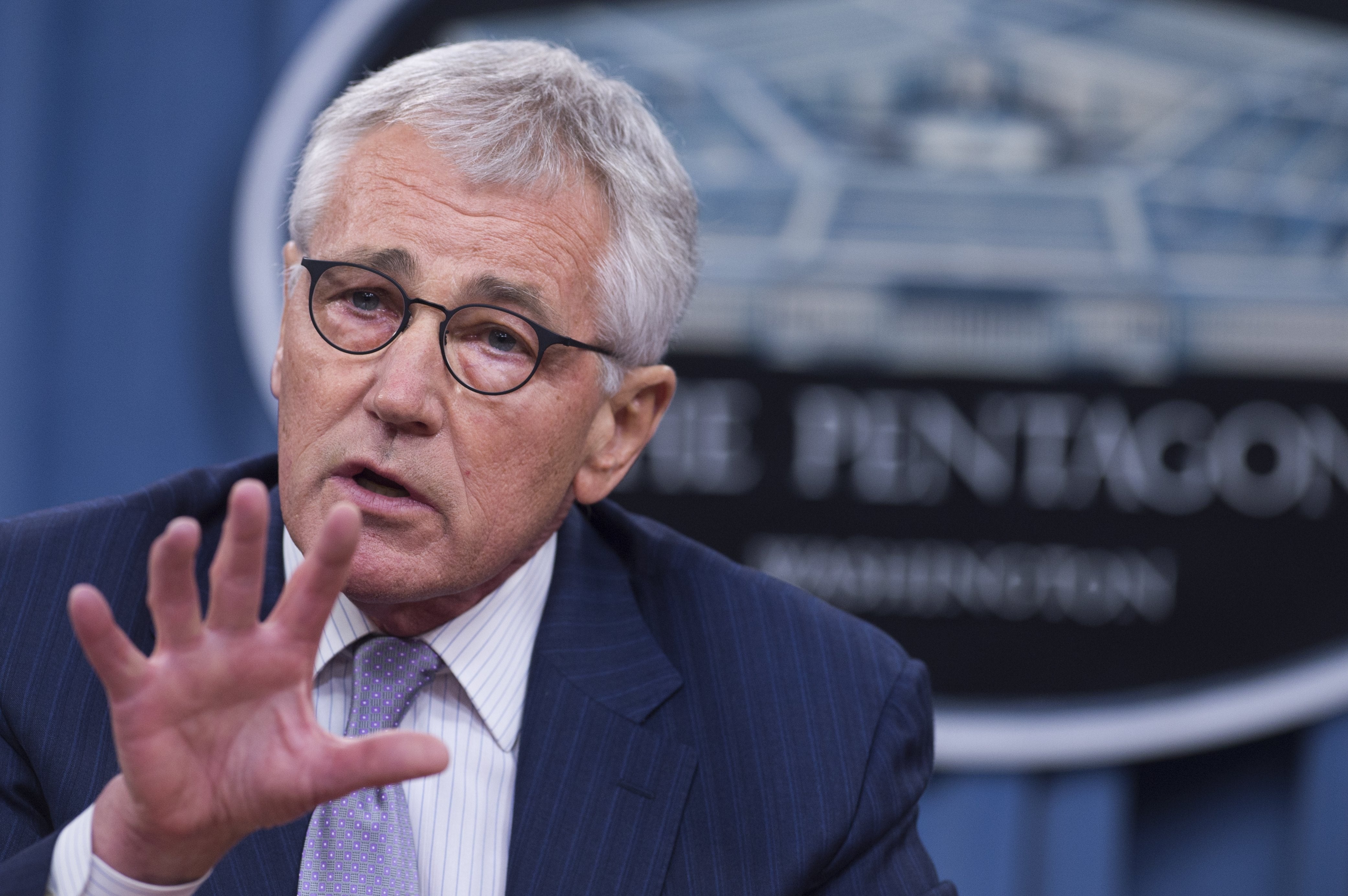 Chuck Hagel: ISIS "beyond anything we've seen"
Defense Secretary Chuck Hagel on Thursday defended the failed U.S. attempt to rescue James Foley, but warned that the Islamic extremists who executed the American journalist are "beyond just a terrorist group" and "beyond anything that we've seen."
The administration disclosed Wednesday that U.S. commandos had landed in Syria in July in a bid to rescue Foley and other Americans held hostage by the Islamic State of Iraq and Syria, also known as ISIS.
The disclosure came one day after ISIS released a video showing a militant beheading Foley and threatening that another American journalist would be next if the U.S. does not halt its airstrikes on ISIS fighters in northern Iraq.
At a Pentagon briefing, Hagel called ISIS' extremist ideology "barbaric," but warned that the group poses a dire threat that must be taken seriously.
"[ISIS] is as sophisticated and well-funded as any group that we have seen. They're beyond just a terrorist group. They marry ideology, a sophistication of strategic and tactical military prowess. They are tremendously well-funded," he said.
"This is beyond anything that we've seen. So we must prepare for everything," Hagel said.
Hagel also said the United States was right to try to rescue Foley and other American hostages, even though the mission was not successful.
"Earlier this summer, the United States attempted the rescue of a number of American hostages held in Syria, including Jim Foley," he said. "We all regret that mission did not succeed, but I'm very proud of the U.S. forces that participated in it."
The Pentagon chief said the U.S. would "not relent" in its efforts to secure the safe release of those still held by the terror group.
Some Republicans have criticized the decision to publicly acknowledge the rescue attempt, warning that it could put those still held by ISIS in greater jeopardy.
"Successful or not, such operations are incredibly sensitive, even after they have concluded," said House Armed Services Chairman Buck McKeon, R-Calif., in a statement. "Disclosure of these missions puts our troops at risk, reduces the likelihood that future missions will succeed, and risks the lives of hostages and informants alike."
Hagel pushed back, saying a "number of news outlets" were already preparing reports on the failed rescue, and the families of the hostages had also been notified.
"It was the decision -- and it was unanimous -- that we should, in fact, acknowledge this effort without going into any of the specifics of it," he said.
Gen. Martin Dempsey, the chairman of the Joint Chiefs of Staff, added that the U.S. did not reveal any sources or methods in acknowledging the rescue attempt.
Hagel and Dempsey both said the rescue operation was "flawless" in its execution, but the hostages simply weren't where the U.S. believed they would be when special operations forces arrived.
Hagel rebutted those who have blamed an intelligence failure for the unsuccessful rescue attempt.
"Intelligence doesn't come wrapped in a package with a bow. It is a mosaic of many pictures, of many factors," he said. "It's the responsibility of our government and our leaders to do all we can to take action when we believe there might be a good possibility, a good chance to make a rescue effort successful."
The two leaders also offered rundown of recent progress in the fight against ISIS, which has stormed across much of Syria and Western Iraq in recent months, gathering recruits and territory.
To date, Dempsey said, the United States has conducted seven humanitarian air drop missions, distributing 636 bundles of food water medical supplies from the skies. The U.S. has also averaged about 60 reconnaissance sorties on a daily basis, and American warplanes have executed 89 targeted airstrikes against ISIS targets in Iraq.
Those effforts have "helped blunt" ISIS' advance toward Erbil, the capital of Iraq's semi-autonomous Kurdish region, and they were instrumental in helping Kurdish and Iraqi forces wrest a strategically important dam near Mosul from the insurgents' grasp, Hagel said.
"Overall these operations have stalled [ISIS'] momentum and enabled Iraqi and Kurdish forces to regain their footing and take the initiative," Hagel said. "The U.S. will continue to support them, but addressing the threat posed by [ISIS] to the future of Iraq requires political reform."
He commended the "peaceful transition of power" last week that saw former Iraqi Prime Minister Nouri al-Maliki step down and a rival take his place, urging the new leader to pursue an "inclusive" governing agenda.
Despite some signs of progress, Hagel warned that an "acute humanitarian crisis" persists in Iraq and Syria, where extremists have targeted thousands of religious minorities for conversion or execution.
Thanks for reading CBS NEWS.
Create your free account or log in
for more features.