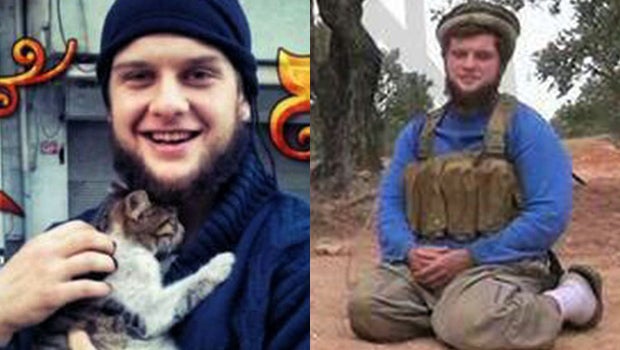 "Cat-loving" American suicide bomber in Syria from Florida
An American "cat-loving" jihadist who blew himself up in Syria earlier this week has been identified as Moner Mohammad Abusalha, CBS News confirms.
Abusalha carried out a suicide bombing against Syrian government troops earlier this week, and he is from Florida, Sen. Bill Nelson, D-Fla., told reporters.
In a statement, Seminole State College of Florida said Abusalha transferred and enrolled in their school in August, 2011, pursuing an an Associate in Arts degree. His last enrollment was for the "Spring/Winter Term 2012." He previously attended Keiser University and Indian River State College. He did not earn a degree.
The suicide attack is believed to be the first such attack since the start of the Syrian civil war in which an American has been involved.
At least 160,000 have died in the fighting between government forces and opposition forces seeking the ouster of Syrian President Bashar Assad.
Opposition forces had identified the man who carried out a May 25 truck bombing outside a restaurant in the government-held northwestern city of Idlib as Abu Hurayra al-Amriki and said he was a U.S. citizen. The name al-Amriki means "the American."
It's unknown how many people died in the bombing. Opposition rebels with the al-Qaeda-linked insurgency al-Nusra Front said Abusalha's truck was laden with 16 tons of explosives to tear down the al-Fanar restaurant in Idlib, a gathering site for Syrian troops.
Asaad Kanjo, an opposition activist based in the town of Saraqeb in Idlib province, said he heard that Abusalha arrived in Syria a few months ago and tore up his American passport upon arrival.
Kanjo said even a local commander with the Nusra Front was surprised about Abusalha, quoting him as saying that people do all they can to try go to the U.S. to get an American passport, and this man came here and got rid of his.
"From what I heard, I believe he was an American of Arab origin. People said that he spoke Arabic with a foreign accent, and he used to speak classical Arabic," Kanjo said.
He added that Abusalha was a member of the Nusra Front but was not a commander. "Most probably he came to carry out this attack," Kanjo said.
The truck bombing was one of four by suicide bombers who attacked over the course of a day in the area in Idlib province.
A picture on radical Islamic websites shows a smiling bearded man holding a cat identifying him as a "cat lover", whom officials believe is Abusalha.
Jabhat al-Nusra recently released a photo showing four jihadis. The fighter on the right, wearing a suicide vest, also appears to be Abusalha.
Thanks for reading CBS NEWS.
Create your free account or log in
for more features.