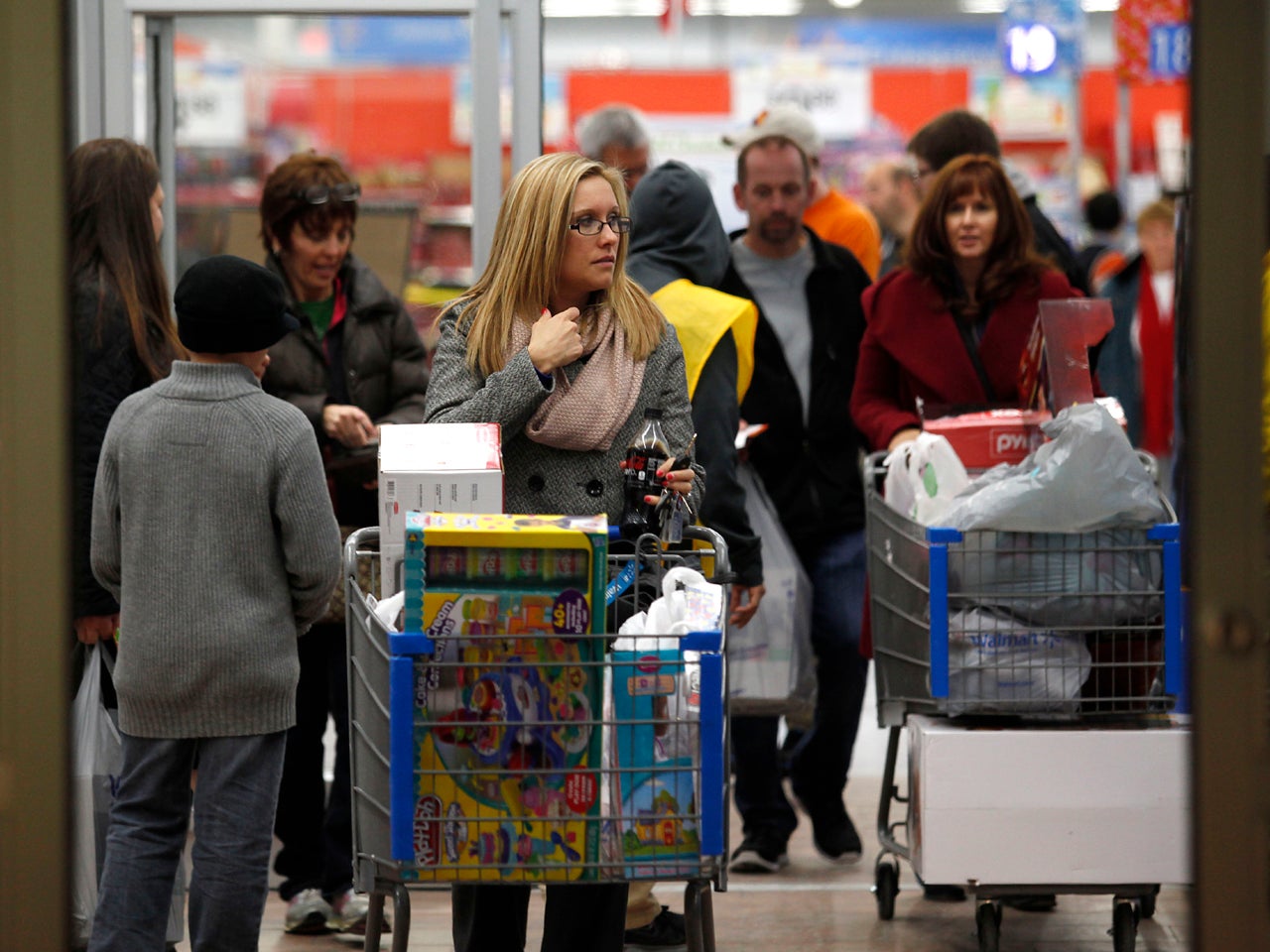 How Black Friday is eating into Thanksgiving
When historians look back at how Thanksgiving became just another shopping day, they'll have to several culprits to indict.
The once-sacrosanct day is quickly transforming into America's kickoff for the holiday shopping season, as retailers push back their Black Friday sales into Thursday. So far, Macy's (M) has announced it will open at 6 p.m. on Thanksgiving, or two hours earlier than last year, while other retailers are expected to follow suit by also opening their doors on Nov. 27.
The reason for starting the holiday shopping season on Thanksgiving comes down to pressure on retailers to boost sales amid what's been an uneven year, as well as rivals such as Amazon (AMZN) that are available to shoppers at any time of every day. With consumers expecting their favorite stores to offer that same type of flexibility, it may have been inevitable that Thanksgiving would get gobbled up by the holiday gift-buying season.
"We're becoming a 24/7, 365-day-a-year business environment, and that's what Amazon is all about," said John Challenger, chief executive of outplacement firm Challenger, Gray & Christmas. "Bricks-and-mortar retailers more and more are basically having to compete in that marketplace. In some ways we have little choice, and we'll see more and more creep of Black Friday into Thanksgiving."
Last year, stores such as Macy's, Kohl's (KSS), JC Penney (JCP) and Sears (SHLD) opened or offered Black Friday sales at 8 p.m. on Thanksgiving. This year, Challenger predicts many will follow Macy's lead and open at 6 p.m. on Thursday.
This year has proved somewhat of a challenge for retailers. While the unemployment rate is receding, wages remain stagnant, which some analysts say is one reason retailers such as Walmart (WMT) have struggled to lift sales.
Black Friday, which earned its name because the Friday after Thanksgiving traditionally pushed retailers into the black for the year, is even more important in 2014, given the still-recovering economy and consumers' less-than-robust bankbooks.
"To get the buzz going about the deals they have in the stores, and to get to shoppers' wallets early, is a race for what is by far and away the most crucial time of all for retailers," Challenger noted.
Walmart hasn't yet announced its Black Friday hours, but spokeswoman Sarah McKinney said its 2013 Thanksgiving shopping hours drew many families into its stores.
"It's a different type of shopper" who turns out for Thanksgiving deals, she said. That's because many traditional Black Friday bargains start in the predawn hours, such as 4 a.m., when kids are sleeping, she added.
But on Thanksgiving, she said, "The kids are awake, and they're going out with their parents."
Last year, the discount giant processed more than 10 million register transactions on Thanksgiving between 6 p.m. to 10 p.m. McKinney noted that while the Walmart's Black Friday deals on Thanksgiving are relatively new, the stores have been open on the holiday for 25 years, allowing home cooks to pick up "those forgotten green beans."
Even if holiday sticklers remain convinced that Thanksgiving shopping hours are unappetizing, the fact is consumers increasingly look for stores to open their doors on Turkey Day. About 22 percent of consumers believe retailers' Thanksgiving hours provide a fun activity for the holiday, according to a survey from coupon site RetailMeNot. About one-third said the holiday hours allowed people who have to work on Black Friday a chance to dig into their own shopping lists.
One-quarter said the holiday is their most popular shopping day, compared with more than one-third who cited Black Friday, RetailMeNot found.
Macy's experience backs up the survey's finding that consumers want to shop on the holiday. Last year, the stores had about 15,000 shoppers in line at its Herald Square store in Manhattan for its first Thanksgiving opening ever, a record for the store's Black Friday openings, spokeswoman Holly Thomas wrote in an email.
From a labor perspective, the downside is that some low-wage retail workers may feel pressured to work on a holiday, noted Marc Goumbri, a spokesman for the UFCW, the union that represents grocery and retail workers.
"Having someone choose between their family and their work isn't a fair position to put the worker in," Goumbri said. Still, he added, many retail workers have far bigger issues to worry about, such as low pay and not receiving enough hours from their employers to make a living wage.
Macy's says employees are receptive to working on the holiday. "We also heard last year from many associates who appreciated the opportunity to work on Thanksgiving so they could have time off on BlackFriday," Thomas wrote. "Additionally, associates who work an opening shift on Thanksgiving will be compensated with incentive pay."
Workers have already filled most of the shifts voluntarily, she added.
Just like shoppers, retail workers are getting used to the idea of fewer boundaries, Challenger noted. "The whole idea of a discrete clock-in, clock-out, 9-to-5, Monday-to-Friday work week is just being hit from all sides as the world changes," he said. "We're living in an era where the idea that there's a holiday that's off limits has gone by the board."
Thanks for reading CBS NEWS.
Create your free account or log in
for more features.