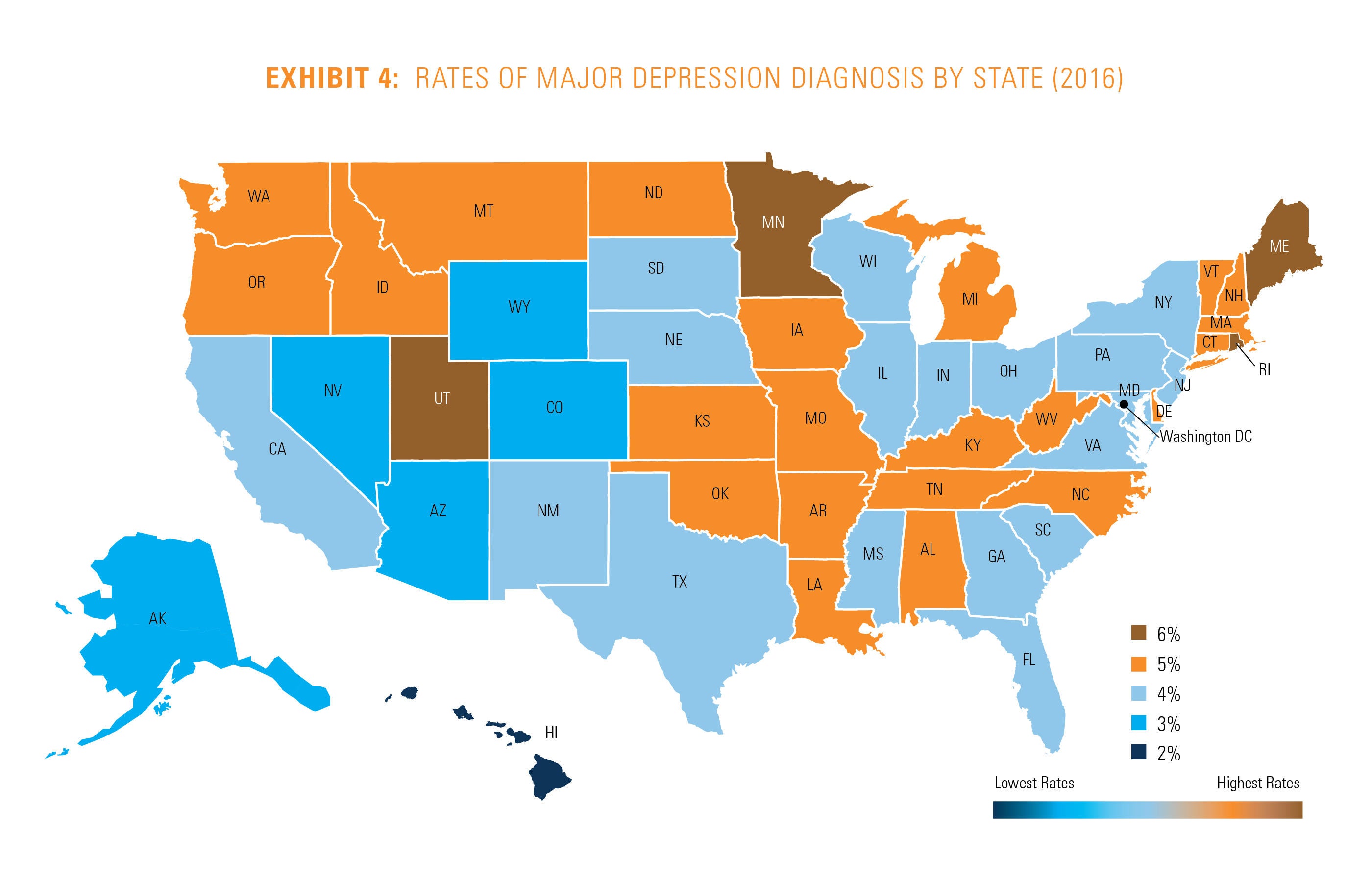 How depressed is your state?
Major depression is on the rise among Americans and certain groups and parts of the country have been hit harder than others, according to a new report from Blue Cross Blue Shield of America.
The data looks at medical claims from Blue Cross Blue Shield members from 2013 to 2016 and found a 33 percent jump in diagnosis of major depression over that time. In total, more than 9 million commercially insured people across the United States suffer from major depression, the report estimates.
Millennials and teenagers have experienced the fastest climb in diagnosis rates, up 47 percent and 63 percent, respectively.
"The high rates for adolescents and millennials could have a substantial health impact for decades to come," Trent Haywood, the group's senior vice president and chief medical officer, said in a statement.
Women are diagnosed with major depression at double the rate of men.
The report also found wide geographic differences in the diagnosis of major depression among states. The data showed higher rates of major depression in New England, the Pacific Northwest and various pockets throughout the South and Midwest.
The highest rate of depression was in Rhode Island at about 6 percent, while the lowest was in Hawaii at 2 percent. Every state except Hawaii experienced rising diagnosis rates of depression over the course of the study period.
However, the authors note that differences in the effort to screen for major depression can produce varying diagnoses rates across states.
What's behind the rise in major depression diagnoses?
The surge in people being diagnosed for major depression is likely due to a number of factors.
A 2017 study published in the journal Child Development found nighttime usage of a cellphones can increase anxiety and depression in teenagers and reduce self-esteem.
"We've suspected that there's a problem here, we've seen correlational studies, but this shows us that teens using their phone late at night leads to disrupted sleep which leads to increased depression, emotional fragility and sometimes acting out," psychologist and CBS News contributor Lisa Damour told "CBS This Morning" last year.
"Even if they're having a great time, even if they're being super appropriate on their phone, if the phone is getting in the way of sleep they need it still causes harm," Damour said.
Dr. Karyn Horowitz, a psychiatrist affiliated with Emma Pendleton Bradley Hospital in Rhode Island, notes there are gender differences in how children and adolescents use technology.
"Increased use of electronics, video games more commonly in boys and social media/texting more commonly in girls, can lead to increased conflict both within the home and with peers," Horowitz said in a statement.
The Blue Cross Blue Shield report also suggests a link between major depression and other health conditions. Of the more than 9 million Americans diagnosed with major depression in 2016, just 15 percent were diagnosed with that condition alone.
Eighty-five percent of people were diagnosed with both major depression and one or more additional health condition. Twenty-one percent had one additional health condition, 19 percent had two additional health conditions and 29 percent had four or more additional health conditions.
However, the authors caution that claims-based data cannot determine which came first: the major depression or other serious health conditions and whether or not one leads to the other.
Signs of major depression
According to the Mayo Clinic, symptoms of major depressive disorder include:
Feelings of sadness, emptiness or hopelessness
Angry outbursts, irritability or frustration, even over small matters
Loss of interest or pleasure in most or all normal activities
Sleep disturbances, including insomnia or sleeping too much
Tiredness and lack of energy
Reduced appetite and weight loss or increased cravings for food and weight gain
Anxiety, agitation or restlessness
Slowed thinking, speaking or body movements
Feelings of worthlessness or guilt, fixating on past failures or self-blame
Trouble thinking, concentrating, making decisions and remembering things
Frequent or recurrent thoughts of death, suicidal thoughts, suicide attempts or suicide
Unexplained physical problems, such as back pain or headaches
If you think you may be suffering from depression, speak to your doctor. If you are having suicidal thoughts, call the National Suicide Prevention Lifeline at 1-800-273-8255.
Thanks for reading CBS NEWS.
Create your free account or log in
for more features.