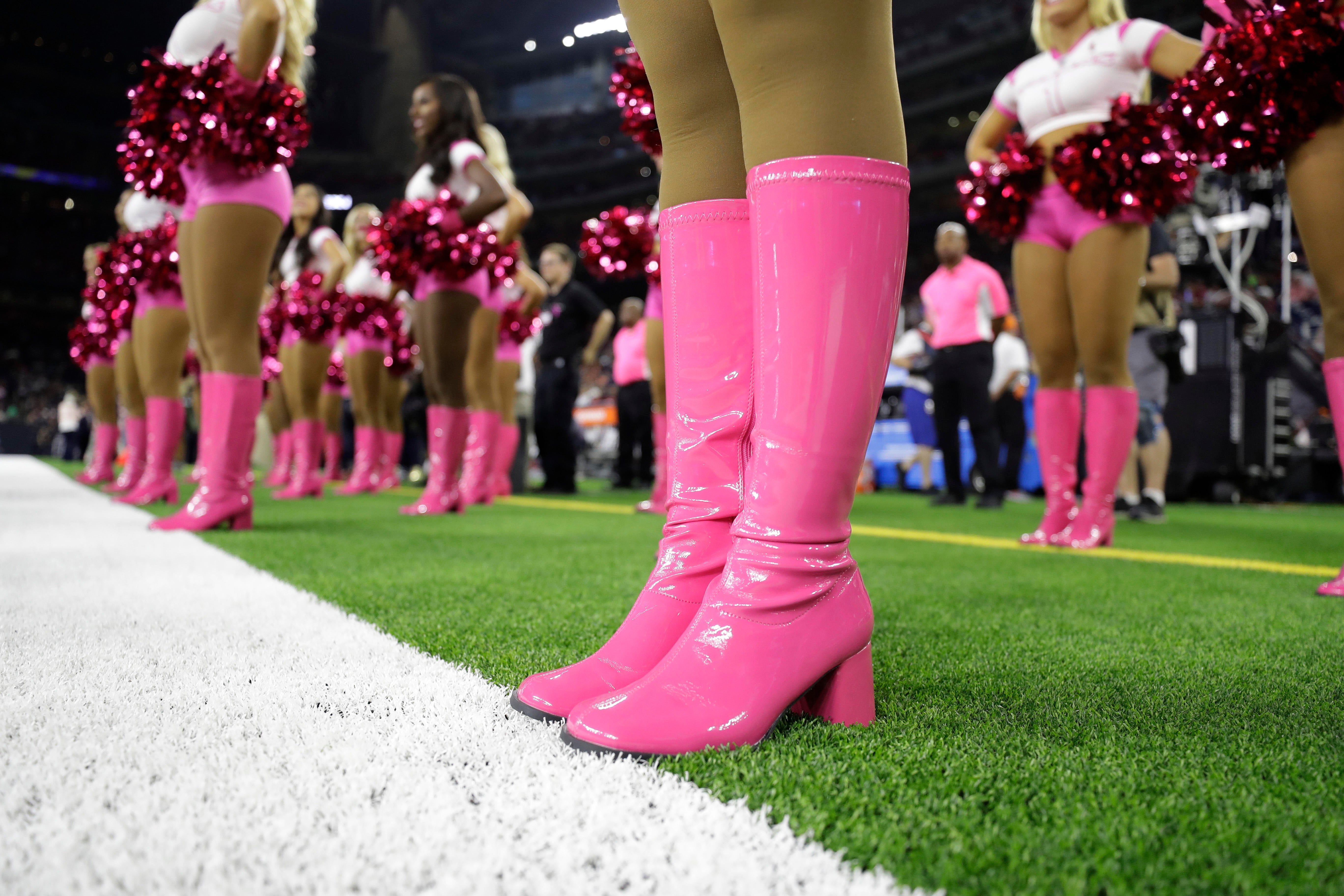 Ex-NFL cheerleaders sue Houston Texans, allege intimidation and low pay
HOUSTON -- Five former NFL cheerleaders sued the Houston Texans on Friday, alleging the team failed to fully compensate them as required by law and subjected them to a hostile work environment in which they were harassed, intimidated and forced to live in fear. The lawsuit, filed in Houston federal court, accuses the franchise of paying the women less than the $7.25 per hour they were promised, not compensating them for making public appearances or performing other tasks related to their jobs and creating a workplace where the women were threatened with being fired for voicing any complaints.
"I and my fellow cheerleaders were treated as the lowest of the low," Hannah Turnbow said at a news conference. "The Houston Texans were paid thousands of dollars to have us show up at appearances at locations all over Texas with no security, no transportation and where our safety was not guaranteed."
Turnbow said that after she was left with abrasions on her shoulder when she was attacked by a fan at one game, the team told her "to just suck it up."
"We were harassed, bullied and body shamed for $7.25 an hour," said ex-cheerleader Ainsley Parish.
Texans spokeswoman Amy Palcic said the team is constantly evaluating its cheerleader program and makes changes "as needed to make the program enjoyable for everyone."
"We are proud of the cheerleader program and have had hundreds of women participate and enjoy their experience while making a positive impact in the local community," Palcic said in a brief statement.
Prominent women's rights attorney Gloria Allred, who's representing the cheerleaders, alleged the women were paid "so little or not paid at all" for much of the work they did because of their gender.
"Surely (Texans owner Bob) McNair and the Houston Texans can find it in their budget of hundreds of millions of dollars to pay these women a fair wage, not minimum wage," Allred said. "I say, stop penny pinching. Pay these women what they deserve and make sure you pay them for every minute that they work."
The lawsuit is seeking unspecified damages.
This is the second such lawsuit filed against the Texans.
Last month, three ex-cheerleaders also filed suit in Houston federal court, accusing the Texans of not paying them minimum wage, not paying overtime wages and accusing a cheerleading supervisor of body shaming them.
These lawsuits are part of a series of recent complaints that have been made by cheerleaders against NFL teams across the country.
The New York Times reported last month that on a trip to Costa Rica for a photo shoot in 2013, Washington Redskins cheerleaders had their passports collected, were forced to be topless for a calendar photo shoot that included male spectators and were asked to be escorts for sponsors at a nightclub.
Former cheerleaders with the Miami Dolphins and the New Orleans Saints also have filed recent discriminatory complaints and lawsuits against their ex-teams.
Last year, a federal judge in California dismissed a lawsuit that had been filed by a former San Francisco 49ers cheerleader who had accused the NFL and team owners of conspiring to suppress wages for cheerleaders.
Allred said she planned next week to present a letter to NFL Commissioner Roger Goodell asking him to review the complaints being made by her clients and other cheerleaders about their working conditions.
Thanks for reading CBS NEWS.
Create your free account or log in
for more features.