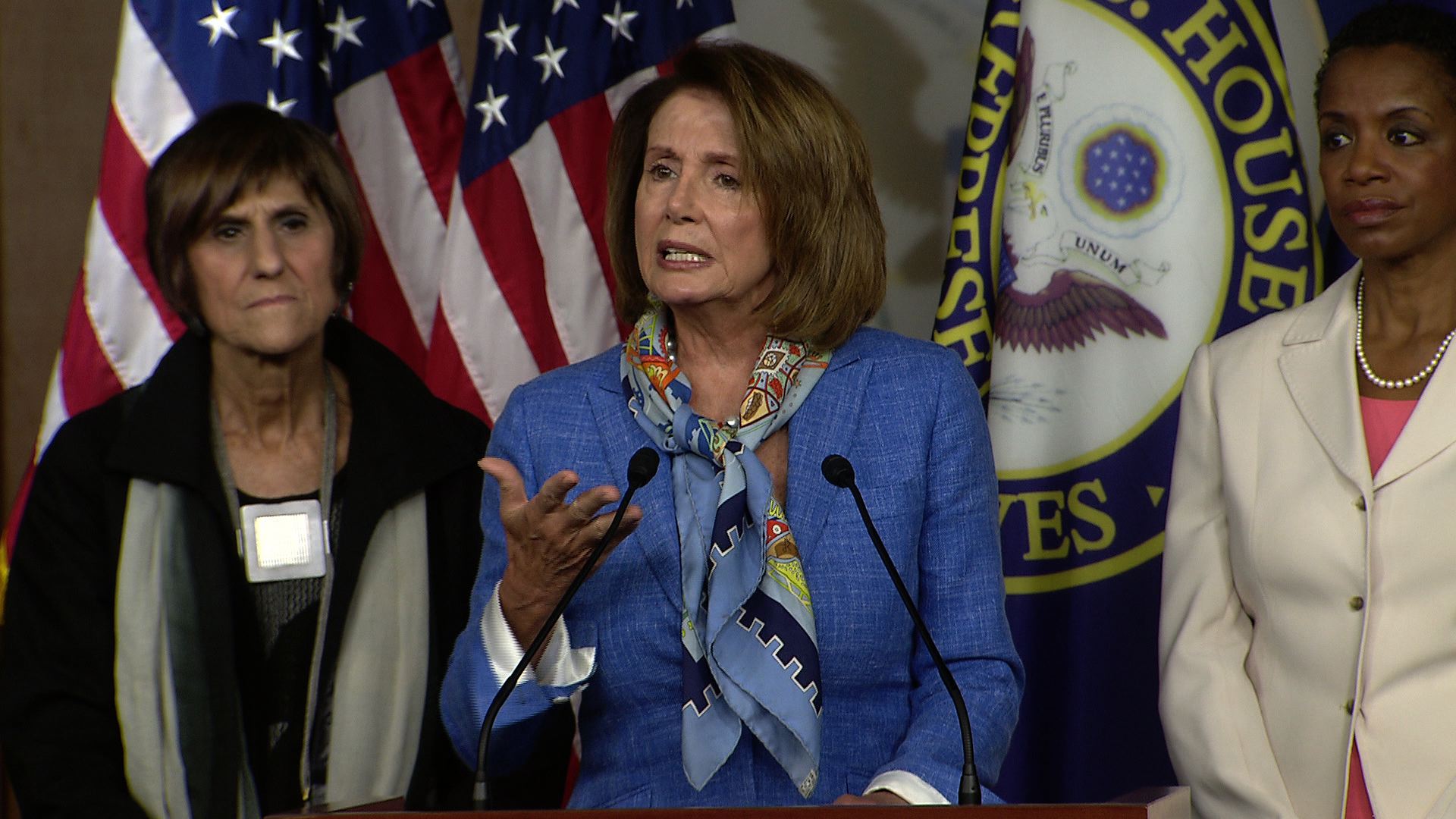 House Democrats: GOP should end 7-week recess to tackle Zika, Flint, gun violence
House Minority Leader Nancy Pelosi and other top Democrats called on their Republican colleagues Thursday to suspend their seven-week congressional recess and return to Washington to address a series of public health crises.
"We have emergencies that have been there for months that Congress left without addressing," Pelosi, a California Democrat, told reporters at a press conference.
Democrats want Republicans to hold an emergency session of Congress to tackle the Zika virus, which Florida is having its first outbreak of through mosquitoes. They also want to address the water crisis in Flint, Michigan, gun violence and the opioid epidemic.
Rep. Rosa DeLauro, D-Connecticut, the top Democrat on the House Appropriations subcommittee warned that the National Institutes of Health (NIH) and the Biomedical Advanced Research and Development Authority, which provides funding to the private sector to help develop vaccines and medicines, will exhaust their funding by the end of August.
The Department of Health and Human Services, as a result, will be forced to take money from the NIH used for biomedical research and forced to take money from other public health programs, DeLauro added.
"The money is running out and our public health officials cannot combat this virus without additional funding," she said. "Speaker Ryan, call the House of Representatives back."
Congress isn't scheduled to return to Capitol Hill until after Labor Day and they left Washington for their annual summer recess last month before both parties held their conventions.
"The reason our Republican colleagues are not here is because...governance is not what they're here to do," Pelosi said. "My question to the Republican leadership: What better thing do you have to do than to look after the needs of the American people?"
Republicans and Democrats have pointed fingers at each other over who is to blame for the lack of funding to fight Zika.
President Obama first asked Congress for nearly $2 billion in February to fund efforts to respond to the virus, accelerate Zika research, develop a vaccine and provide emergency assistance to states and U.S. territories.
Republicans then demanded that the administration draw on funds from its Ebola account from 2014 to help fight Zika, which it did, but the administration has emphasized that the full request is needed -- as well as funding to replenish the Ebola accounts.
Before lawmakers left Capitol Hill last month, House and Senate Republicans crafted a $1.1 billion proposal to fight Zika that the House passed, but Senate Democrats then blocked because it didn't fulfill the full request. As a result, GOP leaders are blaming Democrats for the lack of action on approving additional Zika funding.
Republicans are also accusing the administration of sitting on unspent funds that agencies can shift over to their Zika efforts.
Administration officials are warning lawmakers that the lack of funding could delay the development of a vaccine to prevent the spread of the Zika infection.
The group of Democrats had just returned from a congressional trip overseas to Afghanistan and Italy to meet with officials from the European Union and NATO.
Rep. Steve Israel, D-New York, said that they should have brought "brooms and mops" for the "national security mess that Donald Trump has created" when they visited those two countries.
Pelosi also blasted Trump for his remarks on the Second Amendment that he made Tuesday, for which he has come under fire.
"The comment that was made by the Republican nominee about the Second Amendment -- it was clear that he didn't understand that the words of a presidential candidate -- a nominee -- weigh a ton," she said. "To choose the Second Amendment in the manner in which he did -- perhaps unwittingly -- the double meaning that it had, wittingly or not, is very, very problematic and scary."
She added that Trump's claim that President Obama and Hillary Clinton are the founders of the Islamic State in Iraq and Syria (ISIS) is "so bizarre" and "reminiscent of demagogues...They make verbal poo-poo no matter what to get attention."
Thanks for reading CBS NEWS.
Create your free account or log in
for more features.