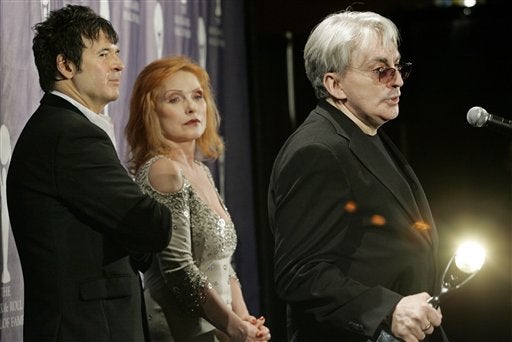 Hornets' Shinn Not Liable

A jury found in favor of Charlotte Hornets owner George Shinn on Friday in a lawsuit by a woman who accused him of forcing her to have sex.
The decision in the two-week civil trial ended Leslie Price's more than two-year fight. She was seeking monetary damages and contended Shinn sexually assaulted her at his Tega Cay home in 1997.
The jury decided in less than two hours. Shinn's lawyer, Bill Diehl, jumped from the defense table when the verdict was read. Price nodded her head at the decision.
"He's gotten away," a tearful Price said later. "I didn't let him get away. He didn't pay me off. I have been browbeaten to settle, and I wouldn't do it."
Shinn was not in court for the verdict. His lawyer said he had gone to Charlotte on business.
"I am personally very sorry for the embarrassment that these absurd accusations caused my family, friends, employees and the people of Charlotte," he said in a statement through the Hornets. "We all have made mistakes during our lifetime, and this is one that I hope everyone will allow me to put in the past."
Shinn had admitted a sexual encounter with Price, but said it was consensual. Prosecutors determined there was insufficient evidence to pursue criminal charges.
Price's lawyers had tried to paint Shinn as a sexual predator who had coerced other women into sex. The trial was a series of sordid testimony and legal fights about what lowlights of Shinn's and Price's life could be entered into evidence.
"I would hope that other women would not get the message that this jury is sending to them," Price said. "Fight, just fight."
Price, who would have needed a unanimous verdict from the jury of seven men and five women to win the case, left the court room near tears.
"I know he did this to me. I'll know it until the day I die," Price said. "I've been outnumbered. I've been outfinanced. This doesn't hurt anything near as bad as when he walked on the criminal charges."
"This was a question for the jury to decide," said Jeff Mishkin, the NBA's chief legal officer said after the verdict. "They have made their decision and there is nothing for us to add."
Under state law, Price has 10 days to appeal. But lawyer Paul Dominick said that has not been decided.
"We're very disappointed," he said. "We believed in our client. We still believe in her."
Shinn and Price may meet in court again. Shinn has sued Price for slander and extortion. That case is scheduled for March 27 in Charlotte. Diehl said he would be willing to settle that case before then.
Diehl tried to paint Price as a habitual liar in closing arguments, and said that was the key in the verdict. "Her story was made up and didn't happen," he said, "and they believed that."
At ne point during deliberations the jury asked Circuit Court Judge Costa Pleicones for a clear definition of assault. At that point "we had out hearts in our throats," Diehl said.
Closing arguments earlier Friday were as graphic as ever. Diehl at one point got on the courtroom floor to demonstrate that the sexual contact Price alleges in her lawsuit could not have happened the way she described. He called her life "one big lie."
Diehl, who repeatedly called Price "Les-lie", told jurors she is obstructing justice and committing perjury to get money.
"This was a sexual event that had to do with her thinking `I'm going to get something for it' a lawyer, financial support then it didn't happen," Diehl said.
Price accused Shinn of forcing her into oral sex during a visit to his home to meet a divorce lawyer.
Her lawyers said in closing that Shinn took advantage of a vulnerable woman undergoing outpatient treatment for an addiction to prescription painkillers.
"When he met Leslie Price she was an outpatient, she had substance induced anxiety, she was depressed, she was worried about her divorce and her custody dispute," lawyer Victoria Eslinger said.
Eslinger said Shinn called Price only after failing to get in touch with another woman he had a sexual relationship with.
"George Shinn knew what he wanted and he didn't particularly care where he was going to get it," Eslinger said.
Diehl reminded jurors that Price had ample opportunities to get away from Shinn both in the drive from the treatment center where they met to his home and she never resisted the sex.
Price was being treated for an addiction to prescription painkillers and they met because Shinn's nephew was also in the center in Charlotte, N.C.
Eslinger said Price didn't resist because "she was in fear of her life" and reminded jurors that a defense witness testified that victims of sexual abuse sometimes do not think reasonably.
Diehl said Price could have bitten Shinn during sex if she objected to it. But Dominick slapped his right fist into his open left palm to demonstrate what Shinn could have done if she had bitten him.
Diehl said Shinn has flaws, but is not guilty of sexual assault.
"He may be a sinner, but he is not a rapist and that's the issue on trial," Diehl said. "I say to you, that George Shinn is the victim of a high-powered attempt to make him pay money for something he didn't do."
©1999 The Associated Press. All Rights Reserved. This material may not be published, broadcast, rewritten, or redistributed
Thanks for reading CBS NEWS.
Create your free account or log in
for more features.