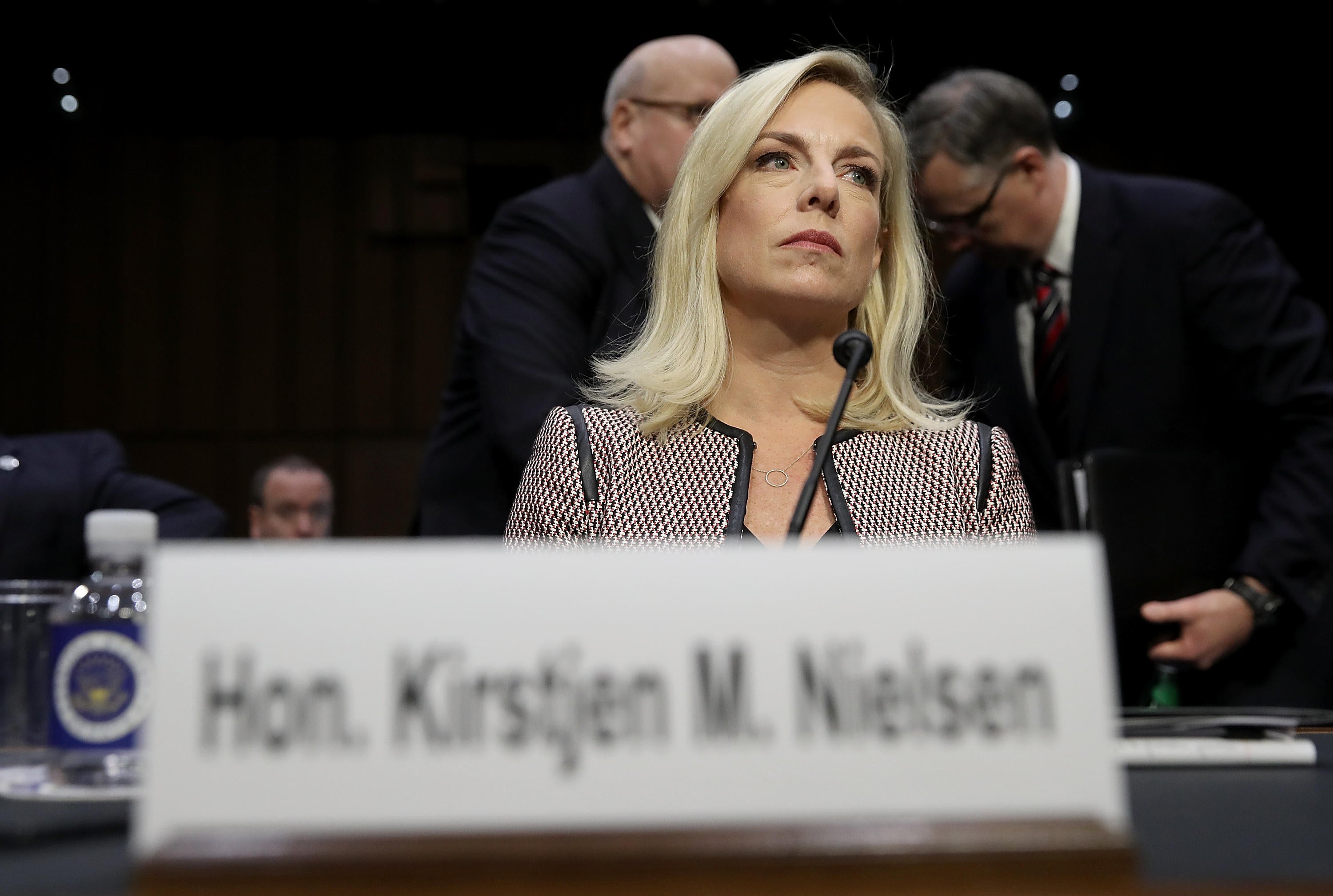 U.S. election systems remain vulnerable, Russia undeterred, DHS secretaries say
Both Republican and Democratic senators are concerned that going into the midterm campaign season, the U.S. is unprepared to counter cybersecurity threats to the integrity of its election systems. The Senate Intelligence Committee convened a hearing Wednesday to express its criticisms and concerns to the current and former Homeland Security secretaries.
"The threat of interference remains and we recognize that the 2018 midterm and future elections are clearly potential targets for Russian hacking attempts," said DHS Secretary Kirstjen Nielson, who was nominated to the role by President Trump, in her opening remarks.
Nielsen testified alongside former DHS secretary Jeh Johnson, who served in the Obama administration during the 2016 election. Both officials generally agreed that American election systems remain vulnerable, now and in the future, to hacking by Russia and other actors. They both concurred that no evidence has been presented to suggest any votes in 2016 were changed as a result of Russian interference. And they agreed that more could be done by the Trump administration to deter Russia and other actors from repeating or escalating their attacks.
"It does seem plain," Johnson said, "that the Russian effort has not been contained."
Johnson said that the sanctions issued against Russia by the Obama administration in late December 2016 have not worked as an effective deterrent and that it was incumbent on the Trump administration to escalate them. "Superpowers respond to sufficient deterrence," Johnson said.
"There's no reason to believe they will not attempt again," Nielsen said, adding that DHS was treating the matter with "extreme urgency" and that she had the support of the Trump administration to ensure state and local officials were apprised of the threat.
DHS is hampered, Nielsen said, by the fact that not all election officials accept the department's support. "In many cases state and local officials have their own resources and simply don't require the assistance that we're offering," she said.
Officials have concluded that hackers targeted 21 states' election systems and successfully breached at least one.
Sen. Angus King, I-Maine, said states reluctant to cooperate with DHS might need to be shocked into realizing their own vulnerabilities, and suggested that Nielsen work with the National Security Agency to develop a 'red team' to hack some uncooperative states. "This country has to wake up," he said.
"We will consider it," Nielsen responded.
Senators of both parties expressed concern that DHS had not and still is not responding to the threat with enough alacrity.
"I hear no sense of urgency to really get on top of this issue," said Sen. Susan Collins, R-Maine, stressing that some elections have already begun.
"During the 2016 election, officials at both at the federal and state level were caught flat footed," said Vice Chairman Mark Warner, D-Virginia, "and the follow-up from the new administration was not much better."
Johnson was grilled about what several senators said was an inadequate effort by DHS to inform American citizens that a foreign power was meddling in the 2016 election.
Johnson said he and then-Director of National Intelligence James Clapper issued on October 7, 2016, "a pretty blunt statement." He added, "Frankly, it did not get the attention that it should have."
"It was below-the-fold news," Johnson said, since it had coincided with the release of the "Access Hollywood" tape in the final days of the 2016 presidential campaign.
Wednesday's hearing followed the release, on Tuesday, of a six-part set of recommendations drafted by the committee and intended to shore up elections systems across the country. Among the recommendations are that states use machines with auditable paper ballots and improving and hastening inter-agency and intergovernmental communication.
The recommendations released Tuesday previewed one of several reports the committee is preparing as part of its ongoing investigation into Russian interference in the 2016 election. Additional reports on the role of social media, on the committee's view of the January Intelligence Community Assessment, as well as whether there was evidence of collusion between Russians and members of the Trump campaign in the run-up to the election are expected to be released in the coming months.
Thanks for reading CBS NEWS.
Create your free account or log in
for more features.