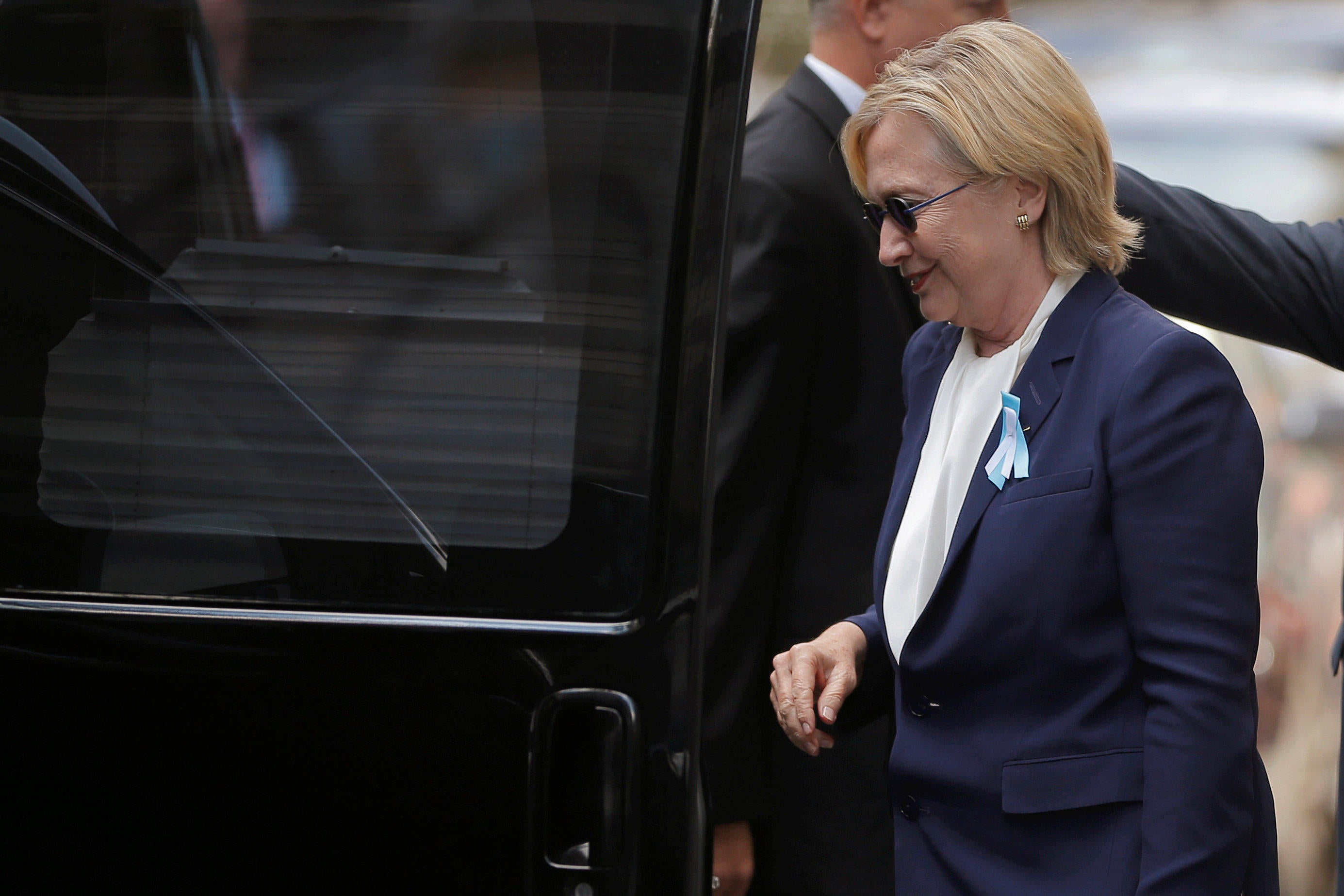 Hillary Clinton diagnosed with pneumonia ahead of 9/11 ceremony, doctor says
Hillary Clinton was diagnosed with pneumonia on Friday, her doctor said in a statement Sunday afternoon just hours after the Democratic nominee abruptly left a 9/11 commemoration ceremony because her campaign said she was "overheated."
"Secretary Clinton has been experiencing a cough related to allergies. On Friday, during follow up evaluation of her prolonged cough, she was diagnosed with pneumonia," said Dr. Lisa R. Bardack, Clinton's doctor. "She was put on antibiotics, and advised to rest and modify her schedule. While at this morning's event, she became overheated and dehydrated. I have just examined her and she is now re-hydrated and recovering nicely."
Clinton attended a ceremony in New York for the 15th anniversary of the 9/11 terror attacks, but departed abruptly when she was not feeling well. Video footage of Clinton's departure shows her appearing to stumble as she entered her van.
Her campaign did not immediately explain why the Democratic nominee did not reveal the pneumonia diagnosis prior to the Sunday incident, raising questions of transparency.
"Secretary Clinton attended the September 11th Commemoration Ceremony for just an hour and thirty minutes this morning to pay her respects and greet some of the families of the fallen," Clinton campaign spokesperson Nick Merrill said in a statement Sunday morning. "During the ceremony, she felt overheated so departed to go to her daughter's apartment, and is feeling much better."
Clinton arrived at her daughter's apartment some time later and departed shortly after for her home in Chappaqua, N.Y., where she was examined by Dr. Bardack.
As the Democratic nominee left Chelsea Clinton's building Sunday afternoon, one reporter asked if she was feeling better. Clinton responded: "Yes, thank you very much."
The Associated Press reported Sunday evening that Clinton called off plans to fly to California on Monday morning for two days of fundraising, campaign events and an appearance on Ellen DeGeneres' talk show.
Clinton currently is still slated to be in Nevada on Wednesday and Washington, D.C., on Thursday.
In summer 2015, Clinton's campaign released a statement from her doctor saying the 68-year-old appeared to be healthy, though noting that she suffers from hypothyroidism, seasonal allergies and also takes medication to prevent blood clots. In December 2012, Clinton sustained a concussion after fainting and was unable to testify on the Benghazi attacks, rescheduling for another date. She was admitted to the hospital later that month with a blood clot, which was treated and which Bardack said last summer has been fully resolved. Clinton remains on blood-thinning medication as a precaution.
As for GOP nominee Donald Trump, who is 70, the campaign last winter released a statement from Trump's doctor saying he would be "the healthiest individual ever elected to the presidency," but provided few other specifics.
CBS News' Hannah Fraser-Chanpong contributed to this story.
Thanks for reading CBS NEWS.
Create your free account or log in
for more features.