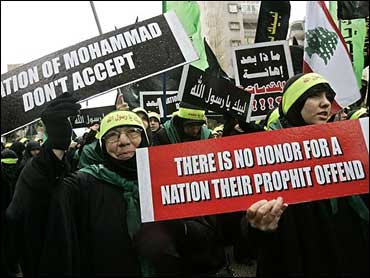 Hezbollah Leader To Bush: 'Shut Up'
The leader of Hezbollah, heading a march by hundreds of thousands of Shiite Muslims on Thursday, said U.S. President George W. Bush and his secretary of state should "shut up" after they accused Syria and Iran of fueling protests over cartoons of the Prophet Muhammad.
Sheik Hassan Nasrallah urged Muslims worldwide to continue demonstrations until there is an apology over the drawings and Europe passes laws forbidding insults to the prophet.
The head of the guerrilla group, which is backed by Iran and Syria, spoke before a mass procession of Shiites marking Ashoura, an annual remembrance of the 680 A.D. battle in which Hussein, their saint and grandson of Muhammad, was killed by rivals, cementing the split in Islam between Shiites and Sunnis.
Whipping up the crowds on the most solemn day for Shiites worldwide, Nasrallah declared: "Defending the prophet should continue all over the world. Let Condoleezza Rice and Bush and all the tyrants shut up. We are an Islamic nation that cannot tolerate, be silent or be lax when they insult our prophet and sanctities."
"We will uphold the messenger of God not only by our voices but also by our blood," he told the crowds, estimated by organizers at about 700,000. Police officers had no final estimates but put the figure at even higher.
On Thursday, Mohamed Ahmed Sherif, chairman of the World Islamic Call Society, also said the cartoons, which first appeared in a Danish newspaper last September and have since been reprinted in other papers, only serve to fuel extremism. He called the decision to print them in European newspapers a "hate program."
In an interview with CBS News Up to the Minute Contributor Frank Ucciardo, international political cartoonist Ranan Lurie said he didn't believe he would draw a cartoon that "hurts a God."
"[The cartoonist] had a right to publish it and readers had the right to say it's in poor taste," Lurie explained.
Speaking about the controversy for the first time Wednesday, Bush condemned the deadly rioting sparked by the cartoons and urged foreign leaders to halt the spreading violence and to protect diplomats in besieged embassies. CBS News correspondent Sheila MacVicar reports U.S. officials are continuing to examine if there's a pattern of global incitement.
As for how the protests over the cartoon may affect American soldiers in Iraq, commanders tell CBS News correspondent Kimberly Dozier they want to further prove to Iraqis that they can be culturally and religiously sensitive and give people one less excuse to attack.
In the midst of a campaign to blunt widespread anti-American sentiment across the Mideast, Mr. Bush sought to balance his remarks by urging the media to be sensitive to religious beliefs.
"We believe in a free press," the president said. "We also recognize that with freedom comes responsibilities. With freedom comes the responsibility to be thoughtful about others."
Secretary of State Rice said Iran and Syria "have gone out of their way to inflame sentiments and to use this to their own purposes. And the world ought to call them on it."
Iran has rejected the U.S. accusations, but there was no official comment from Damascus.
Embassies have been attacked in Syria, Lebanon and Iran. Riots broke out in Afghanistan and protests have spread to many places in the world over the cartoons that Muslims deemed insulting to their prophet, first published by a Danish newspaper in September and then reprinted by other publications stressing freedom of expression. Militant groups have taken advantage of the controversy to whip up Muslim sentiment that the West is deliberately targeting Islam.
Denmark's government has said it could not apologize over a newspaper's publication.
Hezbollah, an organization that earned wide Arab and Islamic prominence for fighting a guerrilla war against Israel in southern Lebanon, is on the U.S. list of terrorist groups for past attacks against American and other Western targets and its opposition to peace with Israel.
In Thursday's Hezbollah-organized march in south Beirut, huge numbers of black-clad Shiites who braved a hail storm and cold temperatures, beating their chests to mourn Hussein, traditional acts to mark Ashoura, though this year the slogan "Here I Am At Your Service Muhammad" was added to the procession to protest the cartoons.
On Sunday, rioters in a Sunni protest set fire to a building housing the Danish mission and rampaged through a Christian neighborhood several kilometers away.
Nasrallah, a black-turbaned, bearded cleric, demanded an apology for the cartoons and laws to prevent a repetition of what happened with the cartoons, saying while there are efforts to settle the crisis with Denmark other newspapers in other countries in Europe are publishing the cartoons.
"There can be no settlement before an apology and there can be no settlement before laws are legislated by the European Parliament and the parliaments of European countries," he said.
Nasrallah said that if the controversy touched on Jews or Israel the West would have reacted differently and quickly.
"Is the Islamic world less important that a bunch of Zionists? We cannot acquiesce to this."
Thanks for reading CBS NEWS.
Create your free account or log in
for more features.