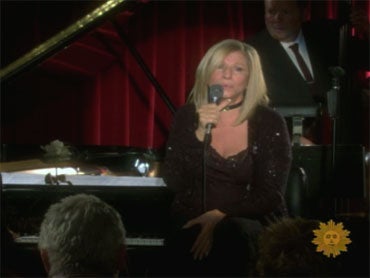 Countless millions of people around the world have heard Barbra Streisand sing, whether it be on recordings, on stage or on the screen. Hearing her talk about her personal life and her career is a much less frequent occurrence - and that's where our Rita Braver comes in:

---
"Oh, I'd love a spot of tea . . . " said Barbra.

"I would love to pour," said Braver.

"Thank you, dear."

It was kind of a dream ... pouring Barbra Streisand tea in London, where she told me she shot her film "Yentl."

"Everyone treated me, as a first-time director, woman director, with such great respect," she said, "because they had the queen in a powerful position, and they had Margaret Thatcher as prime minister.

"So what was a little woman/actress director? Nothing!"

"Well, no one would ever call Barbra Streisand "nothing."

She's been one of the biggest stars in the world for more than 40 years . . . singing, acting, clowning, directing.

And when we caught up with her in London for a rare interview, we have to admit: it was a big deal.

"People still really are interested in you after all this time," Braver said. "They're fascinated by you. Any idea why?"

"No," she laughed. "No. I don't know. Do you? Do you know why?"

"You are a little mysterious," Braver said. "You don't go out in public all the time. You're not out on the scene."

"It's just that I'd rather say home," Streisand laughed. "You know, curl up with a good book, watch a movie. When you go out in public it's hard. I mean, they're taking pictures of you - they always choose the worst ones!

"You're in performance in a way, you know? You're on show. I don't enjoy that, I really don't."

Of course, these days, Barbra Streisand, now 67, has the power to decide when and how she wants to put on a show. After all, she's the best-selling female recording artist in history, with 71 million records sold and 10 Grammies.

And we got exclusive access to her gig just last night, at the Village Vanguard in New York - one of the clubs she played in the early days - where she performed songs from her new album, out this week, called "Love is the Answer."

Yes, she's still got that voice.

"I'm very grateful that I still have one," she said, "because I never exercise [it], I never sing."

"You don't sing in the shower even?"

"No. No."

"So when you're working on an album, do you have a conscious process that you go through: 'Okay I need to make this song sound like me?'"

"I'm not result-oriented that way. I mean, I'm more instinctive, visceral you know? If I can identify as an actress to the lyric and sail on the melody, it will be me."

Her sound has always been distinctive. Her name, too: B-a-r-b-r-a from Brooklyn, as she sang in her Emmy Award-winning 1965 TV special.

"Why did you lose the extra 'a' in Barbara?"

"Well, I was 18 and I wanted to be unique, but I didn't want to change my name because that was too false. You know, people were saying you could be Joanie Sands, or something like that. [My middle name is Joan.] And I said, 'No, let's see, if I take out the 'a,' it's still 'Barbara,' but it's unique."
(AP)

And unique she was: Starring in "Funny Girl" on Broadway (left) at age 22.

"I'm the greatest star,
I am by far,
but no one knows it . . .

She won an Oscar for playing the role in the 1968 film version.

There was another Best Actress nomination for "The Way We Were," playing the girl who doesn't end up with Robert Redford.

She got a Best Song Academy Award for co-writing "Evergreen," the theme from the 1976 remake of "A Star Is Born."

But it wasn't enough. Barbra Streisand wanted to direct.

"Because I would do certain movies and I would think, 'Oh, my God, they're cutting that scene but adding that? And that doesn't really tell the story as a whole.' I thought, you know, I have to be … you know, when you're just an actress people think you're stepping out of line if you suggest something to do with the whole film. When you're a director you're expected to know the answers. You're expected to tell people what to do.

She seemed to have all the answers in "Yentl" . . . writing, directing and starring in the story of a Jewish girl who has to pose as a boy to get educated.

She went on to direct more films, including "The Prince of Tides," but it's been a long time since she's sat in a director's chair.

"Did you just say, 'Okay, now I can direct, people know I can direct; now I can write songs, people know I can write songs; I don't need to do that anymore'?"

"I do bore myself a lot," Streisand said. "You know, I have to go on and . . . it's not 'conquer,' I don't know if I'd use the word conquer. It's expanding one's horizon. You know, it's trying something new. It's risking failure. Even that's exciting to me."
(AP)

One risk that seems to have paid off: her second marriage, to actor James Brolin in 1998.

"Before you married him, you had a lot of boyfriends . . . " Braver said.

". . . Where are you going with this, Rita?"

"Well, just that this seems to have worked, you seem so happy with this."

"Oh, you mean my marriage! Unless you want to talk about the old boyfriends, we can do that, too!

"I really enjoy being married," she said. "I mean, having a companion and a person who's there, who could be quiet and do their own thing, kind of leave me alone a lot of the time, but is there, you know?"

Streisand has a happy-go-lucky side, as we saw back at the tea table, showing off "shameful" cookies of curvaceous women wearing bathing suits. ""She's fabulous," Streisand said. "Bite her head off!"

But there are other sides to the Streisand story …

"it is said that you are very much a perfectionist," Braver.

"But you say that in a way that is a little judgmental, in a negative way," she replied.

"I'm sorry, I apologize for that."

"I think it's a plus," Streisand continued. "It's always a plus when it's a man, if you notice. When it's a woman, it's like she a pain-in-the-ass - excuse me! - but she's, you know, she's too picky or whatever. I strive for excellence, but I don't think I'm a perfectionist. I have to compromise all the time."

"Like, who says 'no' to you?" Braver asked.

"Well, my blinds are too long in my living room - when they come down, they're too long, OK? And I'm told they can't be fixed!

"So a lot of people say 'no' to me!"

Especially when it comes to politics!

She's drawn fire for her liberal views, raising money for Democratic candidates like Bill Clinton and Barack Obama.

And there are plenty of people who say she should just "shut up and sing."

"I don't understand that," Streisand said, "because I think every person has a right to their opinion. And every person makes up this amazing country called the United States of America."
(AP)
(Left: Streisand performs at the Staples Center in Los Angeles in 2006, after having taken a 12-year hiatus from touring.)
Would she ever run for political office herself?
"No. Since I don't like to talk in front of people, how could I do that?" she laughed. "Then I would be shaking hands with everybody, but putting the, you know, spray on afterwards because of the germs? No, no I can't see that at all"
Instead, she says she does still enjoy acting. Her most recent role was playing a sex therapist in "Meet the Fokkers."
But she's passed up plenty of parts over the year. Do she have any regrets?
"Well certain roles that I probably should have done but I was too lazy," Streisand said.
"Any one in particular?" Braver asked.
"I always tell Jane Fonda I'm responsible for your career, because I turned down 'They Shoot Horses, Don';t They?' 'Klute' and 'Julia.' I feel bad about 'Julia' especially, because Lillian Helmman said to me, 'You should have played me.' You know, I have certain regrets, but they're not big regrets."
And why should she have regrets? She's one of the few people who really merit that old phrase "living legend."
But don't ask Barbra Streisand to get too philosophical.
"Is there something that you wish people like me would ask you, that we never do?" Braver asked.
(CBS)

"You know, I just . . . I'm thinking about what am I going to eat for dinner? You know, I'm thinking about how do I diet? I mean, yesterday I had pizza for lunch and then some cookies and M&M peanuts. This is very bad, you know?

"I don't somehow think about my career."

But what a career it's been. No complaints and no regrets.

Toasting her tea server, Streisand said, "Good health, happiness and love. It's the answer."
Thanks for reading CBS NEWS.
Create your free account or log in
for more features.