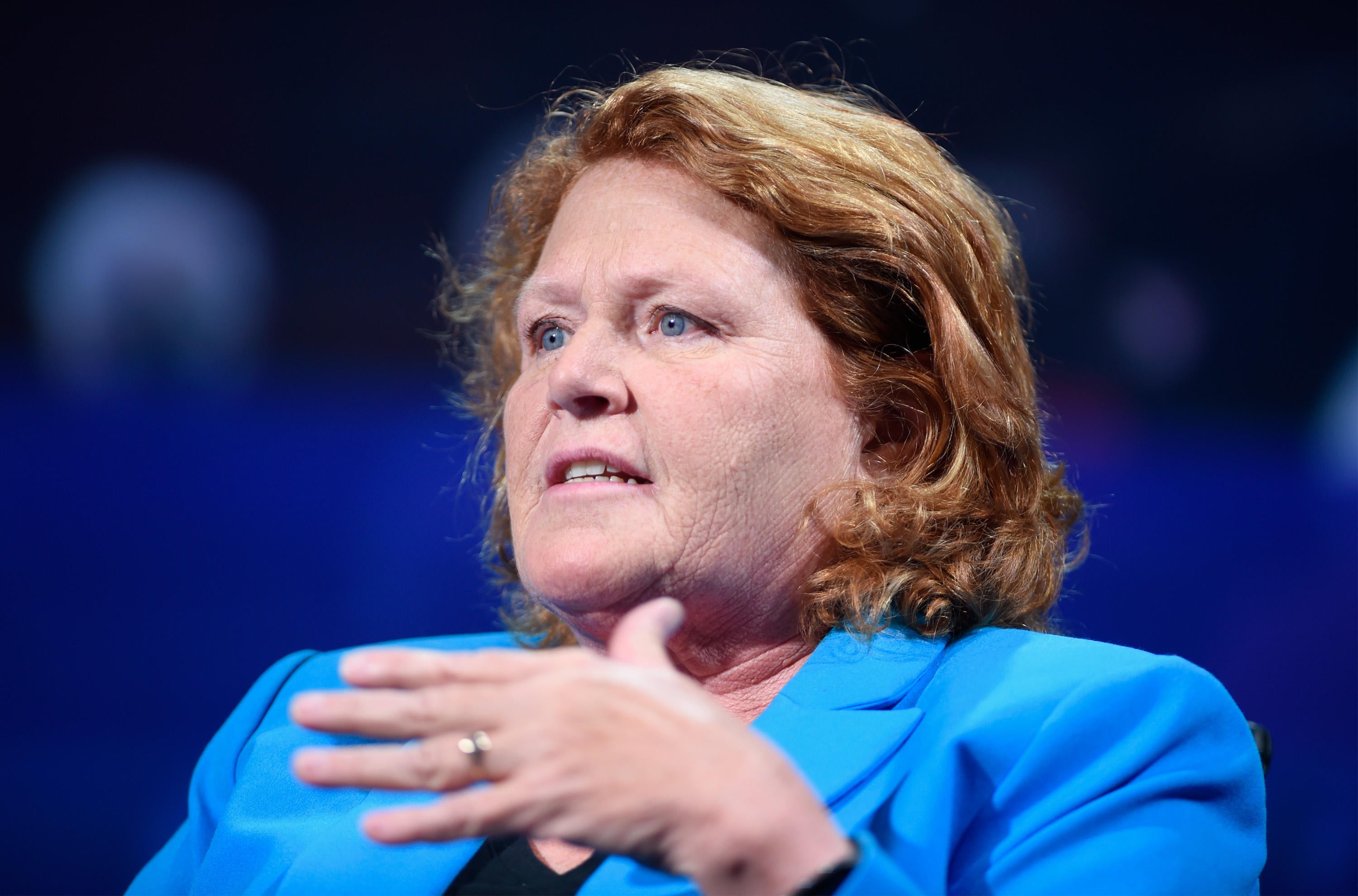 Heitkamp apologizes for naming sexual assault victims without permission in newspaper ad
North Dakota Sen. Heidi Heitkamp, one of the most vulnerable Democratic senators up for re-election this year, apologized Tuesday for a newspaper ad run by her campaign which, without permission, named some women who had experienced sexual assault and some who were not victims of abuse.
The ad was structured as an open letter to Kevin Cramer, Heitkamp's Republican opponent, chastising him for comments he made during the Supreme Court confirmation process of Justice Brett Kavanaugh. In September, Cramer questioned whether the sexual assault allegations against Kavanaugh disqualified him from serving on the court, even if they were true. Heitkamp voted against Kavanaugh's confirmation.
However, many of the 127 women named in the open letter had not given their permission for their stories to be told.
"In an attempt to bring awareness to this issue and push back against dismissive comments toward sexual assault survivors by Kevin Cramer, our campaign worked with victim advocates to identify women who would be willing to sign the letter or share their story. We recently discovered that several of the women's names who were provided to us did not authorize their names to be shared or were not survivors of abuse," Heitkamp said in a statement from her campaign on Tuesday. "I deeply regret this mistake and we are in the process of issuing a retraction, personally apologizing to each of the people impacted by this and taking the necessary steps to ensure this never happens again."
In a radio interview with AM1100 WZFG on Tuesday, Heitkamp said she was "furious" that women had been misidentified in the ad.
"I think that this is horrible, and I look at this the way I would if I were someone whose name were in the paper who didn't authorize it. And I think that that is a colossal and huge mistake for which I will undoubtedly have reputational injury as a result of it," she said in the interview. "But I'm not worried about that. I'm worried about fixing what we've done and the mistake that's been made."
Keely Beck, a North Dakota women identified without her consent in the ad, told CBS News that she was "angry" and "all credibility went out the window when this happened."
"I think if I was approached and talked to about the situation – If I had the choice, maybe I would have felt it was the right time to talk about it. But it wasn't a choice," Beck said. "That's what's upsetting. You get to choose when you get to share your story, and when someone doesn't allow that choice, that's what is upsetting."
She talked about her conversation with Heitkamp.
"I told her that it was very unfortunate that this story that could have done so much good – it's not going to be taken seriously," Beck said. "I was at a loss for words. It really sucks."
Cramer told the Associated Press that Heitkamp's ad was a "revictimization of victims."
North Dakota Republican Party communications director Jake Wilkins said in a statement to CBS News, "This is another example of Heidi Heitkamp exploiting whoever she can for political gain. With a campaign built on lies, misinformation, and manufactured controversy, it's no wonder Heitkamp is the most vulnerable Senator in the country."
Jack Turman contributed to this report.
Thanks for reading CBS NEWS.
Create your free account or log in
for more features.