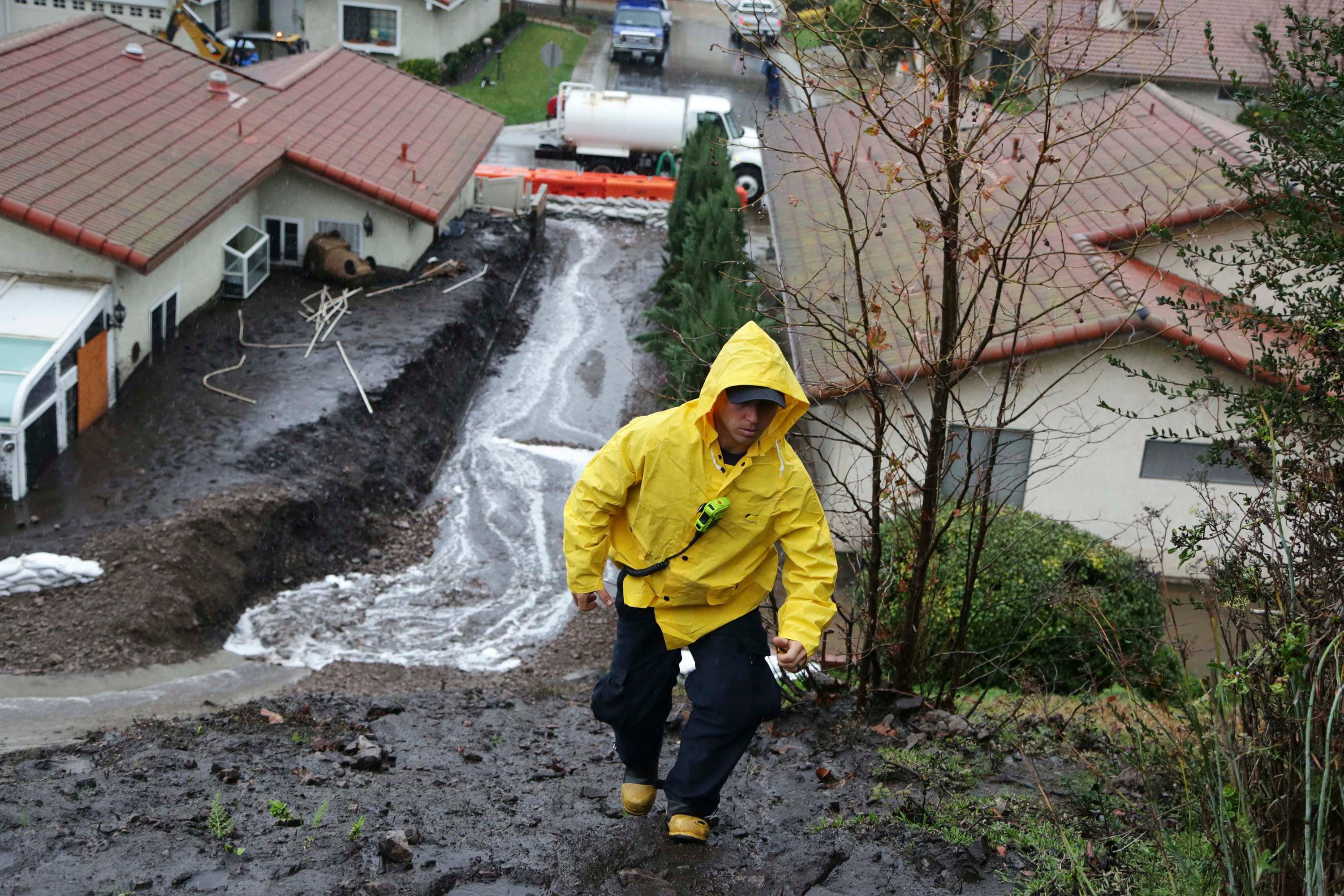 Heavy rain in California prompts mudslide fears, evacuations
LOS ANGELES -- Heavy rain from a powerful Pacific storm swept through parched California on Tuesday, providing relief from a three-year drought but prompting evacuations in wildfire-scarred communities threatened by mudslides and flooding.
The rain began falling overnight Monday in Northern California, but the heaviest downpours were in Southern California, where recent burns have denuded slopes of the vegetation that helps hold soil in place. Traffic was snarled, and some flights at Los Angeles and San Francisco airports were delayed.
The National Weather Service said up to 6 inches of rain was possible in parts of Southern California by the time the storm ends Wednesday.
In Camarillo Springs, about 50 miles northwest of Los Angeles, gushing water and muddy debris began pouring from adjacent hillsides before noon Tuesday, prompting the mandatory evacuation of about 75 homes. A mudslide in the same Ventura County community on Halloween buried one home in mud 3 feet deep, the result of a wildfire that burned the area more than a year ago.
Residents huddled at a nearby church as they waited to learn the fate of their homes and bemoaned a string of bad luck that began with the 2013 blaze.
Azusa resident Ed Heinlein lives right below a hillside that burned during a massive wildfire in January. In March, heavy rain washed several feet of mud into his home. Since then, Heinlein has spent $30,000 repairing and reinforcing his property, and now he's preparing for the worst.
"It'll just push... it'll be gone," Heinlein told CBS News correspondent Ben Tracy. "It'll smash it. It will implode and it will be across the street."
In Orange County, roughly 100 miles to the southeast, about 60 homes in rural Silverado Canyon were under a voluntary evacuation notice. The area burned over the summer and has been the site of previous mudslides, including one that killed a girl in 2005 and another in 1969 that killed six people who sought shelter in the fire station.
Residents worked together to evacuate large animals, and those who chose not to evacuate were gathering in the tiny town's lone cafe to wait out the rain and keep warm.
"We have to take this seriously because we don't know what's going to happen," longtime resident Connie Nelson said. "We'll just deal with it as it comes. We take care of people up here."
Three years of devastating drought has left the Sierra Nevada snowpack -- which counts for most of the state's water supply -- at just 24 percent of normal for this time of year. Los Angeles, like many communities, has had less than half of the usual rain in 2014.
Gov. Jerry Brown declared a drought emergency in January and called on residents to reduce consumption by 20 percent. As the storm blew in, new state data was released showing Californians aren't meeting his goal: Statewide water usage was down just 6.7 percent in October.
In communities rebounding from recent wildfires, however, the most immediate concern wasn't drought, but mud. In the foothill city of Glendora northeast of Los Angeles, residents packed sandbags along their property lines and lined the streets with concrete barriers to keep mudflows out.
Los Angeles County Fire Department Acting Chief Steve Martin warned residents to heed any evacuation orders that are issued, noting that a mild rain two weeks ago caused mudflows that damaged four homes.
"We know it's an inconvenience, we know it's hard to leave your homes behind," Martin said. "But the fact of the matter is, when the mountain does cut loose, it happens so fast you're already behind... And it's going to be very difficult to get to you."
In Northern California, officials have been scrambling to control erosion following the King Fire, which burned 153 square miles in the mountains east of Sacramento last summer, as well as the Rim Fire, which burned more than 400 square miles in and around Yosemite National Park a year ago.
Neither area reported problems from the latest storm.
Meantime, another potential problem awaited Southern California coastal residents: A thick tangle of garbage that gets washed from city streets into storm drains and then onto beaches following major storms.
Thanks for reading CBS NEWS.
Create your free account or log in
for more features.