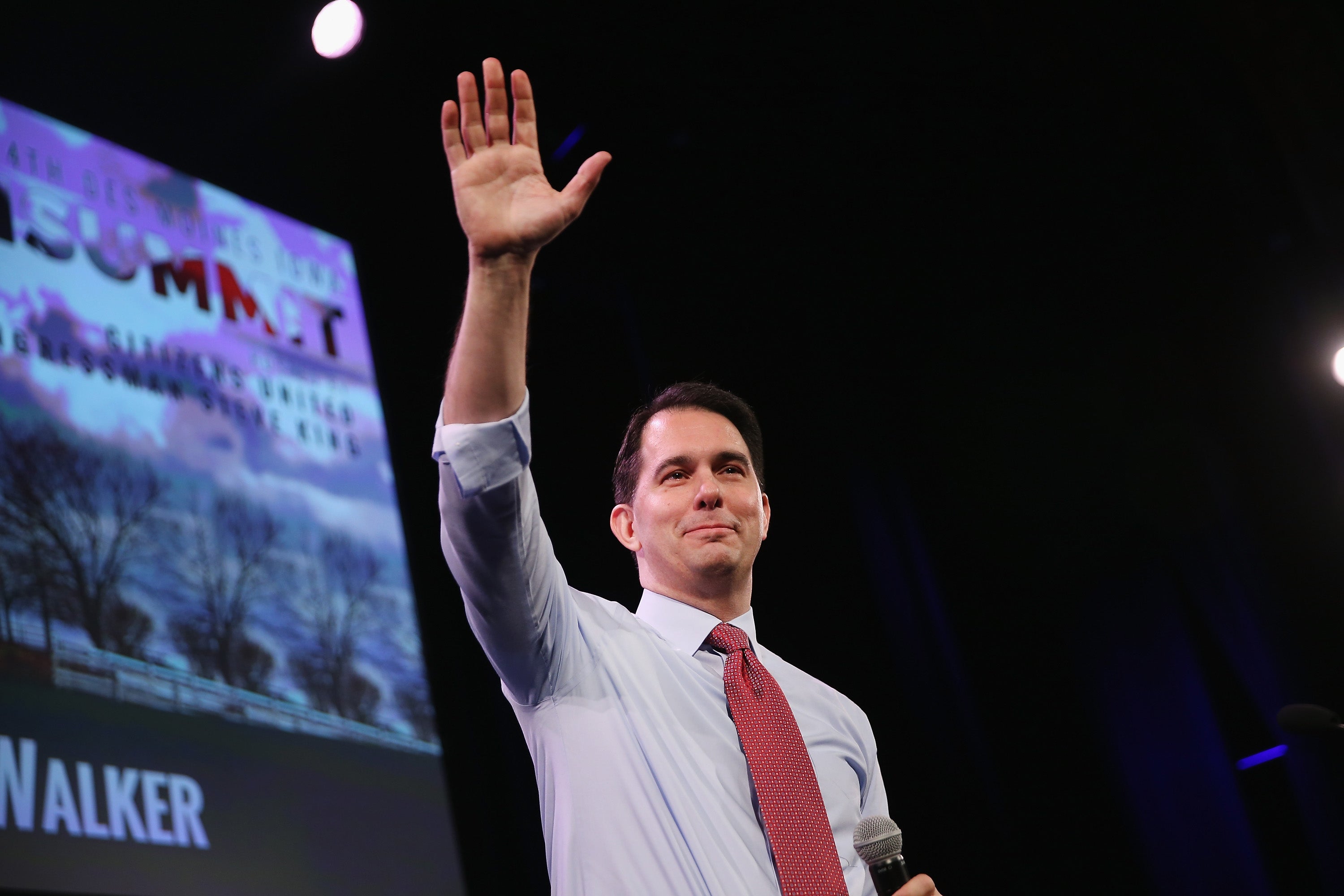 Have Iowa conservatives found a new star for 2016?
DES MOINES, Iowa - It may have been the starting gun for Iowa's 2016 caucuses but Jeb Bush and Mitt Romney decided to skip Saturday's gathering of the state's most passionate grassroots social conservative activists, the Iowa Freedom Summit. Their absence turned out to be a huge opportunity for around nine other Republicans, but especially for Wisconsin Gov. Scott Walker, who could be spending the next year battling them for Iowa caucus-goers' support.
"Any major event where the grassroots are gathered together with this much energy, is an event you want to try to attend," said Iowa Republican Party chairman Jeff Kaufmann, when asked about the no-shows of Bush, Romney and potential 2016 candidates Gov. Bobby Jindal and Sens. Rand Paul and Marco Rubio.
Walker, who has not attracted as much attention yet as Romney, the 2012 GOP nominee or Bush, exploited the opportunity to introduce himself to Iowa Republicans, as well as a national audience. He framed himself as a political martyr while suggesting his electoral successes in Wisconsin prove him to be a crusader who's fought for and won tangible victories for a conservative approach to governing.
First elected in 2010, Walker faced a recall election just two years later and won re-election again last November. He wasted no time in pointing that out to the crowd, adding that he and his family became literal targets during those campaigns.
"Someone sent me a threat that said they were going to gut my wife like a deer," Walker said to audible gasps from the crowd, detailing how someone also wrote a letter which included the addresses of his kids' schools and his family members' homes.
"All they did was remind me how important it was to stand up for the people of my state."
"I've won the race for governor three times in the last four years -- three times, mind you, in a state that hasn't gone Republican for president since I was in high school more than 30 years ago. How about that?" Walker also pointed out.
He ticked off the list of his accomplishments -- he had stood up to unions, cut the state's budget, implemented legislation restricting abortions, enacted voter ID laws, and allowed concealed carry handguns.
And perhaps just as important, his delivery ran counter to the pre-event image that he lacks charisma.
"It's fair to say that Walker does not electrify a crowd," conservative columnist Byron York wrote prior to Walker's speech.
But Walker shattered that view on Saturday. Pacing the stage, shirt-sleeves rolled up, Walker won over the audience with passionate arguments for his beliefs and well-told tales of his past.
With one notable anecdote, he set up a distinct contrast between himself - the hard-working, middle-class Midwesterner with Iowa roots who "didn't realize we were poor" growing up - and the wealthy Bush and Romney. Romney, especially, whose estimated wealth was estimated by his 2012 campaign to be in the $190-$250 million range, is accused of being out of touch with average Americans.
"I went to a Kohl's department store and I bought something for the price it was marked at," Walker said. "My wife said to me, 'You can never go back there ever again until you learn how to shop at Kohl's.'"
And, apparently he did learn, paying attention to markdowns, coupons in the Sunday circular, coupons mailed to his house and his wife's Kohl's rewards card, and, "the next thing you know they are paying me to buy that shirt!" he exclaimed. The crowd went wild.
Influential Iowa GOP blogger Craig Robinson, who declared Walker the winner of the summit, tweeted after the event: "Take note, it was the new faces who did the best today. Former candidates have some work to do." The former presidential candidates who addressed the summit included Rick Perry, Mike Huckabee and Rick Santorum, as well as 2008 Republican vice presidential nominee Sarah Palin.
Robinson's sentiments were echoed by several longtime Iowa Republican operatives who spoke with CBS News. The consensus was that Walker was very impressive and had a terrific debut. At this point, a year out from the caucuses, they said they're starting to consider him as a serious dark-horse candidate.
As the 2016 race gears up, Kaufmann, the current Iowa GOP chairman said, "Out here in Iowa, we want to shake their hand, we're gonna look 'em in the eye and we want to get a glimpse at exactly what makes this person tick."
Thanks for reading CBS NEWS.
Create your free account or log in
for more features.