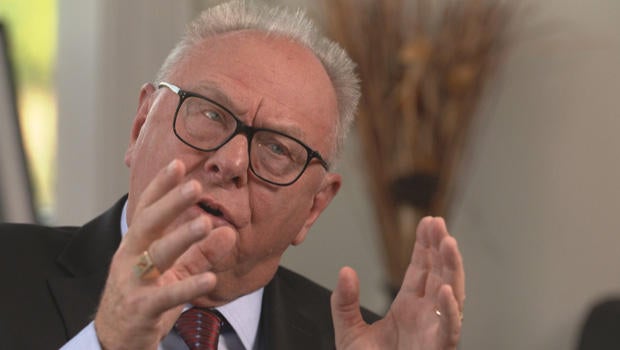 Amid Harvey Weinstein, Kevin Spacey scandals, founder of sex rehab center defends program
The country's growing sexual misconduct scandal is putting a new focus on a controversial field: sex addiction rehab.
More than 80 women have accused Harvey Weinstein of sexual harassment or assault, and more than a dozen men allege sexual misconduct by Kevin Spacey. Both men are now reportedly being treated at the same upscale rehab facility in Wickenburg, Arizona.
But is sex addiction a proven diagnosis, or just an excuse to retreat from the public eye?
A little more than an hour north of Phoenix is the 35-acre sex addiction treatment center Gentle Path at the Meadows. The voluntary 45-day treatment costs $58,000.
Founder Patrick Carnes first popularized the term sex addiction in the early 1980s. "Like any other addiction, it's a problem where a person loses their ability to choose," he said. "It's a brain disease."
Carnes said an addict's behaviors can range from watching porn excessively to touching or exposing oneself in inappropriate ways.
Weinstein and Spacey join a list of celebrities who've reportedly sought treatment for sex addiction, including Tiger Woods and Anthony Weiner.
Dr. Damon Raskin is with the drug and alcohol treatment center Cliffside Malibu. He said sex addiction is not a recognized disorder, and therapy can be a PR stunt.
"If you call something an addiction, then it gives [you] something to do," Raskin said. "You have people like celebrities that can then use that as a 'disease model' and go off to the rehab center where they can spend a lot of money and try to get the help that they need."
Raskin said brain scans of people claiming sex addiction don't match those addicted to drugs. The American Psychiatric Association does not recognize sex addiction as a mental illness.
"There is no good evidence showing that sex addiction is a true addiction, like drug and alcohol addiction," Raskin said.
When told that there are doctors who say sex addiction isn't real, Carnes replied, "Whenever there is a scientific breakthrough, there's controversy. The reality is, the evidence for the brain disease of addiction is overwhelming."
Treatment at Gentle Path includes meditation, journaling, group therapy and neurofeedback. Patients are asked to commit to a celibacy contract of at least eight weeks, examining sexual fantasies and creating a relapse prevention plan.
"So, this isn't a vacation?" correspondent Jamie Yuccas asked.
"Not a vacation," Carnes replied. "It's like boot camp!"
He said it can take up to five years with extensive therapy to reprogram an addict's brain.
Still, his facility doesn't release data on how many patients make a full recovery.
But as the list of those accused of sexual misconduct continues to grow, Carnes hopes the headlines will help create change.
"I think this'll be one of the most significant periods in our history," he said. "The good news is this conversation."
Thanks for reading CBS NEWS.
Create your free account or log in
for more features.