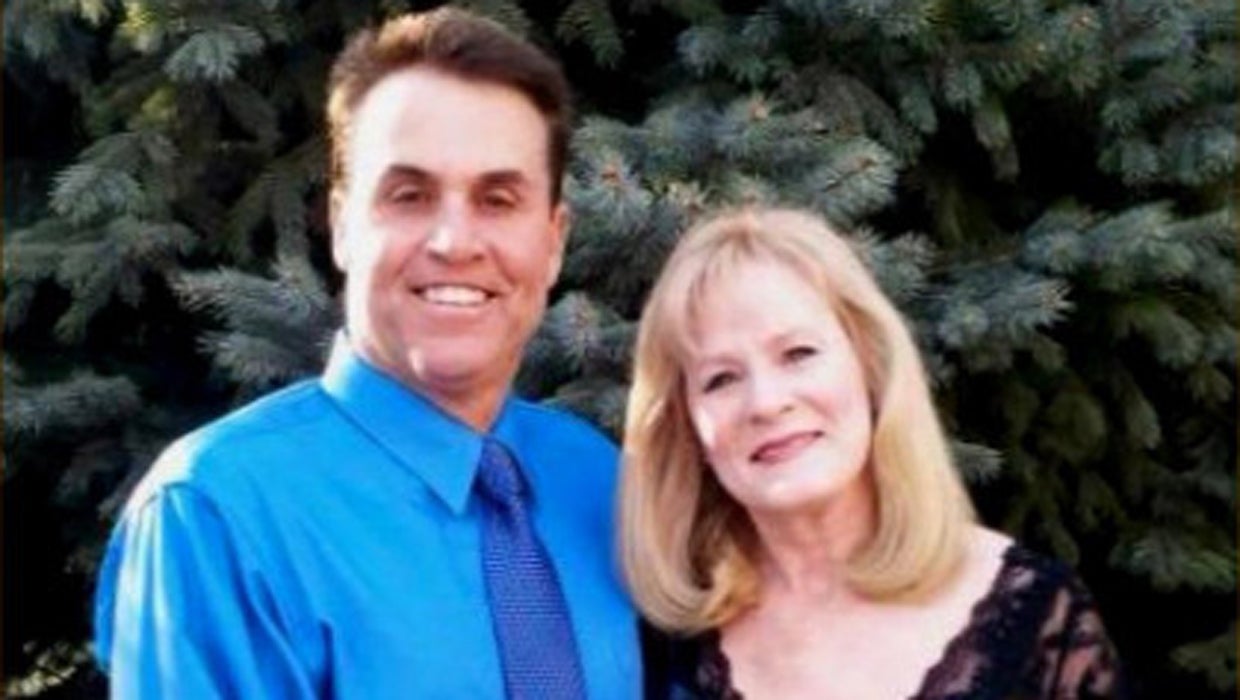 Prosecutors: Man charged in death of 2nd wife, also killed 1st
DENVER - A man accused of pushing his wife to her death off a cliff in Colorado's Rocky Mountain National Park also killed his first wife 17 years earlier, prosecutors said Wednesday, and a judge agreed the cases were "glaringly" similar.
U.S. District Judge Kathleen M. Tafoya ordered Harold Henthorn, 58, to remain jailed without bond after a hearing in which prosecutors argued he was a dangerous flight risk with $1.5 million at his disposal that includes some of his late wife's assets.
"We don't believe it was his first murder," Assistant U.S. Attorney Suneeta Hazra told the judge. "He committed an earlier murder of his first wife in remarkably similar circumstances."
Henthorn only has been charged in the death of his second wife, 50-year-old Toni Henthorn. He pleaded not guilty Wednesday to a charge of first-degree murder.
Prosecutors said Henthorn plotted and planned to push her more than 140 feet off a cliff in a remote area far from the trail the couple had been hiking on Sept. 29, 2012. Henthorn had taken his wife to see the resplendent autumn color and snowy peaks of the national park to celebrate their 12th wedding anniversary.
Henthorn was the only witness to the fall. Hazra said investigators have talked extensively with friends and acquaintances who convinced them he was dangerous. A grand jury indicted him last week. Prosecutors also examined his financial records that showed Henthorn was living off $1.5 million in assets that were partly from his late wife.
Henthorn told friends he was a self-employed fundraiser, but an examination of his tax returns and other documents found no evidence that he had any income from regular employment, said Dana Chamberlin, an auditor for the U.S. Attorney's Office in Denver.
The judge said she did not know the exact source of Henthorn's money, "but it is not explained by any kind of employment."
"To have ready access to $1.5 million in cash is very troubling in a case of this kind because it means the defendant has the means to flee," Tafoya said in deciding to keep Henthorn jailed. Also disturbing, she said, were recent transfers of large amounts of money into accounts belonging to Henthorn's brother. That could be a sign of someone hiding money for a nest egg.
Only after the death did Toni Henthorn's relatives realize she was covered by three life insurance policies totaling $4.5 million. A claim was sent in for one policy days after she died.
Henthorn's attorney, Craig L. Truman, said his client had urged his insurance agents not to collect on Toni Henthorn's life insurance policies immediately after her death. But Hazra said the opposite was true, though no money ever was paid out.
Henthorn did, however, receive nearly $500,000 from the life insurance policies of his first wife, Sandra Lynn Henthorn, who died in May 1995, Chamberlin said. Autopsy reports show she was crushed to death when a car slipped off a jack while she and her husband were changing a flat tire. Authorities said they are still investigating that case.
Truman told the judge he had not seen police reports from the current case, but argued Henthorn had close friends and other community ties that would keep him from fleeing.
Tafoya said Henthorn remains a danger to the community and to the couple's 9-year-old daughter, who is living with her godparents.
She noted that Henthorn has no substantial criminal past, but noted "rather glaring similarities between the loss of his first wife and the loss of his second."
CBS Denver reports Henthron has virtually no criminal record except for a bizarre case of underwear theft in Colorado in 1994. An arrest report obtained by the station says Henthorn was arrested in March 1994 for shoplifting $47.49 worth of "miscellaneous men's underwear" from a JC Penney store in Littleton.
Toni Henthorn was an ophthalmologist with her own practice in Jackson, Miss., when she met Harold Henthorn, who told her he was wealthy and persuaded her to move with him to the Denver suburb of Highlands Ranch, her brother, Todd Bertolet told The Associated Press.
But once in Colorado, he seemed controlling and obsessed with money, said Bertolet, who was never convinced his brother-in-law owned his own business.
Thanks for reading CBS NEWS.
Create your free account or log in
for more features.