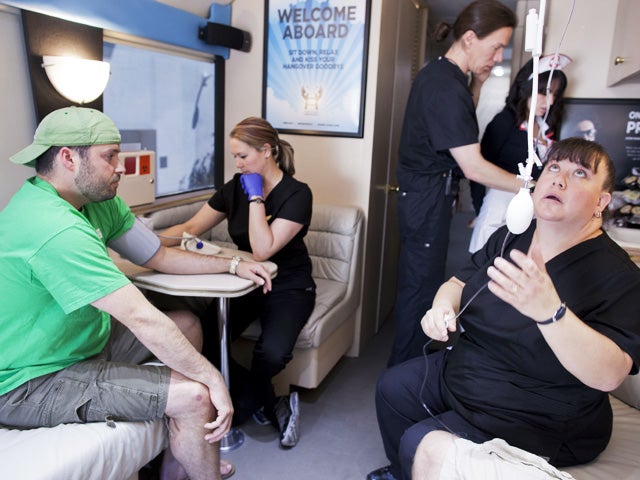 Hangover Heaven bus rolls through Las Vegas: What do "patients" think?
(CBS/AP) The Las Vegas Strip's latest tourist attraction is a big roving bus that promises to cure hangovers.
HealthPopreported earlier this month that Dr. Jason Burke, a board-certified anesthesiologist, was taking to The Strip in his Hangover Heaven bus to charge vacationers and locals nursing a hangover for a "cure" that can leave you hangover-free in 45 minutes.

Hangover Heaven "after-party" bus promises cure in 45 minutes
PICTURES: "Hangover Heaven" bus rolls out in Las Vegas

Now that the bus has been on the road for over a week after its April 14th launch, what do "patients" have to say?
"I did two bachelor parties, back-to-back," said Bryan Dalia of Caldwell, N.J., who was in town for a wedding, putting his hand to his forehead as he recalled his marathon afternoon of steins of beer and shots of alcohol the previous day at the Hofbrauhaus Las Vegas, then gambling, dining and drinking martinis at the Cosmopolitan of Las Vegas resort. He remembered "getting a little lost and finding myself on the floor of the Paris" hotel-casino, then "a few more martinis as I gambled my life away."
"How are you doing now?" medical technician Debra Lund asked.
"Better," he replied as he checked his intravenous fluid bag hanging from the bus' ceiling. "My palms aren't sweating anymore. I don't have that, like, cold sweat feeling anymore." "I'm starting to feel great," Dalia said. "This is really very cool."
Dalia was one of the first patients on hand to receive the free treatment for the rollout day of the mobile hangover center. Burke calls his fledgling business a medical practice on wheels, analogous to a physician with an RV offering X-rays, MRIs or mammograms or a blood bank bus in an office parking lot.
"I don't think that Hangover Heaven is promoting drinking. I'm not eliminating hangovers," Burke told The Associated Press. "The goal of the business is to get people back to their vacation. I'm decreasing the length of time they're going to be hung over." Burke's goal is to arrive within an hour at the caller's hotel.
Once on the bus, treatment can take less than an hour for a $90 basic IV of saline solution, B vitamins and vitamin C. A premium package, $150, includes two bags. For an extra fee, Burke will bring treatment to a tourist's hotel room.
Burke administers the prescription anti-inflammatory Ketorolac or Toradol for pain and Zofran, also known as Ondansetron, for nausea. Acid heartburn can be treated with over-the-counter ranitidine. Patients get a shot of the anesthetic Lidocaine to numb the skin before the IV needle is inserted.
"For the most part, it sounds safe," said Dr. Daliah Wachs, a family practice physician and national satellite radio medical talk show host based in Las Vegas. "But this is kind of gutsy. He's taking a risk."
A patient could have an allergic reaction, Wachs said, or fail to fully report their medical history. For people with pre-existing conditions, Toradol can affect the kidneys, she said, and Zofran can trigger abnormal heart rhythm. Still, Wachs said, emergency room physicians and clinic doctors have for decades provided hangover sufferers with IV drip "banana bags" - so named for their yellow color.
"I think many doctors are kicking themselves because they didn't think of this first," she added.
Burke compared Toradol with over-the-counter Ibuprofen, and said that in 14 years as an anesthesiologist he's never seen a patient experience heart arrhythmia from Zofran.
"This is a professional medical practice. We take a medical history," he said. "I'm not a cowboy. I'm not going to grab someone off the street...without knowing their medical history. If they do have something that might be complicated, I'll refer them to an emergency room or tailor their treatment to avoid anything that might cause problems."
Prospective customers are advised they shouldn't drink alcohol for two hours before treatment, and can't arrive drunk. Walk-ups are turned away. Pregnant females are also declined. "If they are pregnant ... they should not be drinking to excess in the first place," Burke says.
In a medical emergency, Burke said he is capable and qualified to use hospital-style "crash cart" equipment on the bus, including an automatic defibrillator, laryngoscope, pulse, blood pressure and oxygen meters, and emergency medications.
Word of mouth was already spreading. Passenger Cameron Byrd, a tourist from Raleigh, N.C., in Vegas for his 32nd birthday, marveled at his feeling of recovery.
"My friend just texted me and said, `I feel like death,'" Byrd said, before responding with a solution: "We're on the hangover helper bus."
But not everyone has access to a hangover treatment bus.
Thanks for reading CBS NEWS.
Create your free account or log in
for more features.