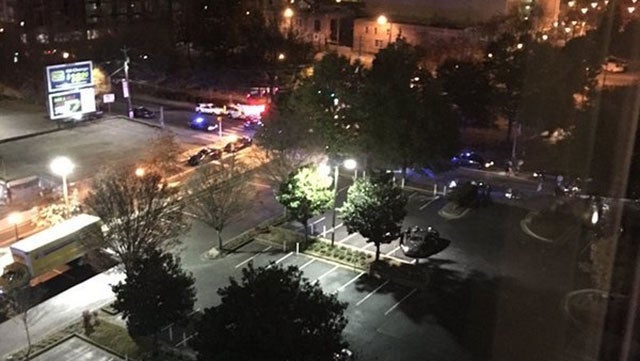 Gunfire "from every angle" in downtown Atlanta shootout
ATLANTA - Police officers ducked behind cars as gunshots whizzed through a busy part of downtown Atlanta, where authorities say the gunbattle left one man dead Monday night.
"Gunshots were coming from every angle," Bryceton O'Neal told The Atlanta Journal-Constitution. "Cops were running behind cars, taking cover."
The incident was near the Aloft Atlanta Downtown hotel - a few blocks from many of the city's larger, high-rise convention hotels.
An Atlanta officer had been patrolling downtown when a Jeep was spotted driving the wrong way, police Maj. Adam Lee III told local news outlets. When the officer attempted to stop the Jeep, the vehicle sped up, struck a shuttle bus and then hit a pole, Lee said. Two men jumped from the vehicle and ran, he said.
The driver was arrested almost immediately, Lee said. The passenger ran behind a hotel and exchanged gunfire with officers, Lee said. That person was found dead behind a trash bin, he said.
Officials have identified the deceased as 18-year-old Darius T. Smith, reports CBS affiliate WGCL.
"We see this car blow right through the intersection and it smacked this (hotel shuttle) bus," JohnPaul Wegener told The Journal-Constitution. "There were police cars everywhere.
"We started to hear gunshots - pow, pow, pow- it was pretty scary," Wegener added.
Officers found a duffel bag full of marijuana in the Jeep, police said. They also found two guns in the vehicle, and one with the deceased man, they said.
"We discovered the suspect was armed with a .45 caliber weapon," said Atlanta Police Department Major Adam Lee, according to CBS affiliate WGCL. "There were shell casings near the body. That weapon and shell casings have been taken into custody."
The names of the driver and the dead passenger have not been released.
Police were still working on their report on the shooting Tuesday morning, and no further details were released, Atlanta police Officer Kim Jones said.
The Georgia Bureau of Investigation, which investigates some officer-involved shootings when agencies make a request, is not investigating this case, GBI spokesman Scott Dutton told The Associated Press. Dutton said no request had been made.
Thanks for reading CBS NEWS.
Create your free account or log in
for more features.