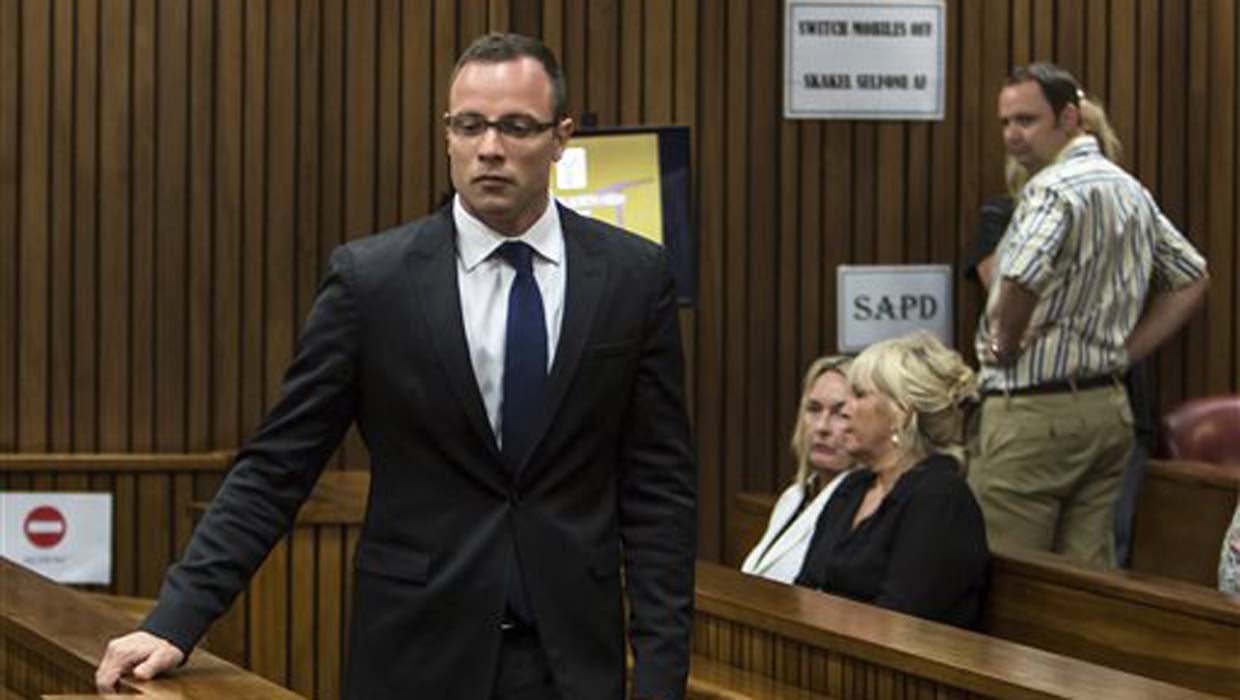 Gun expert: Pistorius had "great love and enthusiasm" for guns
PRETORIA, South Africa - Months before he killed his girlfriend, Oscar Pistorius said he drew his gun and went into "combat mode" after thinking he heard the noise of an intruder at his home, which turned out to be a washing machine, a South African gun expert testified Monday at the athlete's murder trial.
Sean Rens also said Pistorius wanted to buy seven more guns in 2012 - to add to the 9 mm pistol he already owned for self-defense - and asked the firearm trainer to procure them for him under a gun collector's permit.
The guns included a semi-automatic assault rifle, three shotguns, another self-loading rifle and two Smith & Wesson handguns. Rens, the manager of the International Firearm Training Academy in Walkerville, south of Johannesburg, produced one invoice that included five of the guns and nearly 600 hundred rounds of ammunition made out in Pistorius' name.
That total price came to nearly $5,000 and Pistorius had already paid around $4,500 of the bill, the invoice showed. The order was canceled after Pistorius shot dead girlfriend Reeva Steenkamp in early 2013, Rens said. The remaining two guns were contained on a second invoice, the firearm dealer said.
Rens also said he had many conversations about firearms with Pistorius, who is accused of murder in Steenkamp's shooting death on Valentine's Day last year. Rens said the double-amputee runner had "a great love and enthusiasm" for guns.
Rens met Pistorius in 2012, he testified, and trained with him at a gun range. In one conversation, Pistorius described how he was startled by a noise at home and decided to clear the house by drawing his gun and checking rooms, according to Rens.
"He went into what we call 'code red' or combat mode," Rens said. "When he came to the source of the noise, it was the laundry or something."
Pistorius tweeted about the incident in November 2012: "Nothing like getting home to hear the washing machine on and thinking its (sic) an intruder to go into full combat recon mode into the pantry!"
Pistorius said he killed Steenkamp by accident before dawn on Feb. 14, 2013, shooting her through a toilet door after mistaking her for an intruder in his home. Prosecutors say he killed her intentionally after an argument and also questioned Rens on Pistorius' firearm training.
Prosecutor Gerrie Nel asked Rens to describe how Pistorius was quizzed on how to handle a firearm in various scenarios.
Rens said that Pistorius was asked if it was okay to fire at two men trying to break into a person's home and Pistorius correctly answered "No." Pistorius correctly said he was only entitled to shoot at them if they advanced on him with a gun, according to Rens.
Nel was trying to show that Pistorius flouted the regulations that he knew when he shot Steenkamp. Pistorius says he fired because he thought he was under threat.
Rens said he was introduced to Pistorius in May 2012, a few months before the runner made history by competing at the London Olympics. Pistorius first wanted Rens to find a "specific" gun for him, Rens testified, a Smith & Wesson 500 revolver handgun.
Rens also listed the other guns Pistorius was hoping to procure under a collector's license. They were a .38-caliber Smith & Wesson revolver, the civilian version of a Vector .223-caliber assault rifle used by South African police, another self-loading semi-automatic rifle and three shotguns.
Pistorius applied to the South African police's National Firearms Centre for the licenses for six of these guns on Jan. 22, 2013, according to the center's records, just three weeks before he fatally shot Steenkamp in his home using his 9 mm Parabellum pistol, which he already licensed for self-defense.
Pistorius' applications were not processed and were instead "sent back" four days after he killed Steenkamp, officials at the South African police's National Firearms Center told The Associated Press last year.
In later testimony Monday, police photographer Bennie van Staden spoke about the images he took when he arrived at Pistorius' house on the night of the killing. One photograph of the runner, taken in his garage, showed unexplained scuff marks on his bloodied prosthetic limbs.
Another from the paralympian's bedroom showed a box with a label that said "Testis compositum."
The runner's representatives have identified the substance as an herbal remedy used for "muscle recovery." A product by that name also is sold as a sexual enhancer and contains the testicles, heart and embryo of pigs, among other ingredients. Some retailers also say it can be used to treat fatigue.
Also found in the bedroom was a box with the label "Coenzyme compositum" as well as syringes and needles.
Steenkamp's mother, June, was in the Pretoria courtroom for a second time Monday but had left by the time van Staden was describing some photos being displayed of the bloody bathroom scene where her daughter was shot. June Steenkamp last attended the trial on the opening day on March 3.
Thanks for reading CBS NEWS.
Create your free account or log in
for more features.