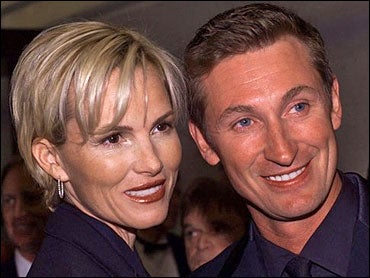 Gretzky's Wife To Be Called To Testify
When a grand jury convenes in the NHL betting case, the wife of hockey's most storied player will be subpoenaed to testify, New Jersey's attorney general confirmed Wednesday.
In her first major interview since being sworn in as attorney general six weeks ago, Zulima Farber said that Janet Jones, the wife of hockey great Wayne Gretzky, would be called to testify about the high-stakes gambling ring as soon as a grand jury convenes.
"She would be getting a grand jury subpoena, so when the grand jury convenes she'll get a subpoena," Farber said. "She'll be served. She hasn't been because there is no grand jury yet hearing the case."
Farber said authorities would convene a grand jury to hear evidence in the gambling case relatively quickly.
"We're not talking years — we're talking weeks or months, not years," she told The Associated Press.
An attorney for Jones confirmed Wednesday that she has not received any grand jury subpoena from New Jersey authorities and said her client has never been informed that she was a target of a New Jersey grand jury investigation.
Farber said the case, which drew international attention, grew bigger because of it implicated famous people and a New Jersey state trooper.
In addition to Jones, who authorities said was a high roller with the ring, Phoenix Coyotes assistant coach Rich Tocchet is accused of financing the operation. A New Jersey state trooper was accused of taking bets while patrolling state highways and several current NHL players have been implicated as regular bettors, though none has been charged. None of the players alleged to have made wagers have been publicly named by officials.
"I think it became a big case only because of the names involved," Farber said. "I think it would have been a routine — if there is such a thing — illegal gambling case if it wasn't for the names of those people involved. However, because there was a trooper involved, it was big to us."

Thanks for reading CBS NEWS.
Create your free account or log in
for more features.