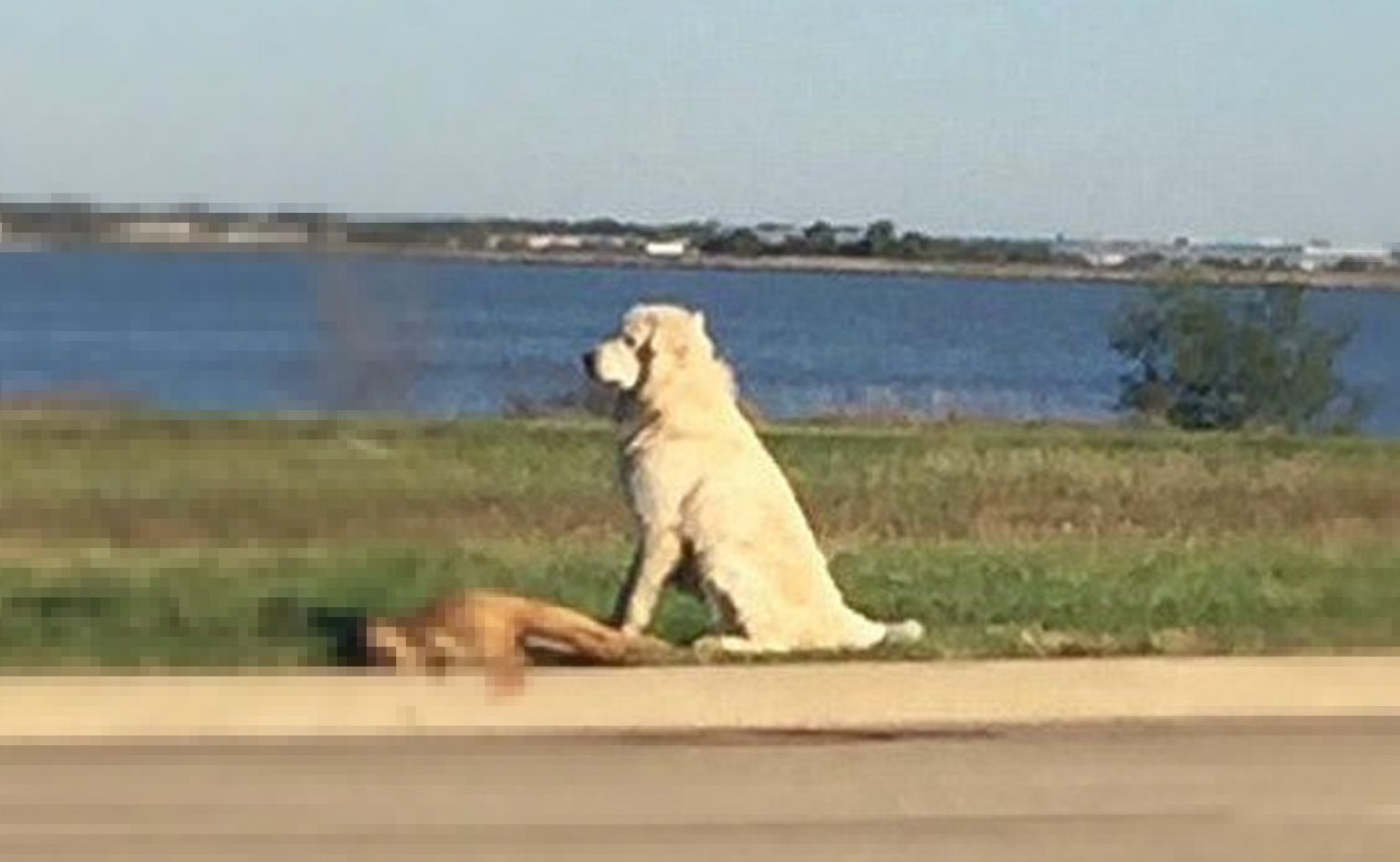 Dog stands guard over canine buddy hit by car
When a friend is in need, Brian is the first to lend a helping paw.
The Great Pyrenees proved his loyalty this week when he stood on the side of a road next to his canine companion after the 1-year-old Shepherd mix was hit by a car.
"When I got there he was sitting -- friendly, calm, drooling, upset and stressed out," animal advocate Julie Fennell told CBS News. "It looked like he had [dragged] her up off the street onto the grass."
It was a last-ditch effort to save his buddy.
Dallas resident Samuel Flores was on his way to pick up breakfast when he spotted the big white dog. He slowed down, made a U-turn and parked his car across from the sad scene. He took a photo of the dog standing next to his dead friend Marley -- occasionally licking her wounds -- outside of the Dallas-Fort Worth National Cemetery.
Knowing Fennell's the founder of nonprofit animal rescue No Bully Left Behind, Flores used the photo to reach out for help: "Can anybody help this poor dog, his buddy got hit by a car, I'm assuming, and he's by his guard."
As Flores waited, he saw several cars and a pair of joggers pass by.
"They'd look at the dog and keep running," he said. "People were passing by and would just kind of ignore it; I just can't leave them."
Fellow advocate Jessy Faiferlick was the first to arrive.
As Faiferlick walked over to Brian, he barked -- as if he was telling her to "get away from my friend." Eventually, Brian gave in.
"He walked over to her and gave her a paw," Fennell said.
Fennell carried the dog, who looked like he had been waiting with his friend for at least 6 hours, to her car. She later returned with Faiferlick to bag up Marley to notify her owner of the accident.
"[Brian] was really concerned about her," Fennell said. "As we were driving away with him, he'd squeeze by the window to look for her while I was driving."
The Great Pyrenees disappeared from his family's home on Sunday when someone accidentally left the garage door open, the City of Dallas explained in a news release.
Without a microchip, the animal was out of luck.
So, the dog was taken to Dallas Animal Services and Adoption Center -- where thousands of people were lining up to adopt him.
On Wednesday, his owner stepped forward. The dog's family thanked the rescuers for their support.
The story of Brian's faithful act reminds people "that dogs have the capability to love too," the release stated.
"Dogs in general are so loyal," said Fennell, hoping Brian's story will inspire adoptions and put more focus on animal welfare. "It's instilled in them to protect their packs; they're just waiting to show that loyalty to someone."
Thanks for reading CBS NEWS.
Create your free account or log in
for more features.