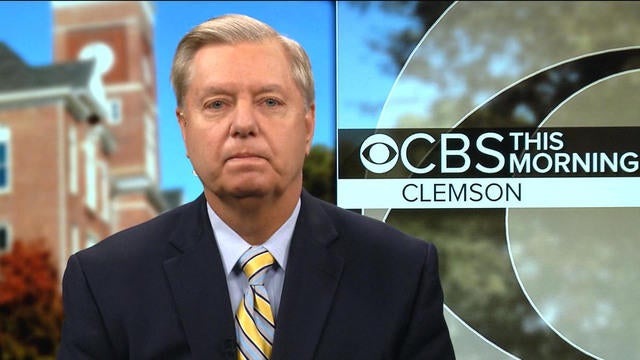 Sen. Lindsey Graham on 2 scenarios that would trigger war with N. Korea
After President Trump issued his latest threat to North Korea amid news that the regime passed yet another milestone in developing their nuclear capabilities, Sen. Lindsey Graham, R-South Carolina, says the U.S. is "headed" toward military action and that the president would go to war to prevent North Korea from striking America.
"President Trump has basically drawn a red line saying he'll never allow North Korea to have an ICBM missile that can hit America with a nuclear weapon on top, he's not going to let that happen, he's not going to contain the threat, he's going to stop the threat," Graham told "CBS This Morning" on Wednesday.
Speaking from Clemson, South Carolina, the Republican said two scenarios in which the U.S. would act with force would be if "they attack Guam or some other American interest or our allies, or if they try to keep developing an ICBM."
He added that he feels the U.S. will head toward war with the North "unless the world can stop North Korea", saying Mr. Trump will "pick homeland defense over regional stability and he has to."
Graham's comments come one day after Mr. Trump's "fire and fury" warning to the regime.
Mr. Trump delivered the message to the North during a briefing on the opioid epidemic from his Bedminster, New Jersey golf club where he is currently staying for the duration of his 17-day "working vacation."
Democrats were less than inspired by Mr. Trump's tough talk, leaving many key lawmakers under the impression that the rhetoric will only make the tense situation even worse.
Sen. Dianne Feinstein, D-California, who previously served as a top member of the Senate Intelligence Committee, tweeted that isolating North Korea "has not halted their pursuit of nuclear weapons." She said "diplomacy is the only path forward." Feinstein went on to say Secretary of State Rex Tillerson, who's currently in Asia, should discuss the reopening of North Korea talks with U.S. regional partners.
Sen. John McCain of Arizona, a frequent Graham ally, delivered a warning to Mr. Trump himself, saying to make sure he can back up what he's promising.
"I take exception to the president's comments because you've got to be sure that you can do what you say you're going to do," he said in an interview on KTAR Phoenix.
Graham said Mr. Trump's warning was also message to China.
"China should have two options: deal with the nut job in your back yard or realize there will be a war in your backyard," Graham said.
While the Republican lawmaker did not waver over the threat of war, he said he still had hope for a more diplomatic resolution.
"I hope diplomacy will work, sanctions haven't worked before, maybe they will now," he said. "But if there's going to be a war, it's going to be in the region, not in America."
Thanks for reading CBS NEWS.
Create your free account or log in
for more features.