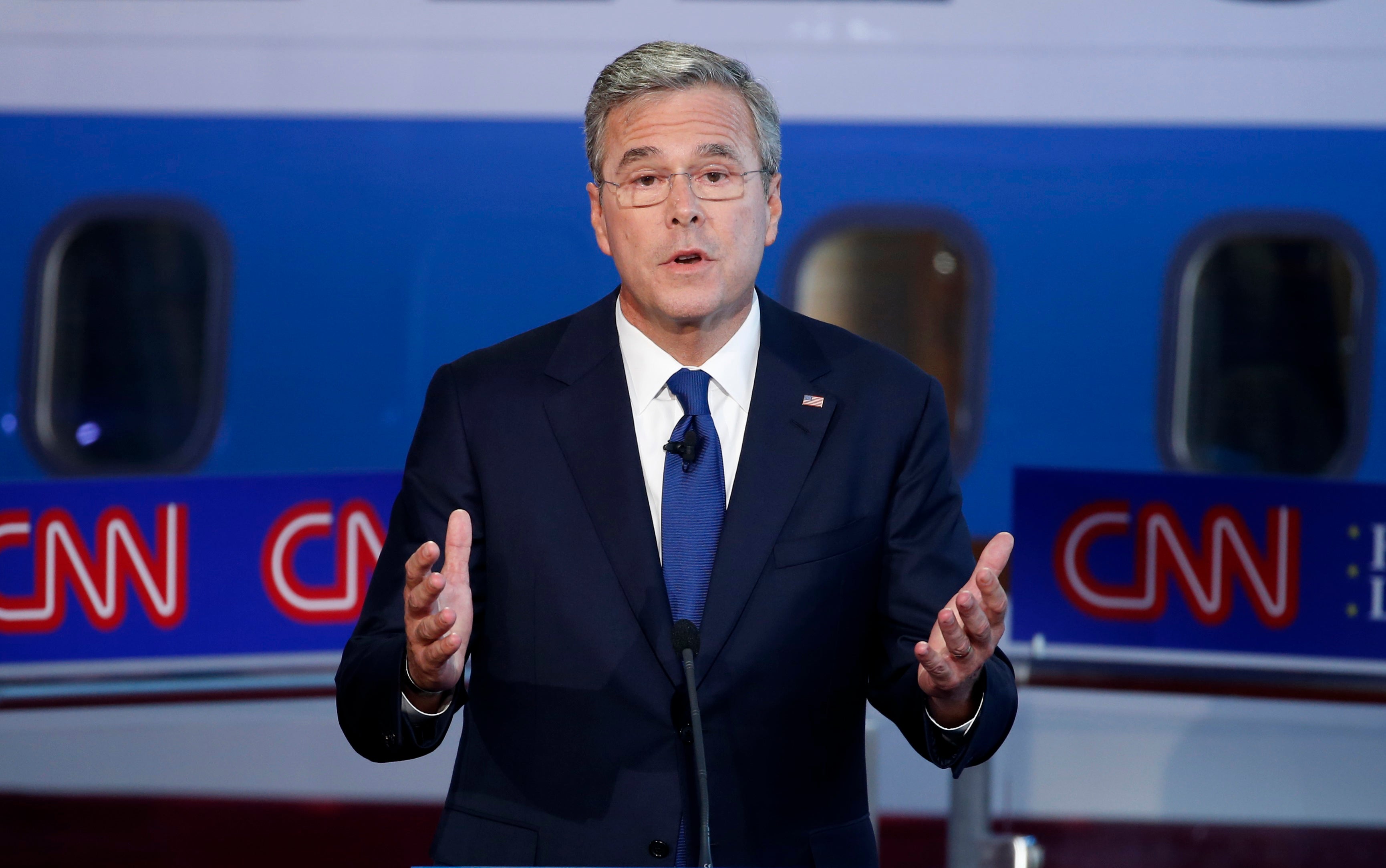 Jeb Bush: "I smoked marijuana" when I was young
Republican presidential candidate Jeb Bush admitted on the GOP debate stage Wednesday night that he smoked marijuana decades ago.
"Forty years ago I smoked marijuana and I admit it," Bush said at the Ronald Reagan Presiential Library. "I'm sure that other people might have done it and might not want to say it in front of 25 million people."
He tacked on a comment that his mother, former First Lady Barbara Bush, would not be pleased about the admission: "My mom's not happy that I just did."
Moments later, Jeb Bush's official twitter account tweeted out an apology to his mother:
A veiled jab from Kentucky Sen. Rand Paul prompted Bush to comment on his previous experience with marijuana.
"There's at least one prominent example on the stage of someone who says they smoked pot in high school," Kentucky Sen. Rand Paul said in answer to a question about the drug's legalization. Paul was attempting to point to the hypocrisy in the GOP field when it came to restrictive pot laws.
Bush eventually jumped in: "He was talking about me."
Other candidates also weighed in on the debate to legalize marijuana.
New Jersey Gov. Chris Christie said he was "against the recreational use of marijuana," and former tech executive Carly Fiorina added that "drug addiction is an epidemic."
"We must invest more in the treatment of drugs," Fiorina said, bringing up the loss of her own child from drug addiction. "I agree with Sen. Paul. I agree with state's rights. But we are misleading young people when we tell them that marijuana is just like having a beer. It's not."
"And the marijuana that kids are smoking today is not the same as Jeb Bush smoked forty years ago," she said. She too apologized to Bush's mother: "Sorry, Barbara."
Bush's marijuana use was not exactly a new revelation. In a wide-ranging Boston Globe profile of Bush, a survey of his high school years showed him to be a skilled tennis player with a penchant for pot smoking.
Thanks for reading CBS NEWS.
Create your free account or log in
for more features.