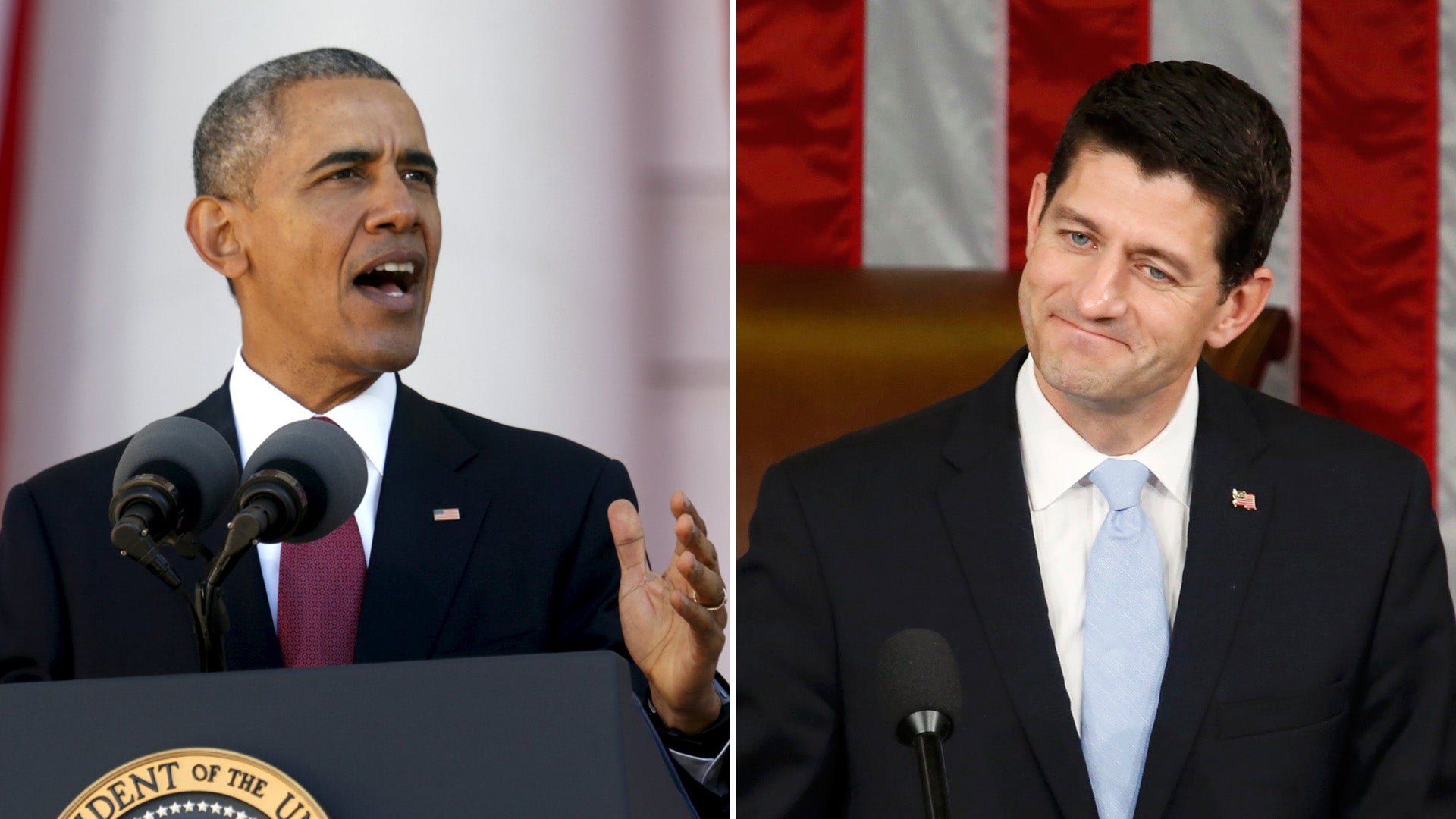 GOP poised to block Syrian refugee plan in Congress
Congressional Republicans are actively working to try to halt the administration's plan to take in more Syrian refugees following the Paris terrorist attacks.
A task force of GOP chairmen that has been assembled in the House is figuring out how they can legislatively suspend the plan. The House could vote on a bill as early as Thursday, an aide to House Majority Leader Kevin McCarthy, R-California, said.
"Our task force is considering legislation while we speak. We're meeting every day and we will bring legislation forward," Speaker Paul Ryan, R-Wisconsin, told reporters on Tuesday.
After authorities revealed that a Syrian passport was found close to the body of one of the eight terrorists killed during Friday's attacks, Ryan said "a pause" was necessary in the administration's current plan to take in at least 10,000 more Syrian refugees over the next year.
Senate Majority Leader Mitch McConnell, R-Kentucky, also said he believes there should be "a pause or moratorium" in the plan.
Congressional aides say Congress has the power to halt it. It could, however, be a complicated process because several different government agencies and even non-profit organizations are involved in the refugee resettlement process.
"Congress has the power over both policy and funding," a GOP aide told CBS News. "It would require legislation to change existing refugee policy, or to restrict the use of funds."
A senior Obama administration official told reporters Tuesday that the refugee resettlement program has received bipartisan support in the past as well as "good" funding levels.
"Bringing more refugees, though, is absolutely dependent on having the resources to run the program," the official said. "The program is absolutely dependent on funding from Congress, and as we grow it, we will require more assistance from Congress."
The task force includes the chairmen of the Intelligence, Armed Services, Homeland Security, Judiciary, Foreign Affairs and Appropriations committees.
A few Republicans in the House introduced legislation Tuesday that would address the administration's refugee plan.
Rep. Richard Hudson, R-North Carolina, unveiled a bill that would impose a number of obstacles on the government to admit refugees. His office said it would effectively impose a moratorium on the Syrian refugee plan, though the bill's language doesn't explicitly halt it.
The bill would require the Homeland Security secretary -- after consulting with the FBI director, attorney general and director of national intelligence -- to inform Congress that each refugee being admitted to the U.S. is not a security threat.
Hudson's proposal would also require the FBI director to certify that background checks have been completed for all refugees and would require an audit of admitted refugees.
A congressional aide told CBS News that the bill will either be voted on as a standalone or wrapped into a package of bills.
Rep. Robert Pittenger, R-North Carolina, introduced another bill that would require Congress to approve the admission of refugees into the U.S. It would also allow Congress to block "any inadequate resettlement plan put forward by the administration."
The Department of Homeland Security, under the bill, would also be required to provide new security assurances before admitting refugees.
As far as funding goes, it's unclear what exactly Congress would target since there are a number of layers to the refugee resettlement process. For example, the process begins with DHS in which staff pre-screen refugees, conduct interviews and conduct security clearances. Next, the State Department takes over by coordinating with nine private voluntary agencies to place and relocate the refugees in the U.S. Some of those voluntary organizations receive federal funding.
Many Republicans on Capitol Hill, on the presidential campaign trail and governors have voiced opposition to the administration's Syrian refugee plan.
Even some Democrats harbor concerns about the process.
Sen. Chuck Schumer, D-New York, told reporters Tuesday that it may be necessary to "pause" the plan, but he said lawmakers will learn more from briefings provided by administration officials this week. DHS Secretary Jeh Johnson and FBI Director James Comey briefed House members on Tuesday evening. Officials are also scheduled to brief senators on Wednesday evening.
Lawmakers have floated the possibility of attaching provisions to block the refugee plan to a comprehensive government spending package that Congress must pass by Dec. 11 in order to prevent a government shutdown.
"We don't want to wait that long. We want to work and act on this faster than that," Ryan said.
Congress, however, will be on recess next week for Thanksgiving and lawmakers return, they'll have only two weeks left before the funding deadline.
President Obama has stood by the plan to admit additional Syrian refugees and administration officials are defending the vetting process.
If Congress remains at odds with Mr. Obama over the plan, it could risk a government shutdown next month.
CBS News' Alicia Amling contributed to this story.
Thanks for reading CBS NEWS.
Create your free account or log in
for more features.