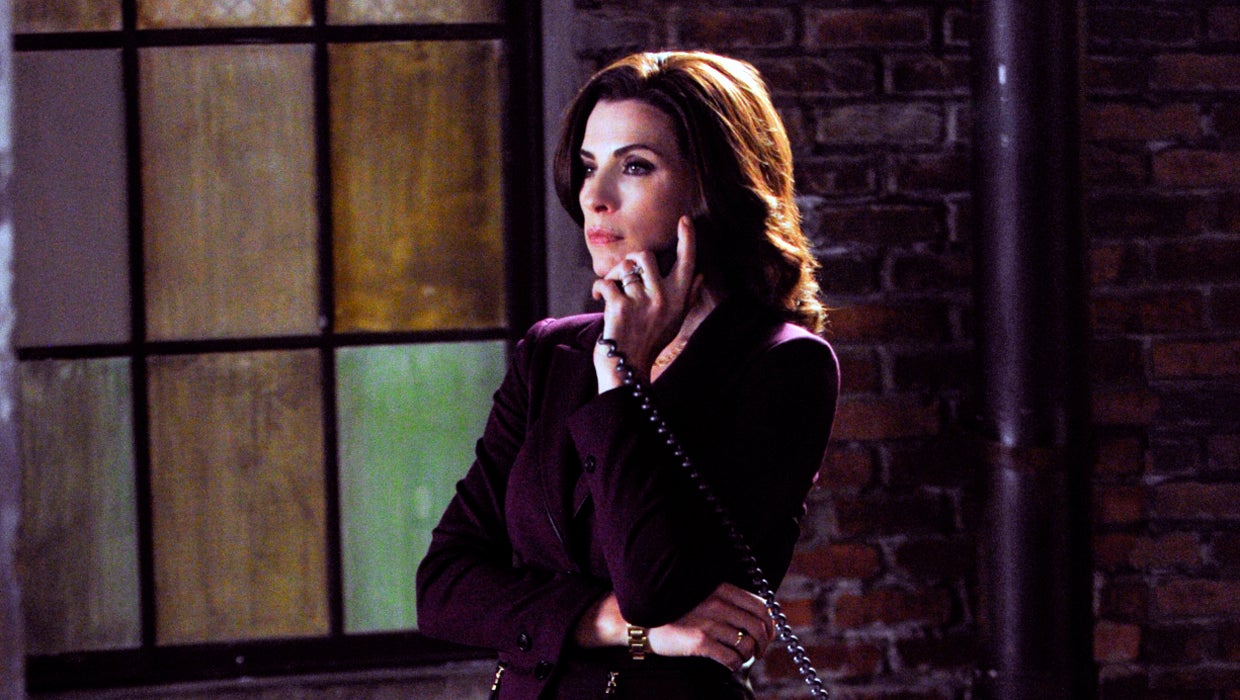 "The Good Wife" sets itself apart from the pack
With its fifth season finale, "A Weird Year," set to air this weekend, "The Good Wife" still stands out as one of the most unique legal dramas on network TV.
Oh, sure, lawyer Will Gardner was gunned down in a March episode that served the wishes of Josh Charles, who played him, to depart. But this weariest of legal-drama tropes (a courthouse shooting!) rocked the audience as much as it did Will's associates. No wonder: It was so unexpected for "The Good Wife" to shed blood.
Despite fans' sorrow at losing Will, "The Good Wife" remains bursting with great characters played by a cast including Christine Baranski, Archie Panjabi, Matt Czuchry and Alan Cumming, aided by a bounty of guest stars that currently includes Michael J. Fox.
The cast is led by Julianna Margulies, who has won both a Golden Globe and an Emmy award as the titular protagonist, Alicia Florrick -- a stay-at-home mother and former Chicago attorney forced to go back to work at the start of the series after a sex-and-corruption scandal sent her Cook County State's Attorney husband (Chris Noth) to jail.
Back in September 2009, this seemed a juicy premise, in the wake of the Eliot Spitzer sex scandal. But marital betrayal with a good-wife-as-victim was only the stepping-off point.
"We knew that Alicia should confront that initial crisis, but then grow and change," says Michelle King, who, with her husband Robert King, created the series. "We wanted to follow that trajectory and see her strengths develop, not just live in a world of infidelity and its aftermath."
The untimely death of Will, Alicia's former colleague and heartthrob, has given the show a creative jolt, a stirring overlay to its tangled litigation and office intrigue. But life goes on.
"On the show, we try to imitate as much as possible the life most of us are familiar with," says Robert King. "In your office every day, you're not dealing with dragon slayers, you're dealing with people metaphorically stabbing you in the back."
As a show that relies on words and ideas over flash and dash, "The Good Wife" more closely resembles certain boutique cable series such as "Mad Men" than the slate of procedurals often seen on network TV.
But the Kings say their network has supported them in their resistance to a copycat approach.
"CBS has given us so much rope," says Robert King, "it's amazing we haven't hung ourselves three or four times over."
Meanwhile, the Kings embrace the less-is-more constraints broadcast TV imposes in certain areas. Like the bedroom. In its own distinctive way, "The Good Wife" excels as a very racy show.
"You never see a breast or a behind. We concentrate on faces," notes Robert King. "But when the actors are very good, and our actors are, that can make those scenes even sexier and dirtier."
Michelle and Robert King make what they do sound challenging and yet, somehow, second nature. But isn't it an act of Herculean restraint not to throw in a car chase, ax murder or rotting corpse just to keep pace with so many other shows?
"It doesn't even cross our minds," said Michelle King who, like her husband, is L.A.-based. "It would be like living in California and buying snowshoes to get someplace."
The season 5 finale of "The Good Wife" airs this Sunday at 9 p.m. ET on CBS.
Thanks for reading CBS NEWS.
Create your free account or log in
for more features.