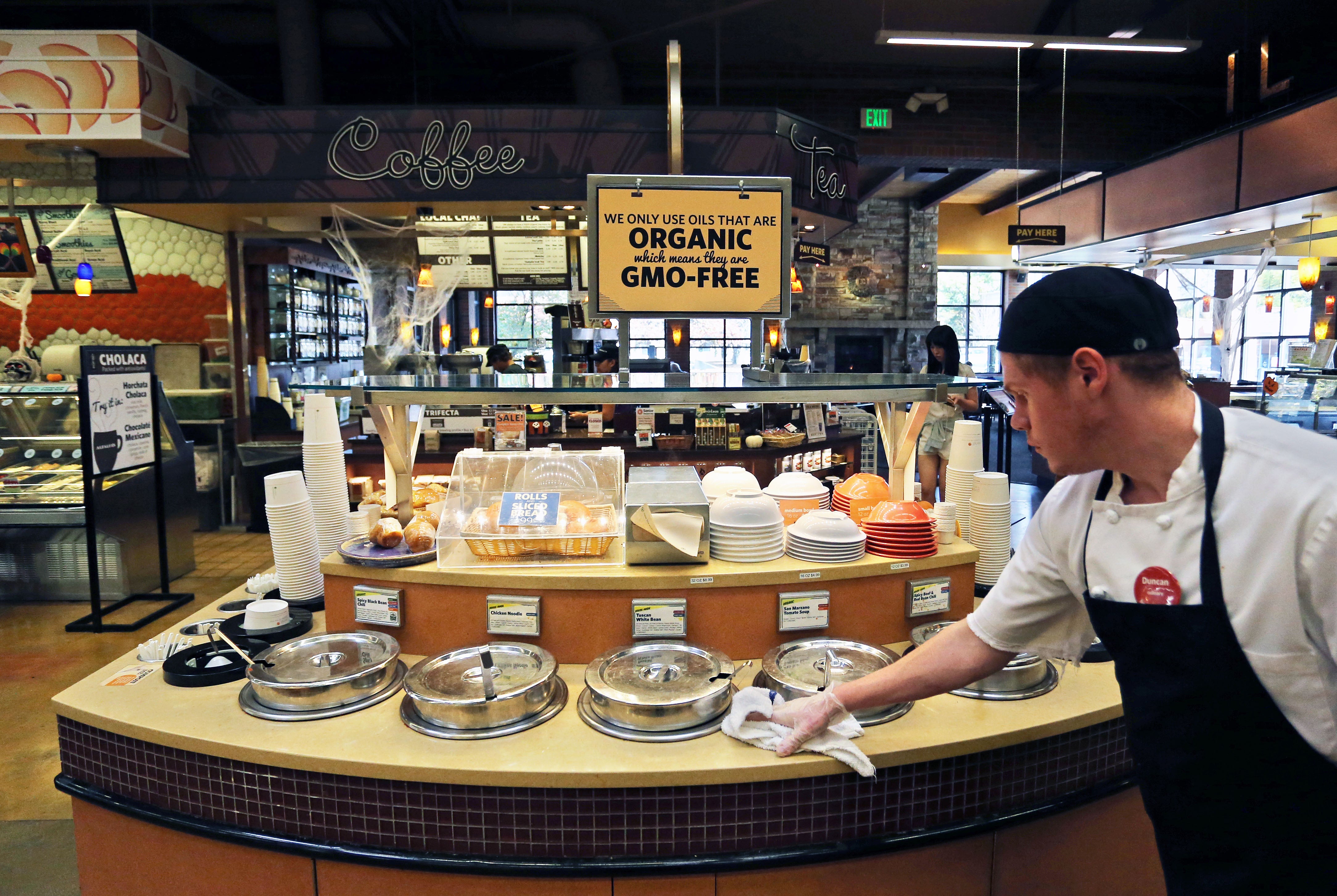 GMO label backers undeterred after ballot measure losses
PORTLAND, Ore. -- In the end, not even Oregon's backyard chicken owners and vegan foodies had enough money and clout to persuade voters to pass a ballot measure that would have required labeling of genetically modified foods.
Oregon is the fourth state in the West that has failed to pass a GMO labeling measure. A similar proposal also flopped Tuesday in Colorado, which joined Washington state and California as other states that have said no.
It would seem that if a label mandate could pass anywhere, it would have passed in a left-leaning state like Oregon, whose biggest city is a hub for hipsters, funky boutiques and farm-to-table dining.
But are opponents of GMOs ready to give up? Nope. They say they're making headway against biotechnology companies like Monsanto Co. and are ready to continue the fight in legislatures, on ballots, and at the federal level.
"This is a social movement that's gaining power, as people become more aware of how their food is produced," said George Kimbrell, a senior attorney at the Center for Food Safety. "So there's great success there regardless of the outcome of the measure."
What are modified foods exactly? They've have been around for hundreds of years, CBS News medical consultant Dr. David Agus explained in May.
"Farmers would get the tomatoes that taste the best, the ones that were able to be as red as they want, the apples that were the best, but in the 1970s came about the technology, the inserted gene and to change a characteristic," he said.
"It's predominantly used so they can avoid bugs and make their own pesticide and be able to tolerate the herbicide or chemicals we use and it really had rapid adoption over the past 15 years," Agus said. "Most of the soy, the cotton, and the corn that we use today is genetically modified. That's 70 percent of the products on food shelves that are processed use GMO foods."
There's little science that says genetically engineered foods are unsafe, and agribusinesses fear mandatory labels would spook consumers. Most of the nation's corn and soybeans are genetically engineered to resist pests and herbicides, but labeling proponents say there's too much that's unknown about GMOs.
The Oregon initiative would have required manufacturers, retailers and suppliers to label raw or packaged foods produced entirely or partially by genetic engineering, but voters narrowly rejected it by about 1 percentage point.
In the past two years, voters in California and Washington rejected labeling requirements by about a 2-point margin.
"The reason we lost narrowly is because chemical companies and their allies smashed spending records in these states," Kimbrell said. "People were being inundated with their commercials on televisions."
Opponents raised about $20 million to defeat the Oregon initiative, while the campaign to pass Measure 92 had about $7.5 million in donations.
Labeling proponents were even more dramatically outspent in Colorado, where they raised $896,000 - compared with about $16.7 million by the opposing food and biotech companies. Coloradans saw no television advertising from proponents, but there were frequent TV spots featuring farmers who called the measure misleading.
There were similar disparities in California and Washington, where the 2013 ballot measure contest was the costliest in state history.
Oregon's results underscored an urban-rural divide. Voters supported labeling in liberal cities like Portland, where at least one grocer will deliver organic produce to your door in a biodiesel-powered truck. Much of rural Oregon overwhelmingly opposed it.
"Measure 92 would have burdened our state's family farmers and food producers with costly new compliance regulations and red tape," said Pat McCormick, spokesman for the No on 92 Coalition.
Oregon voters also defeated a GMO labeling measure in 2002, when it wasn't such a prevalent issue. That measure lost by a landslide, 70 percent to 30 percent.
Since then, the political fight has escalated. The Vermont Legislature approved a labeling bill that's set to take effect in 2016. Maine and Connecticut also passed labeling laws, although they don't take effect unless other states follow suit.
According to the National Conference of State Legislatures, some 30 other states have also considered GMO labeling legislation this year, though none of the bills has passed.
Earlier this year, voters in two rural Oregon counties approved bans on genetically engineered crops, and voters in Hawaii's Maui County opted this week to temporarily ban the cultivation of GMOs, but those measures are a far cry from putting labels on products that families see at the supermarket.
Still, the West's four GMO labeling measures have made people aware of their choices when it comes to their food, Kimbrell said.
Labeling proponents say they're already gearing up to get legislation passed in more states and put initiatives on more ballots - though they declined to say where. Ultimately, they're pushing for federal labeling rules, though there's no indication of any impending nationwide solution.
Even those who didn't support the measures say the anti-GMO momentum deserves Big Food's attention.
"Independent of the results, there's clearly some part of the population that ... wants to know what's in the food they eat, how it's made, and where it comes from," said Gregory Jaffe, biotechnology project director for the Center for Science in the Public Interest. "I think the industry needs to figure out ways to be more transparent."
While labeling advocates say they're just getting started, opponents aren't about to step aside.
"The patchwork of state labeling standards would require separate supply chains to be developed for each state," said Pamela Bailey, president and CEO of the Grocery Manufacturers Association, the food industry's main trade group.
"This maze of varied regulations based on inaccurate information would cripple interstate commerce ... and ultimately increase grocery prices for consumers by hundreds of dollars each year."
Bailey and Monsanto, among others, say they are seeking a federal law that would take precedence over any state laws and let companies voluntarily label their engineered foods.
That's unacceptable to food activists.
"The bottom line," Kimbrell said, "is that this movement is going to continue to grow, move forward and gain in prominence."
Thanks for reading CBS NEWS.
Create your free account or log in
for more features.