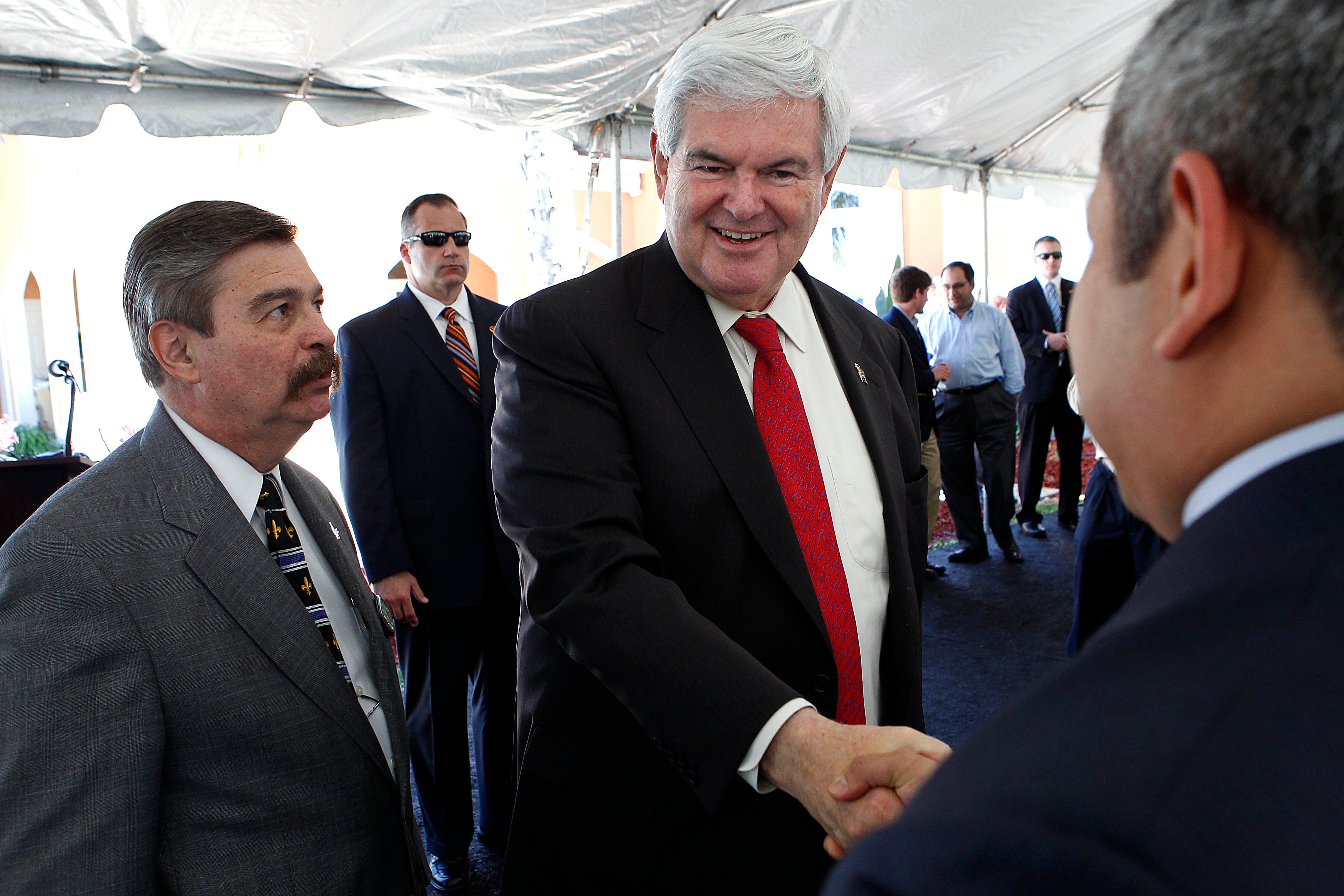 Gingrich: It's Obama's fault people think he's Muslim
PORT FOURCHON, La. - Republican presidential candidate Newt Gingrich suggested Friday that President Obama is to blame for perceptions among his detractors that he is Muslim.
"I have said publicly several times that I believe Obama is a Christian. He went to a Christian church for over 20 years. He was listening to the sermons. The fact is I take him at his word," Gingrich said told reporters in Louisiana the day before the GOP primary here.
"But I think it is very bizarre that he is desperately concerned to apologize to Muslim religious fanatics while they are killing young Americans, while at the same time going to war against the Catholic Church and against every right-to-life Protestant organization in the country. I just think it's a very strange value system," Gingrich added.
Then, asked whether it concerned him that many people continue to believe Obama is Muslim, Gingrich replied, "It should bother the president. Why does the president behave the way that people would think that? You have to ask, why would they believe that? It's not because they're stupid. It's because they watch the kind of things I just described to you. When you have every bishop in the Catholic Church say this administration's at war with their religion, you don't think that has an impact?"
Obama apologized last month to Afghan President Hamid Karzai after U.S. troops inadvertently burned discarded copies of the Koran. In another recent incident, Obama said he was "heartbroken" by the deaths of 17 Afghan civilians allegedly killed by a U.S. soldier. The "war" on Catholicism refers to the administration's now abandoned requirement that the employee insurance offered at Catholic universities and hospitals cover birth control.
Gingrich's remarks Friday came after a supporter at a campaign event asserted to at a campaign event on Wednesday that the president "is a Muslim," and Gingrich failed to correct the misstatement. He blamed the media for blowing the incident out of proportion.
On Thursday, Gingrich returned to the subject when conservative columnist and radio show host Sandy Rio asked an unrelated question about whether the media would be "all over the details" of Mitt Romney's Mormon religion. "Do you think they're going to hold their powder on Mitt Romney in terms of his Mormonism and some of the passages in the book of Mormon?" Rios asked Gingrich.
Gingrich replied, "Look, you have to understand the elite media's in the tank for Obama. They're going to do anything that helps reelect Obama ... You think you're going to see two pages on Obama's Muslim friends? Or two pages on the degree to which Obama's consistently apologizing to Islam while attacking the Catholic Church? Do you see anybody in the elite media prepared to say, 'Gee isn't this kind of odd that we really worry a lot about the Koran and not about the Bible?'"
Thanks for reading CBS NEWS.
Create your free account or log in
for more features.