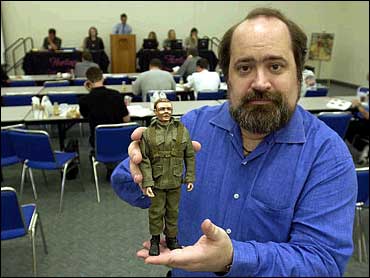 GI Joe Sells For $200,000
His face may be battle-weary, but the 1963 G.I. Joe prototype is no longer an auction-block refugee, an auction house said Thursday.
The handmade 11 1/2-inch figure ended up capturing $200,000 in a private sale to comic book distributor Stephen Geppi, despite Joe's failure to bring a minimum $250,000 bid at auction last month.
"When this thing didn't sell at auction, I got another bite at the apple, and I thought: 'My God. I can't believe this. This is like a precious item,"' Geppi said in a Thursday interview.
Joe failed to sell even after the minimum bid was cut from $600,000 to $250,000 at the auction in San Diego.
But at $200,000, the comic book tycoon said he was thrilled to acquire the one-of-a-kind item.
"I remember playing with G.I. Joe when I was a kid, and who'd have thought some 40 years later I'd would be buying the actual prototype for this action figure," he said. "It's just a great coup for me."
John Petty, of Dallas-based Heritage Comics Auctions, which handled the sale, said the prototype was "the most valuable action figure ever sold."
A 1904 Steiff Teddy Girl bear was purchased for $158,000 in a 1994 auction, according to Heritage. An original late 1940s Howdy Doody marionette (the stringless model known as "Photo Doody") also sold that year for $113,431.
The auction house said a 1916 French doll by Albert Marque once went for $215,000.
Geppi, 53, bought the G.I. Joe figure from Don Levine, a Korean War veteran and former Hasbro executive involved in the toy's creation. Hasbro set out 40 years ago to develop a toy that would do for boys what rival Mattel's Barbie had done for girls five years earlier.
The result was a huge success. Hasbro sold an estimated 375 million G.I Joe action figures.
The figure wears a hand-stitched sergeant's uniform and has a hand-painted, battle-weary expression. Its name was inspired by the 1945 movie "Story of G.I. Joe," starring Robert Mitchum.
For decades, the prototype spent its days in a cardboard box at Levine's Rhode Island home.
Geppi, who owns Diamond Comic Distributors, of Timonium, Md., and is a part owner of the Baltimore Orioles, said he plans to make the figure very visible to celebrate its 40th anniversary next year.
"This is a piece of Americana that belongs in a museum," he said.

Thanks for reading CBS NEWS.
Create your free account or log in
for more features.