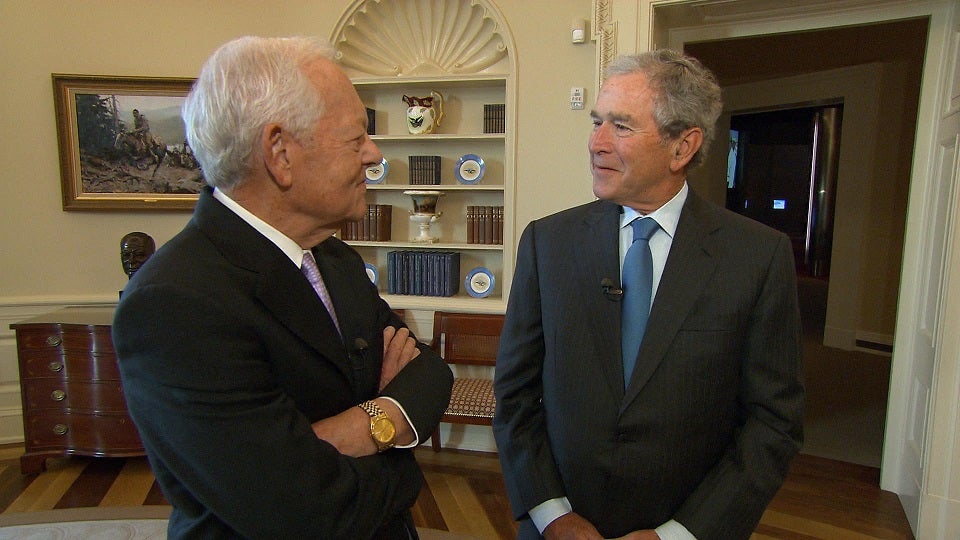 George W. Bush talks dad, Jeb in 2016, and the Iraq War
Former President George W. Bush said there's a "50-50" chance his brother, former Florida Gov. Jeb Bush, will run for president in 2016 during an interview with "Face the Nation" host Bob Schieffer that aired Sunday.
"It's a lot of speculation about him. I occasionally fuel the speculation by saying that I hope he runs," Bush said. "I think it's 50-50. He and I are very close. On the other hand, he's not here knocking on my door, you know, agonizing about the decision. He knows exactly -- you know, the ramifications on family, for example. He's seen his dad and his brother go through the presidency."
Jeb Bush has said the impact on his family is one of his foremost considerations as he mulls a presidential bid, but George W. Bush said he and his father, former President George H.W. Bush, both demonstrated that the presidency doesn't need to interfere with other priorities like family and faith.
"I put our family through it," Bush told Schieffer. "And one of the lessons you learn from George H.W. Bush is that you can go into politics and still be a good father. In other words, the priorities of your life don't have to be compromised. I know Jeb's priority is his family. A priority is his family. I also know it's his country. And his deep faith. And he has seen that you don't have to sell those out in order to be a politician."
George W. Bush left the White House in 2009 deeply unpopular, beset by lingering wars and a financial crisis. And though his approval ratings have since rebounded significantly, many have
wondered how Jeb Bush would deal with his brother's legacy if he decides to run in 2016
.
But if Jeb Bush does decide to launch a bid, George W. Bush said, he can count on his brother's aggressive public support -- if he wants it.
"I'll do whatever he wants. I will be one of his strongest backers," Bush said. "If he wants me out there publicly, I'll be out there publicly. If he wants me behind the scenes, I'll be behind the scenes. You know, I'll-- I'm all in for him. He'd be a great president. And the country could use an optimistic view like his."
Bush has written a new book, "41: A Portrait of My Father," reflecting on his father's life and public service. In the interview, he discussed how his dad's experience as president affected him, saying it was "really hard" to watch his father lose his reelection bid in 1992 to Bill Clinton.
"When people criticize my dad, somebody who I admire greatly, I didn't react well at times and it really, really affected me," he said. "When they criticized me, the sting wasn't nearly as difficult."
He said he was "dismayed" to watch his father's White House fail to connect with a winning economic message, but even so, he said he believes his father would have won in 1992 had it not been for the sudden rise of third-party candidate Ross Perot.
"I think he'd have won, and I just can't prove it," Bush said. "I mean, it's just all conjecture, of course. But I think he would have won, because I think ultimately there would have been a -- you know, a clear choice between-- you know, a guy who had a very good first term and an untested governor."
In his book, Bush also brushed aside the argument that he invaded Iraq in 2003 to finish what his father started in the first Gulf War in 1991, when American forces drove Saddam Hussein's Iraqi army out of Kuwait but did not oust Hussein from power in Baghdad.
"I was just responding to kind of the gossip that tends to work around the political circles that clearly, he had only one thing in mind and that was to finish the job his father didn't. Because my dad decided not to go into Baghdad after routing Saddam Hussein out of Kuwait," Bush explained. "And the reason why is that wasn't the mission he stated."
When he decided to invade Iraq in 2003, Bush said, the stakes and the mission were completely different.
"I went in there as a result of a very changed environment because of September the 11th," he said. "And the danger we were concerned about was that the weapons...would be put into the hands of terrorist groups that would come and make the attacks of 9/11 pale in comparison."
Bush also said he was "surprised" Hussein did not believe him when he vowed to invade Iraq unless the Iraqi leader left the country and allowed international inspectors to search for weapons of mass destruction.
"When he was captured, I was told that the FBI agent that talked to him -- he said, 'I just didn't believe Bush,'" the former president said. "And it's hard for me to believe he didn't believe me."
"We'd given an ultimatum to the Taliban and delivered," Bush said. "I make the point in the book, of course, that -- and Dad understood this better than anybody -- that when you say something as president, you better mean it. Words mean something...I thought I was pretty clear at times during my presidency and meant it. Saddam Hussein didn't believe us. So I was surprised."
Bush and his wife, Laura Bush, also discussed how American politics has changed since they left the White House in 2001, and they agreed that change hasn't necessarily been for the better.
"Even since George and I lived at the White House, the social media's increased so much," Laura Bush said. "And lots of mean and terrible things on the Internet about every family member, which even we didn't have."
"In the older days -- I hate to be one of these guys that talk about the old days...people were held to account for what they said," Bush said. "In other words, there was a push back. Now, there's just so much stuff out there -- flotsam out there, that people say what they feel like saying without any consequence."
Thanks for reading CBS NEWS.
Create your free account or log in
for more features.