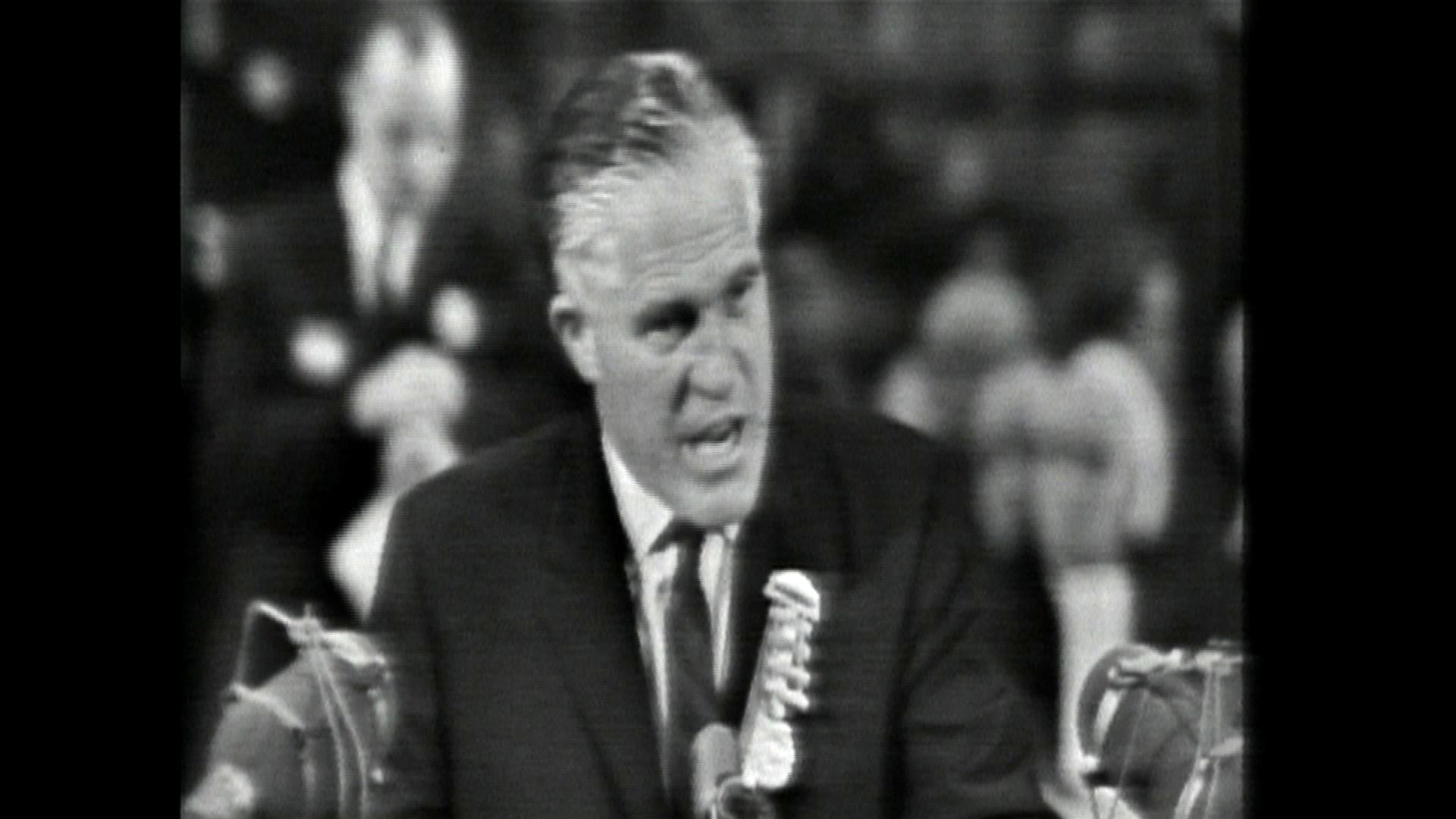 George Romney decries "extremism" at 1964 GOP convention
Michigan Gov. George Romney had a very specific mission when he arrived at the 1964 Republican National Convention in San Francisco. He did not aim to scuttle the impending nomination of Arizona Sen. Barry Goldwater, who was beloved by much of the GOP base and reviled by some party elders. But he did aim to alter the Republican Party platform to affirm that some extremist groups who viewed Goldwater as an ally - the John Birch Society and the Ku Klux Klan, to name a couple - had no place in the GOP.
Below is a portion of the speech Romney delivered to GOP delegates at the 1964 convention:
Thank you very much. Mr. Chairman, Congressman Lair, fellow delegates and fellow Republicans. I am here at this convention because I profoundly believe that present basic trends and perils are rushing us towards a national crisis. And I believe to avoid or survive that crisis, the Republican Party must promote the programs and provide the leadership that will capture the interest, respect, and support of a majority of Americans. I think the future of this nation depends on that.
I want to make it perfectly clear: I am not here to aid any candidate speaking at this time, and I am not here to detract from any candidate. And I appear to seek your open-minded consideration of a still stronger and complete platform that will meet our needs as a party and as a nation. We have a good platform. I'm not here to criticize this platform. I'm here to improve it.
I make this urgent plea for your open minds and hearts for the purpose of giving the candidate to be selected by this convention a better opportunity to win this fall.
The strongest personality on earth cannot deal with the problems of this nation except upon the basis of correct principles. Our party was founded at a time of grave national crisis. It was our mission, on our birth under Lincoln, to preserve this nation, established by divine providence with a divine destiny. The nation and its destinies were in peril, not only by the irreconcilable conflict between slavery and freedom, but also by the extremism of that time. And the extremism and lily-white Protestantism destroyed the Whig Party and brought the Republican party in to being.
The extremists of that day called themselves the Sacred Cult of the Star Spangled Banner officially. They were known popularly as the know-nothings. While their political leaders [took] refuge in silence, while other political leaders did, Lincoln spoke out as forcefully against the know-nothing extremists of his day as he did about slavery. He attacked both as a violation of the source of freedom and greatness. He attacked both slavery and the know nothing extremism as a violation of the principle of the fatherhood of God and the brotherhood of all mankind
And had Lincoln ignored the know-nothing extremists of his day, he would not have been president of the United States and saved the nation. In 1854 Lincoln said, quote, "As a nation we began by declaring that all men are created equal. We know practically read that all men are created equal except Negroes. When the know nothings get control it will read, all men are created equal except Negroes and foreigners and Catholics. When it comes to this I shall prefer immigrating to some country where they make no pretense of loving liberty. To Russia for example, where despotism can be taken pure and without the fake alloy of democracy." Those are Lincoln's own words.
Face the Nation will kick off CBS News' coverage of the 2016 Republican Convention on Sunday with a broadcast live from the floor of the convention hall in Cleveland. Don't miss it! Check your local listings for airtimes.
Thanks for reading CBS NEWS.
Create your free account or log in
for more features.