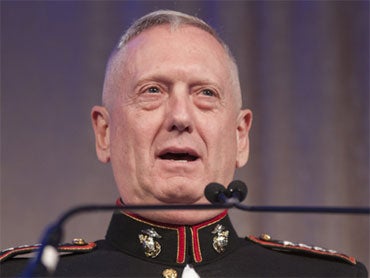 Gen. James "Mad Dog" Mattis: 7 memorable quotes
Over a career spanning more than four decades in the Marine Corps, retired Gen. James "Mad Dog" Mattis -- Donald Trump's pick for the nation's next defense secretary -- has acquired a reputation as a blunt, bull-headed, "Marine's Marine."
And it's easy to see why.
The four-star general is a decorated war veteran who's led expeditionary forces in Iraq and Afghanistan. Most recently, Mattis served as chief of U.S. Central Command until 2013, when he retired amid disagreements with the White House over its foreign policy in the Middle East. The Marine Corps Times has since dubbed him "the most revered Marine in a generation."
And when it comes to his straight-talking ways, the words that have come out of Mattis' mouth certainly live up to the legend.
Here are some of the mad dog's most colorful quotes:
"Be polite, be professional, but have a plan to kill everybody you meet."
-Gen. Mattis gave this piece of advice to Marines in Iraq, as quoted in "Fiasco: The American Military Adventure in Iraq"
In a similar vein, Mattis has also said:
"There are some people who think you have to hate them in order to shoot them. I don't think you do. It's just business."
"There is nothing better than getting shot at and missed. It's really great."
On the flip side, the general would rather not be on the receiving end of it.
"You go into Afghanistan, you got guys who slap women around for five years because they didn't wear a veil. You know, guys like that ain't got no manhood left anyway. So it's a hell of a lot of fun to shoot them. Actually it's quite fun to fight them, you know. It's a hell of a hoot. It's fun to shoot some people."
Mattis said this during a 2005 panel in San Diego, California, according to a CNN transcript. Later, his boss Gen. Hagee chastised his frank speech, saying Mattis "should have chosen his words more carefully."
"The first time you blow someone away is not an insignificant event. That said, there are some a**holes in the world that just need to be shot."
This was a line in a motivational address to his Marines at Ayn al-Asad Airbase, an Iraqi Armed Forces and U.S. armed forces base located in western Iraq.
"I come in peace. I didn't bring artillery. But I'm pleading with you, with tears in my eyes: If you f*** with me, I'll kill you all."
Mattis reportedly said this to Iraqi tribal leaders.
"PowerPoint makes us stupid."
Mattis, then Joint Forces commander, said this at a military conference in North Carolina, April 2010.
Thanks for reading CBS NEWS.
Create your free account or log in
for more features.