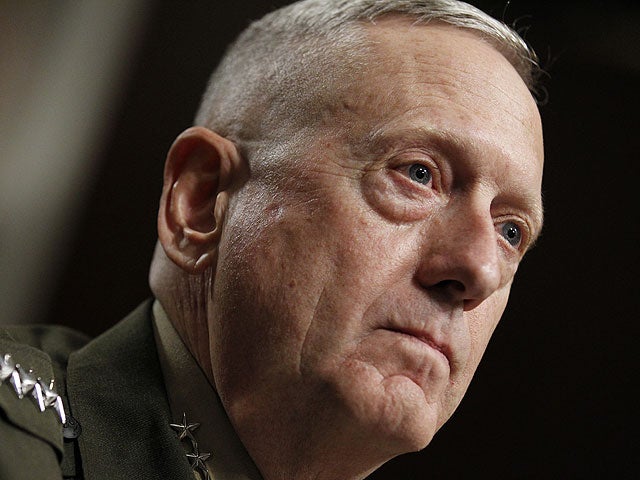 Donald Trump announces retired Gen. James Mattis for defense secretary at Cincinnati rally
Donald Trump is tapping Gen. James Mattis for defense secretary, the president-elect announced at his Thursday rally in Cincinnati, Ohio.
"We are going to appoint 'Mad Dog' Mattis as our secretary of defense," Mr. Trump told a raucous crowd at the U.S. Bank Arena, in his first post-election rally.
The president-elect praised Mattis as "one of our great, great generals."
During what was billed as his "Thank You" victory tour, Mr. Trump said of the pick that he wanted to "save the suspense for next week." He said he will formally announce it Monday.
Mattis, a retired Marine Corps general and decorated war veteran, is a known opponent of the current White House policy on Iran, arguing that nothing has been done to counter Iran's threat to stability in the Middle East. He has been a vocal critic of the Iran nuclear deal, saying earlier this year that it was "an arms control agreement that fell short."
If confirmed, Gen. Mattis, 66, is likely to deter Trump from engaging in isolationism and negotiations with Russian President Vladimir Putin. Mattis has doubts about Russia's intentions, saying it wants "to break NATO apart."
The retired general also opposes waterboarding, a torture technique that Mr. Trump has promised he would legalize in the fight against ISIS.
Last week, the president-elect expressed surprise at Mattis' position on enhanced interrogation.
"General Mattis is a strong, highly dignified man. I met with him at length and I asked him that question. I said, 'What do you think of waterboarding?'" Trump told The New York Times in an interview. "He said -- I was surprised -- he said, 'I've never found it to be useful.' He said, 'I've always found, give me a pack of cigarettes and a couple of beers and I do better with that than I do with torture.'"
Mattis, sometimes nicknamed "Mad Dog" in Marine circles, is widely known for his blunt style of speaking.
In one speech delivered just as the U.S. was beginning its 2003 invasion of Iraq, Mattis, then a 2-star major general and commander of the 1st Marine division, famously said this to the Marines: "Chemical attack, treachery, and use of the innocent as human shields can be expected, as can other unethical tactics. Take it all in stride. Be the hunter, not the hunted."
In an interview that will air Sunday, former Defense Secretary Leon Panetta told "Face the Nation" anchor John Dickerson that he likes Mattis "a lot." But one of the key things he feels Mattis should be pressed on during his confirmation hearing is the civilian perspective.
"It doesn't mean that you can't have a military background," Panetta told Dickerson. "I think that, you know, that is important to have that background. But at the same time, in those jobs, you've got to exercise the ability to understand political issues, to deal with broader issues that involve your capability to relate to the American people."
The frank general, however, could face a legal roadblock to his senate confirmation.
The law specifically prohibits a person from serving as chief of the Defense Department "within seven years after relief from active duty as a commissioned officer of a regular component of an armed force." Mattis retired in 2013.
The Trump administration will have to seek a congressional waiver for the appointment, allowing Mattis to serve. That exception has been sought just once since 1947, when the defense secretary position was first established.
Sen. Kirsten Gillibrand, D-New York, who serves on the committee with jurisdiction over his nomination, Senate Armed Services, says that she'll oppose the waiver.
Rep. Adam Schiff, D-California, may not have a vote on the issue, also said in a statement that lawmakers needed to keep in mind if they proceeded with the waiver "the precedent we would be setting and the impact it would have on the principle of civilian leadership of our nation's military." Still, he praised Mattis, saying he was "impressed" when he met him in Iraq several years ago, when he led the First Marine Division, and added, "I continue to admire his service, knowledge, experience and leadership."
Mattis replaced Gen. David Petraeus as head of Centcom in 2010, overseeing U.S. military operations in Afghanistan and Pakistan, as well as across the Middle East, including Iraq and Iran.
He also served as the head of U.S. Joint Forces Command.
CBS News' Nicole Sganga contributed to this report.
Thanks for reading CBS NEWS.
Create your free account or log in
for more features.