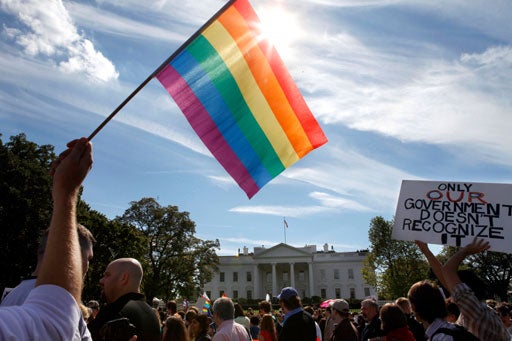 Gay rights activists decry Obama's discrimination inaction
(CBS News) Gay rights activists say they feel betrayed by President Obama's decision not to sign an executive order banning workplace discrimination of gay, lesbian and transgender federal contractors.
"I believe this is a political calculation," said Tico Almeida, president of Freedom to Work, who learned about the decision during a meeting with White House officials, including senior adviser Valerie Jarrett, Wednesday. "It's not about the substance."
White House spokesperson Jay Carney said Thursday the decision was "absolutely not" steeped in election-year politics.
"We're deeply committed to working hand-in-hand with partners in the LGBT community on a number of fronts to build the case for employment non-discrimination policies," Carney said.
However, a prominent gay-rights proponent involved in pressing the White House to move forward with an Executive Order said he thinks the president is "risk adverse" as the general election nears.

"I assume the contraception issue got him a little nervous in the social issues," he told Hotsheet.
The proposed Executive Order to be issued by the president would have prohibited federal contractors to discriminate against its employees based on sexual orientation. In 1965, President Lyndon Johnson signed an Executive Order banning federal contractors from discrimination based on race, religion and gender. This would have been an expansion of Executive Order 11246.

LGBT activists say ending workplace discrimination has popular support. They point to several polls, including one by the liberal-leaning Center for American Progress, that shows three-fourths of voters support workplace nondiscrimination protections for gay and transgender people.

This is "the low hanging fruit," Almeida told Hotsheet.
As a candidate, Mr. Obama promised to ban employee discrimination.

And in an interview with The Advocate in 2010, the president said he could circumvent Congress.
"There still a lot of things we can do administratively even if we don't pass things legislatively. So my ability to make sure that the federal government is an employer that treats gays and lesbians fairly, that's something I can do, and sets a model for folks across the board," Mr. Obama said.

The Executive Order represented one possible way to bypass Congress. A bill in Congress that would have had the same impact called the the Employment Non-Discrimination Act has been stalled in the Republican-led House of Representatives.
During the daily press briefing, Carney told reporters that the White House will "build support for passage of this legislation, a comprehensive approach to legislate on the issue of non-discrimination."
Told of the administration's decision on Wednesday, Joe Solmonese, president of the LGBT rights group the Human Rights Campaign, said he is "extremely disappointed."
"The unfortunate truth is that hard-working Americans can be fired simply for being gay or transgender," Solmonese wrote. "No similar executive order has ever had this kind of extensive research or factual basis established."
Both the Department of Labor and the Department of Justice signed off on the measure, clearing the way for the White House to act.
In a heated exchange with reporters Thursday, Carney pointed to LGBT achievements championed by the president, including the repeal of the military's "Don't Ask, Don't Tell" policy as proof of the president's "commitment" to the LGBT community.
"I think the president's record on LGBT issues speaks volumes about his commitment to securing equal rights for LGBT Americans," Carney said.
Gay rights supporters are pressing the president to reverse his decision and sign the executive order.
Jonathan Lewis, the son of major Democratic donor Peter Lewis, said in a statement that the president can't blame Congress for this "broken promise."
"He has not been able to provide a single valid reason for why he is now refusing to sign the executive order protecting LGBT workers," said Lewis. "It has become increasingly clear that this decision is based on cowardice rather than principled leadership."
Sympathetic donors are not being asked not to contribute to the president's reelection campaign, but instead to donate at least as much to the non-discrimination effort.
Almeida, of Freedom to Work, allowed that Mr. Obama "has done more for LGBT equality than any other president in United States history and more than the prior presidents combined." He said he believes the White House has left the door open for eventually reversing course.
"They made clear the president would not sign an Executive Order at this time," he said.
Thanks for reading CBS NEWS.
Create your free account or log in
for more features.