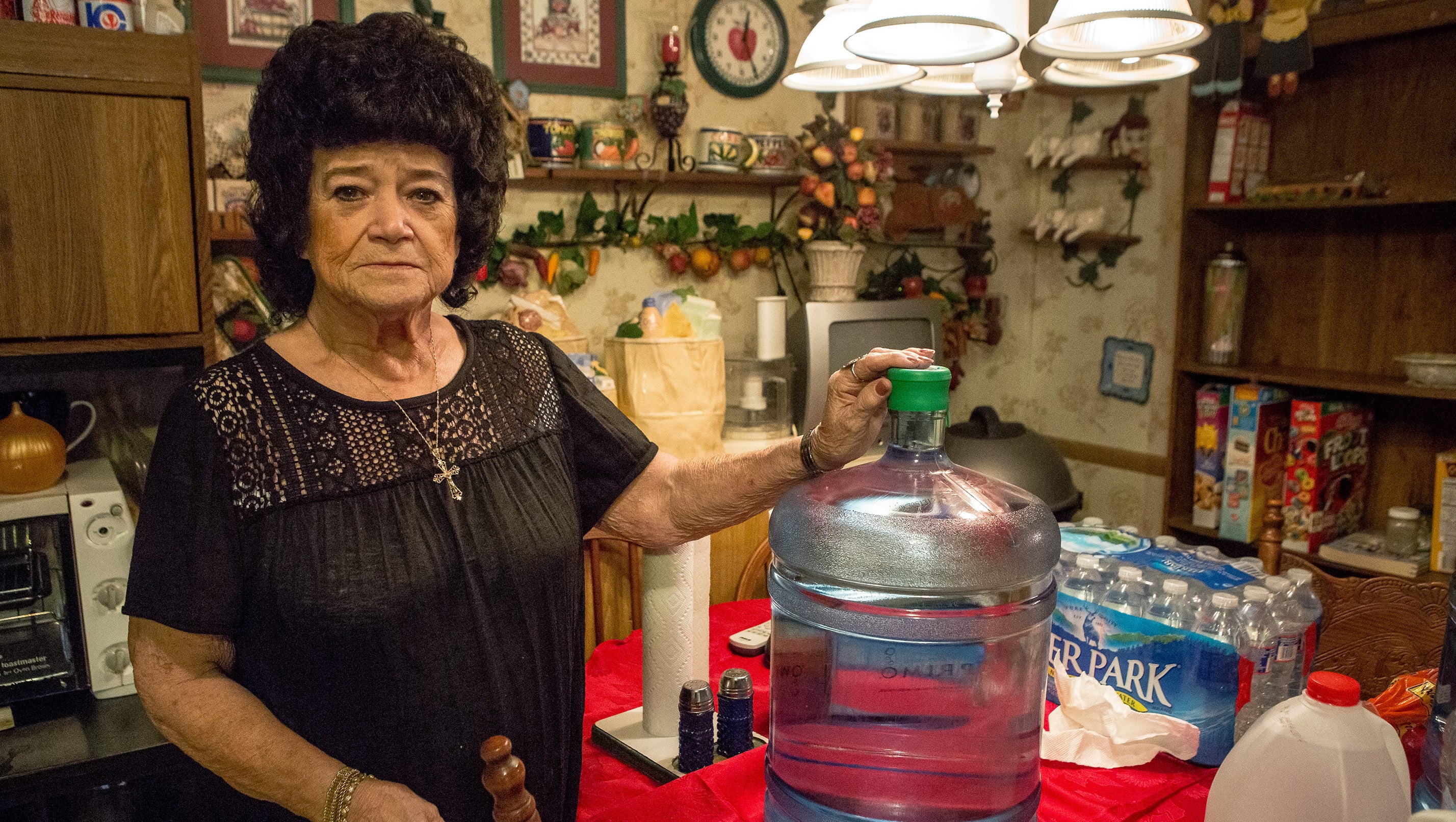 Frustration mounts over chemical spill in West Virginia water supply
DRY BRANCH, W.Va. - For Bonnie Wireman, the white plastic bag covering her kitchen faucet is a reminder that she can't drink the water.
The 81-year-old woman placed it there after forgetting several times the tap water was tainted after a coal processing chemical leaked into the area's water supply. Every time she turned on the water, she quickly stopped and cleaned her hands with peroxide - just to make sure she was safe.
The widow of a coal miner, Wireman was angered about the chemical spill that's deprived 300,000 West Virginians of clean tap water for four days, but doesn't blame the coal or chemical industries.

"I hope this doesn't hurt coal," said Wireman, who lives in an area known as Chemical Valley because of all the plants nearby. "Too many West Virginians depend on coal and chemicals. We need those jobs."

And that's the dilemma for many West Virginians: The industries provide thousands of good paying jobs but also pose risks for the communities surrounding them, such as the chemical spill or coal mine disasters. The current emergency began Thursday after a foaming agent used in coal processing escaped from a Freedom Industries plant in Charleston and seeped into the Elk River. Since then, residents have been ordered not to use tap water for anything but flushing toilets.

Gov. Earl Tomblin said Sunday water tests were encouraging, but he didn't give a timetable for when people might be able to use water again.

"The numbers look good. They are very encouraging," Tomblin said.

Schools, restaurants and other businesses were to close Monday, but the governor said all state offices would be open.
Maj. Gen. James Hoyer, of the West Virginia National Guard, said testing near the water treatment facility has consistently been below one part per million for 24 hours, a key step officials needed before they can lift the ban. Some tests have shown the chemical was not present at all in water coming in and out of the plant.

West Virginia American Water President Jeff McIntyre said they will lift the water bans by zone, but he didn't say how soon it would be.

West Virginia is a picturesque, mountainous state, with deep rivers and streams that cut through lush valleys. But along the twisting, rural roads there are signs of the state's industrial past and present: Chemical plant storage tanks rise from the valley floor. Coal mines - with heavy equipment and steel structures used to extract and then transport the fuel - are part of the rural landscape. White plumes of smoke drifting from factories offer a stark contrast to the state's natural beauty.

"You won't find many people in these parts who are against these industries. But we have to do a better job of regulating them," said Wireman's son, Danny Scott, 59, a retired General Electric worker who has been helping take care of his mother. "The state has a lot to offer. We don't want to destroy it."

West Virginia is the second-largest coal producing state behind Wyoming, with 538 mines and 26,619 people. The state has about 150 chemical companies that employ 12,000 workers.
Over the years, there have been accidents in both industries that have killed workers and harmed the environment. In January 2010, a worker died at a DuPont plant after inhaling a lethal dose of phosgene, which was used as a chemical weapon during World War I and today is used as a building block in synthesis of pharmaceuticals and other organic compounds. An explosion at the Upper Big Branch coal mine killed 29 people in 2010.

Coal is critical to West Virginia's economy. Strong coal prices and demand proved vital to the state budget during and after the national recession, from 2009 through 2011.

In November 2009, the state's unemployment rate was 8.4 percent, according to the U.S. Bureau of Labor Statistics. Four years later - November 2013 - the unemployment rate was down to 6.1 percent, below the national rate of 7 percent.

In Tomblin's recent State-of-the-State speech, he touted the chemical industry, saying it was among those that grew substantially over the last year.

The spill that tainted the water supply involved a chemical used in coal processing. But it didn't involve a coal mine - and that's a point state officials are trying to convey to the public.

When asked if the emergency is one of the risks of being a state that relies heavily on the coal industry, Tomblin quickly responded: "This was not a coal company incident, this was a chemical company incident."

The coal industry, too, was saying they should not bear the blame in this case.

"This is a chemical spill accident. It just so happens that the chemical has some applications to the coal industry, just that fact alone shouldn't cause people to point fingers at the coal industry," said Jason Bostic, vice president of the West Virginia Coal Association.

Bostic said the coal industry is very carefully regulated by the state Department of Environmental Protection and several federal agencies that ensure it is safe from the very first step in opening a mine to ongoing operations.

"The environmental risk that's associated with coal mining, we feel it's well regulated," Bostic said.

There's no doubt the coal and chemical industries are a hugely important part of the state's economy. Even as he lamented the loss of business caused by the spill, Matt Ballard, president of the Charleston Area Alliance, the state's largest regional chamber of commerce, talked about the importance of chemical companies in the Kanawha Valley, which includes the capital.

"The chemical industry, that's what started the valley," Ballard said. "We've got a long history of a really good safety record, but with any business ... there's always a risk."

Kent Sowards, the associate director for Marshall University's Center for Business and Economic Research, said that there's a delicate balance between offsetting economic needs and potential costs associated with the coal and chemical industries.

"There are risks inherent with everything. Whether the risk is something that someone wants to continue to bear, that ultimately becomes their decision," he said.

In West Virginia's case, he believes the state is doing a good job of maintaining that balance.

And since the emergency is ongoing, it's hard to assess at this point whether the response was successful, he said.

But in communities across the region, with names like Nitro and Dry Branch, people are beginning to wonder if it's worth it.

Steve Brown, 56, lives outside of Nitro in the shadow of chemical plants. Over the years, he's worked in some of those places, and knows firsthand about the risks and rewards.

"You made enough to support your family," said Brown, who is unemployed. "But you also see what it's done to the environment. People stay away from fishing in rivers and streams near chemical plants. You have fish advisories. You know better. You just know."

The chemical spill has brought out the best and worst in people, he said. He watched folks deliver water to elderly and disabled neighbors who couldn't get out of the house. But he also glimpsed people fight in grocery stores over bottles of water.

"When I saw that, I couldn't believe it," he said. "It was really sad."

Chris Laws, 42, a coal miner who grew up in the Kanawha Valley, has worked in the mines for 20 years. He said he's worried what will happen in a few days when people still aren't able to shower, wash clothes or clean dishes.

"This ain't even the bad times. The bad times aren't here yet," he said as he waited outside the Kroger grocery store for water to be delivered.

He said it bothers him that officials have downplayed the impact on people.

"They make believe it's no big deal. But it is a big deal. You have 300,000 people without water. If this goes on much longer, it's going to cause mass chaos," he said.




Thanks for reading CBS NEWS.
Create your free account or log in
for more features.