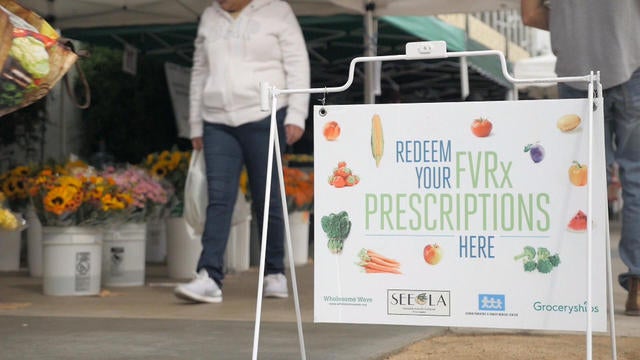 Hospital's Fresh Food Pharmacy program prescribes food instead of pills
Many health care providers nationwide are prescribing food instead of medicine to tackle the obesity epidemic.
Doctors in more than a dozen states are moving away from recommending surgery or pills, and participating in programs that offer healthy food to patients struggling with medical issues related to their weight.
One hospital in central Pennsylvania is taking the effort even further, reports CBS News' Jan Crawford.
At Geisinger Hospital in central Pennsylvania, food deliveries turn medical professionals into temporary grocers.
It's all part of a new Fresh Food Pharmacy, now open in the heart of coal country, where shuttered mines have contributed to high unemployment and rising poverty, which has made healthy eating a low priority.
The program was created by Dr. Andrea Feinberg, Geisinger's medical director for health and wellness.
"We have a higher incidence of obesity, a higher incidence of diabetes and food insecurity," Feinberg said. According to Feinberg, the program is offering people hope and a "new way to look at diabetes."
"There are pockets of communities around the United States where the word has not gotten out that food is really medicine," she explained.
The pilot program, which started just nine months ago, currently serves more than 60 patients and their families, providing healthy food free of charge to more than 200 people each week along with nutrition classes and cooking advice.

But making a drastic change in diet isn't easy. Feinberg admits, some people do complain.
"They're not that excited. First of all we ask them just to be flexible. 'Try it. You don't like it, no problem. Come back and tell us, we'll come up with new recipes,'" Feinberg said.
Geisinger is one of the first to set up a standalone Food Pharmacy, but it draws inspiration from more than 70 food prescription programs across the country hoping to reverse a frightening trend.
More than 100 million Americans are either diabetic or pre-diabetic, and the Centers for Disease Control predicts that by the year 2050 one in three adults in the U.S. could have diabetes.
Rita Perkins has had diabetes for more than 20 years. After enrolling in the Food Pharmacy program in March, she cut her blood sugar and cholesterol in half.
Perkins said the program is indeed making a difference in her life. How long does she plan to stick with it? "Probably for the rest of my life," Perkins said.
Feinberg says those results are not unique.
"It's over-the-top successful," Feinberg said, telling CBS News it's worked for "every single patient."
"We're talking about reversing the diabetes. Curing the type 2 diabetes and help the patients move themselves from the sick category to the healthy category," Feinberg said.
Geisinger says despite giving away food for free, the program is expected to actually save money by reducing long-term medical costs. The Fresh Food Pharmacy program has been so successful, they're already planning to expand — hoping to put similar programs in place at a dozen other locations across Pennsylvania and New Jersey
Thanks for reading CBS NEWS.
Create your free account or log in
for more features.